*Sponsored by IA Media
When expert investors talk about undervalued stocks, they aren't typically talking about TSLA, AAPL or AMZN…
They're talking about low-priced stocks, trading at an even further significant discount, with potentially unlimited upside potential.
And I really love low priced stocks with huge breakout potential. 📈
If I am really being honest, I could care less about what a company does. All I really care about is if it goes up, right?
While no one ever knows for sure what is going to happen, I like to take shots where I think it makes sense and follow a game plan to protect myself along the way.
That brings me to today's "Bright Idea 💡," which I'm focusing on today:
Applied UV, Inc (Nasdaq: AUVI)
The top reason you need to get this stock on your radar immediately is simple – earnings.
Just moments ago, AUVI dropped a bombshell 💣 as they announced huge sales growth:
Total revenues for the second quarter of 2023 of approximately $10.8 million, representing an 83.6% increase over the comparable period in 2022
Gross profit grew to approximately $2.4 million, up 84.8% from $1.3 million in the comparable period in 2022.

Today has all of the catalysts I would look for in a breakout for a stock trading under $1.
If you are a small-cap, momentum trading junkie like I am… then this is the type of day you live for!
AUVI is a perfect example of why I Iove low-priced stocks.  Remember all the way back to Friday last week (I know, it was a long weekend!), the market got hammered.
But, little AUVI investors were up more than 12% on the day, even though  the stock only traded up around a dime:
Source: Yahoo Finance
It's just the tip of the iceberg for why I think AUVI could be poised for an unprecedented breakout.
Let's start with short-term technicals. Right now, AUVI is trading at a 7-day support level, with a nearly oversold Relative Strength Index (RSI) reading of 31.
Even better, AUVI's first major resistance level (the 50 day moving average) is nearly double the price of AUVI's current price per share, of only $0.78.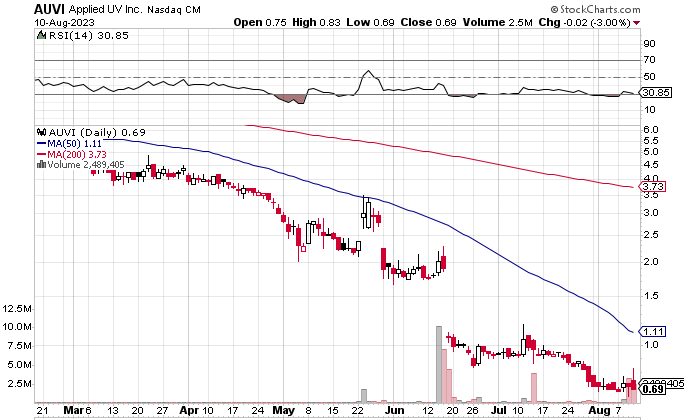 AUVI Daily Chart Source: stockcharts.com
If you are a momentum trader, you need to be closely eyeing AUVI right now, and the reason is simple.
AUVI's trading at support while quietly creeping out of oversold territory.
And look at the volume recently! There has been a flurry of trading activity that may be a leading indicator of the next move.
It certainly helps that AUVI just announced a major piece of news late last week when they announced a significant cash-infusion from a new deal…
What I think the market really missed here is the reported $22 million backlog of projects as well.
That is a massive pipeline for a tiny company like this!
Also consider that AUVI is described as a "top Smart Buildings Technologies provider"… for reasons like providing proprietary insurance and air pathogen elimination, drastically improving indoor air quality.
Indoor air quality might seem like small potatoes, but awareness of indoor air quality is skyrocketing – particularly since Covid.
And per a recent company letter to shareholders, governments are globally mandating health agencies to address air quality, primarily to protect facilities against future pathogens and to "ease visitation."
In response, the Company's products are timely, being specifically "targeted for use in facilities that have high customer touch and turnover which include hospitals, hotels, commercial facilities, sports arenas, dental offices, schools, food processing, post-harvest, cannabis grow facilities, long-term care, and other public spaces."
With the company's barrage of bullish catalysts, it should come as no surprise that AUVI, a $0.69 stock, has a $12.50 price target.

That's no typo.
It's north of 1,600% upside potential.
Add AUVI's +217% revenue increase in Q1 of 2023 from Q1 of 2022 sourced by their income statement, and it should be even more obvious why AUVI has outrageous investing sentiment.
Investors have become interested in AUVI to the point where the Company's executives need to issue press releases more frequently.
In June, for example, AUVI announced:
"Applied UV's Subsidiary, LED Supply Co., and Its FORTUNE® 500 Technology Partner Awarded Approximately $0.8 million Contract for Comprehensive Lighting & Building Controls Solution for Global Auto Manufacturer's U.S. Facility."
As a business that's always keeping its investors in mind, AUVI further explained:
"The project represents a significant milestone for Applied UV and highlights the Company's commitment to providing advanced lighting and building controls solutions in the transportation industry. The collaboration between LED Supply Co. and its FORTUNE® 500 technology partner brings together expertise and innovation to enhance energy efficiency and sustainability in industrial settings. The scope of work includes comprehensive lighting and building control design tailored to the facility's specific requirements, followed by custom fabrication of state-of-the-art systems."
Additionally, the company most recently announced:
"We are pleased to provide an update on the recent progress and achievements of Applied UV, Inc. We are proud to report a record company backlog of over $22 million as of June 30, 2023, and we are on track to hit our revenue targets of $45-50 million for 2023. Our partnership with Canon continues to expand, providing valuable support in product development, contract manufacturing, sales and marketing, and customer financing options."
They proceeded to add even more value for investors.
"Our Healthy Building Technologies Division has seen significant growth, thanks to the successful acquisition of PURO and LED Supply Co. This division now boasts a substantial backlog of roughly $7.4 million as of June 30, 2023, the largest in its history, validating our acquisition strategy and the division's growth potential. Puro's partnership with industry leader MFPHD has increased our hospital deal flow, particularly in the Surgical Suite. The division, comprising PURO, LED Supply Co, and Sterilumen, continues to gain recognition in the marketplace, helping to reinforce our position in Food Preservation Tech, Air Disinfection, Surface Disinfection, and commercial lighting and building control solutions."
And they continued stacking value!
"Our Hospitality Division is experiencing unprecedented growth, with current orders and orders in process totaling approximately $14-$15 million. This includes an order underway and valued at over $4 million with a leading hotel brand, marking the largest backlog in the company's history. This represents over 300% year-over-year growth, underscoring the success of our strategic expansion and our ability to meet the evolving needs of the hospitality and leisure industry."
(Note: Above details sourced by AUVI's presentations). 
I've seen many companies grow from the ground up in my time, and AUVI's executives appear to genuinely know their business and how to please their shareholders.
Case in point. If a +217% revenue increase isn't enough to excite new or experienced investors, I don't know what is?!
Remember, we're talking about a $0.78 stock with a $12.50 price target!
And upon further review of AUVI's current chart, the stock is seeing increasing money flow from traders and investors alike.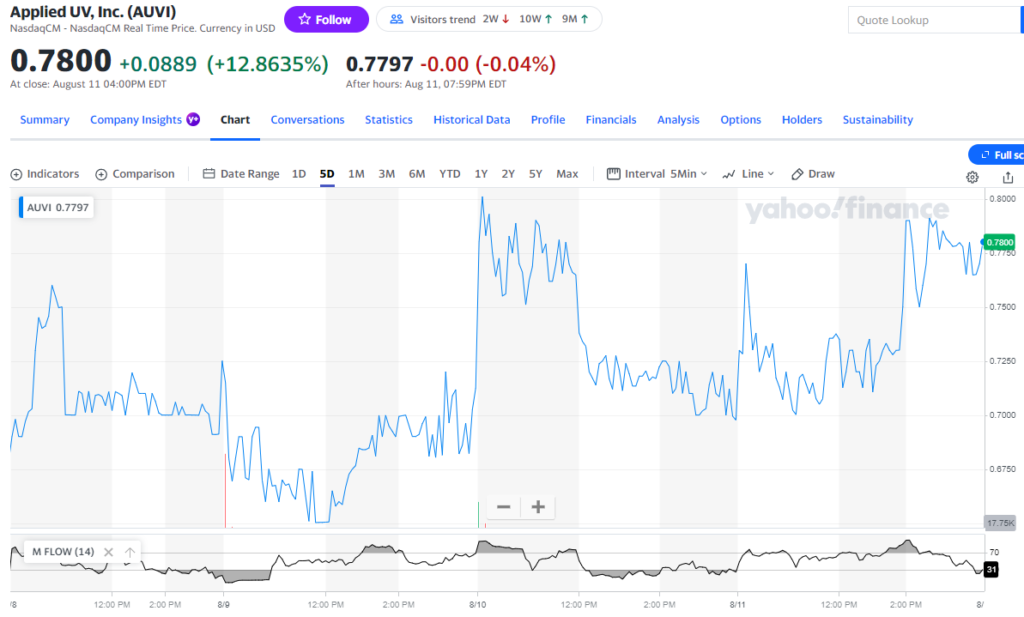 AUVI Daily Chart
Source: Yahoo Finance
Part of me feels terrible for AUVI's short sellers, but most of me feels excited for AUVI's new investors!
The future of this company is almost too exciting to put into words, and I'm honored to be sharing its developments with the RagingBull community.
Not to mention letting you in on its 1,600%+ potential upside price target!
I encourage you to review the "investors" tab on Applied UV, Inc. (AUVI)'s website and jump on their email list, especially if you're looking for an innovative opportunity right now.
As always, doing your due diligence is crucial.
That said, so is further familiarizing yourself with the risks and rewards associated with Applied UV, Inc. (AUVI) as a company – and if you wish – getting on the inside of what I believe to be a company on the verge of accelerated growth.
To YOUR Success!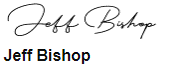 P.S. Make sure you text "RAGE" to (888) 404-5747 to get all of my latest HOT STOCK ideas!
*This investment involves substantial risk.  Please see full disclosure below, and detailed discussion of risks and atypical results.
DISCLAIMER
 *PAID ADVERTISEMENT. Raging Bull has been paid twenty five thousand dollars by IA Media who was compensated by a third party not affiliated with the Company for advertising Applied UV, Inc. from a period beginning on August 14 through August 15, 2023. The third party, Company, or their affiliates may own and likely wish to liquidate shares of the Company at or near the time you receive this advertisement, which has the potential to hurt share prices. This advertisement and other marketing efforts, including alerts, may increase investor and market awareness, which may result in an increased number of shareholders owning and trading the securities of Applied UV, Inc, increased trading volume, and possibly an increased share price of Applied UV, Inc's securities, which may or may not be temporary and decrease once the marketing arrangement has ended. As a result of this advertisement and other marketing efforts, Raging Bull may receive advertising revenue from new advertisers and collect email addresses from readers that it may be able to monetize. As of the date of the issuance of this advertisement, the owners of Raging Bull do not hold a position in Applied UV, Inc, though they reserve the right to buy or sell shares in the covered company at any time following the dissemination of this communication.
 FOR COMMERCIAL AND INFORMATIONAL PURPOSES ONLY; NOT INVESTMENT ADVICE. This advertisement is for commercial and informational purposes only. A portion of our business is engaged in the promotion, marketing, and advertising of companies including public companies. A portion of Raging Bull's business model is to receive financial compensation to promote public companies, conduct investor relations advertising and marketing, and publicly disseminate information regarding public companies through our websites email, SMS, and push notifications among other methods of communication. This compensation is a major conflict of interest in our ability to provide unbiased reporting. Therefore, this communication should be viewed as a commercial advertisement only. Note, we periodically conduct interviews and issue stock alerts that we are not compensated for. These are purely for the purpose of company awareness, and to generate subscription revenues. We have not investigated the background of the hiring third party or parties. All material information contained in this advertisement is based on information generally available to the public, including information released to the public or filed by the Company with applicable regulators which public information is believed to be reliable and accurate. Nevertheless, Raging Bull cannot guarantee the accuracy or completeness of the information. This advertisement does not purport to be a complete analysis of any company's financial position. This advertisement or any statements made in it is not, and should not be construed to be, personalized investment advice directed to or appropriate for any particular individual. The statements made in this advertisement should NOT be relied upon for purposes of investing in the companies mentioned in this advertisement, nor should they be construed as a personalized recommendation to you to buy, sell, or hold any position in any security mentioned in this advertisement or in any other security or strategy. It is strongly recommended that you consult a licensed or registered professional before making any investment decision.
 SUBSTANTIAL RISK INVOLVED. Any individual who chooses to invest in any securities of the companies mentioned in this advertisement should do so with caution. Investing or transacting in any securities involves substantial risk; you may lose some, all, or possibly more than your original investment. Readers of this advertisement bear responsibility for their own investment research and decisions and should use information from this advertisement only as a starting point for doing additional independent research in order to allow individuals to form their own opinion regarding investments. It is easy to lose money investing or trading, and we recommend always seeking individual advice from a licensed or registered professional and educating yourself as much as possible before considering any investments.  Never invest in any stock featured in this advertisement, on our site or emails unless you can afford to lose your entire investment.
NOT AN INVESTMENT ADVISOR OR REGISTERED BROKER. Raging Bull, or any of their owners, employees or independent contractors is not currently registered as a securities broker-dealer, broker, investment advisor (IA), or IA representative with the U.S. Securities and Exchange Commission, any state securities regulatory authority, or any self-regulatory organization.
 USE OF FORWARD-LOOKING STATEMENTS. Our advertisements including this advertisement and related emails, reports and alerts may contain forward-looking statements, which are not guaranteed to materialize due to a variety of factors. We do not guarantee the timeliness, accuracy, or completeness of the information in this advertisement, related emails, reports or alerts or on our website or media webpage. This information is believed to be accurate and correct but has not been independently verified and is not guaranteed to be correct.  Certain statements made in this advertisement may constitute forward-looking statements within the meaning of Section 27A of the Securities Act of 1933 and 21E of the Exchange Act of 1934. Forward-looking statements often include words such as "believes," "anticipates," "estimates," "expects," "projects," "intends," or other similar expressions of future performance or conduct. Forward-looking statements are based on expectations, estimates, and projections at the time the statements are made and are not statements of historical fact. They involve many risks and uncertainties that could cause actual results or events to differ materially from those presently anticipated. There is no guarantee that past performance will be indicative of future results. Raging Bull does not undertake an obligation to update forward-looking statements in light of new information or future events. Readers can and should review all public SEC filings made by the companies profiled in the Advertisements at https:// www .sec .gov/edgar/searchedgar/companysearch
 TRADEMARKS. All trademarks used in this advertisement are the property of their respective trademark holders and no endorsement by such owners of the contents of the advertisement is made or implied.