*Sponsored by Sica Media. Please see disclosures below
I've been on a tear lately hunting down lesser-known companies with big upside potential.
Over the last couple of weeks, I brought an e-sports stock to your attention a few times that gained over 45% since I first introduced it to you. 
Then, on Monday, I alerted you to a gold mining stock that jumped over 15% in a couple of days after I shared my thoughts on it.
This is a red-hot market lately for small-cap ideas, and I am always on the lookout for new ones!
While nothing is certain in the markets, today there's a kind of urgent situation I think you should look at right now.
It is a stock that I showed you a few months ago, and right now all of the technicals are flashing again, so I think it merits your attention.  That company is: 
BioSig Technologies (Nasdaq: BSGM)
If you have been following me for a while, you might recall this idea back from April when I first showed it to you.
Within a few weeks of that initial alert, BSGM went on a 50%+ run to make a high for the year (so far) over $1.60.
As you can see, the stock has since pulled back a little but has held support above $1.10 on multiple occasions over the last month.
I don't know if that is the short-term bottom, but it is shaping up for another trend reverse signal. 
I highlighted the other signals in the chart above from over the last year and what happened following those signals when the stock began to trade above the daily moving averages.
I mean, when I say we are close, we are literally on the edge right now. It might be hard to see in the chart above, but look at where the moving averages are all sitting…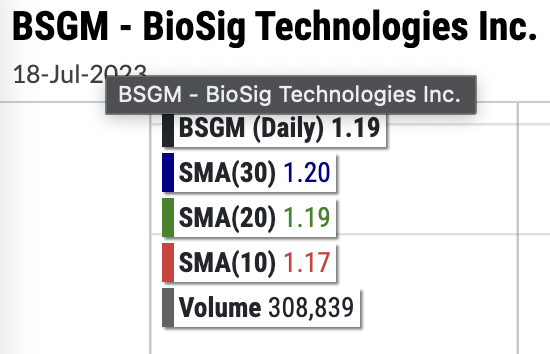 Right now, BSGM seems right on the cusp of all of these, which converge around the $1.20 level.
If we see BSGM break above that, then buckle up – it would be a very strong signal in my book.
I think you really need to pay attention to BSGM right now.  It has a history of making very big moves (both ways sometimes!).
Of course, the past isn't going to always predict the future, but it is good to see how powerful those signals have been over the past year.
What initially got me excited about BSGM was the technology they are creating and how they are leaning into developing an AI medical device platform.
This pioneering biotech company is already up a whopping 183% this year. Compare that with the S&P500, which has gained only 19% over the same time – that's a nearly 10x difference!
And there are plenty of good reasons besides just the technicals to consider BSGM again…
For instance, last month BSGM founder and CEO Kenneth Londoner recently increased his stake in the company on three occasions. 
Here is a great visual from TipRanks as of July 18, showing the recent insider buying going on (I don't see any significant selling at all).

Mr. Londoner has a background in finance — at one point managing $3.5 billion in assets — so he knows a good investment when he sees one.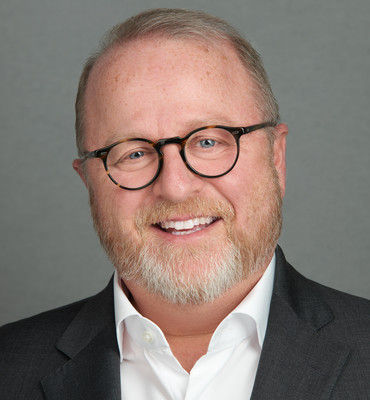 BioSig CEO Kenneth Londoner
Perhaps he saw what was on the horizon…
And as we're all aware, AI is the next Big Thing. 
It's credited with helping rocket the NASDAQ composite 38% higher this year, with standouts like NVIDIA jumping 232% and C3.ai up 269%.
With that in mind, consider that BSGM announced a strategic collaboration with AI firm Reified Labs late last month, just weeks after Mr. Londoner increased his company share.

Cambridge, Massachusetts-based Reified Labs is headed by Harvard- and MIT-trained Dr. Alexander D. Wissner-Gross, an award-winning computer scientist who is renowned in the field of AI and its healthcare applications.
This isn't the first time BioSig has teamed up with Reified. The companies began a collaboration in 2019 that yielded several patent applications and a research publication. 
In many ways, the companies were ahead of their time, and the meteoric advances in AI technology promise to take this new collaboration to even more rarefied heights.
At stake is BioSig's breakthrough PURE EP™ Platform, an FDA 510(k) cleared device that provides superior, real-time visualizations of critical cardiac signals.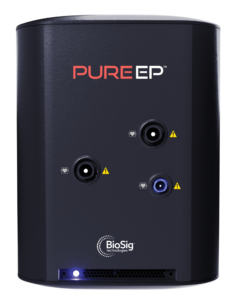 As traders, this technology is largely Greek to us, but I'm sure you've come across cluttered financial charts with candles, multiple overlays and trendlines, and wondered, "What the heck am I looking at?"

It's much the same for electrophysiologists who try to separate signal from noise in cardiac scans. The PURE EP™ Platform isolates what matters, delivering clear, actionable insights.
The result is an unprecedented ability to evaluate all types of arrhythmias, with the company claiming a 75% improvement in signal quality and an 83% increase in confidence interpreting multi-component signals.
Already, BioSig has established partnerships with leading centers such as the Mayo Clinic, the University of Pennsylvania and the Texas Cardiac Arrhythmia Institute, and its PURE EP™ Platform has been used in thousands of patient cases across the United States.

With its collaboration with Reified, BioSig hopes to leverage AI to enhance its PURE EP™ technology for potential commercial application.
👉So where is the BSGM headed from here? 
Again, nothing is certain in the markets, but analysts cited by CNN Business must believe it's destined for the stratosphere because the median forecast would represent a whopping 362% gain from its current $1.19 share price.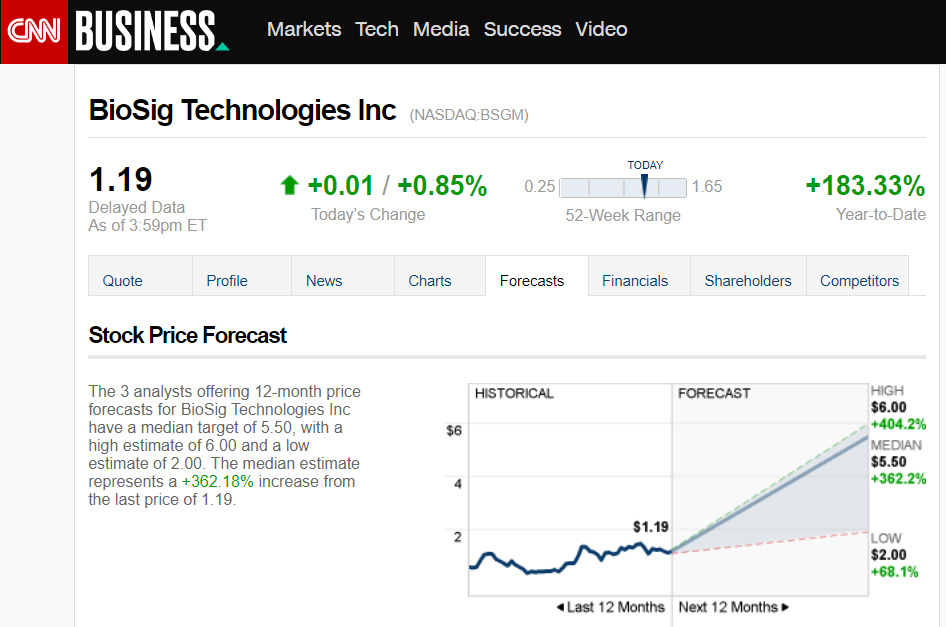 From what I've seen, I believe these analysts are on to something. Small stocks like this have incredible potential right now if the catalyst is right.
At the very least, BSGM is worthy of your own research, as well as a clear-eyed analysis of the risks and potential rewards. The company's website is a great place to start.
So spend time today getting to know more about BSGM and see if it makes sense for you!
To Your Success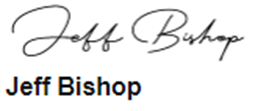 By the way…  👉 Make sure you text "RAGE" to (888) 404-5747 to get all of my latest HOT STOCK ideas delivered right to your phone!
*This investment involves substantial risk.  Please see full disclosure below, and detailed discussion of risks and atypical results
*PAID ADVERTISEMENT. RagingBull has been paid twenty five thousand dollars by ach bank transfer by Sica Media for advertising BioSig Technologies from a period beginning on July 19, 2023 through July 21 of the same year. RagingBull has previously been paid fourteen thousand dollars by ach bank transfer by Lifewater Media for advertising BioSig Technologies from a period beginning on April 17 , 2023 through April 18 of the same year. To date, RagingBull has been paid a total of thiry nine thousand dollars for coverage of BioSig Technologies.  As a result of this advertisement and other marketing efforts, Raging Bull may receive advertising revenue from new advertisers and collect email addresses from readers that it may be able to monetize. As of the date of this advertisement, the owners of Raging Bull, do not hold a position in BioSig Technologies. This advertisement and other marketing efforts may increase investor and market awareness, which may result in an increased number of shareholders owning and trading the securities of BioSig Technologies, increased trading volume, and possibly an increased share price of the BioSig Technologies securities, which may or may not be temporary and decrease once the marketing arrangement has ended.
FOR EDUCATIONAL AND INFORMATION PURPOSES ONLY; NOT INVESTMENT ADVICE.
This advertisement is for educational and informational purposes only. All material information contained in this advertisement is based on information generally available to the public, which public information is believed to be reliable and accurate. Nevertheless, Raging Bull can guarantee the accuracy or completeness of the information. This advertisement does not purport to be a complete analysis of any company's financial position. This advertisement or any statements made in it is not, and should not be construed to be, personalized investment advice directed to or appropriate for any particular individual.
The statements made in this advertisement should NOT be relied upon for purposes of investing in the companies mentioned in this advertisement, nor should they be construed as a personalized recommendation to you to buy, sell, or hold any position in any security mentioned in this advertisement or in any other security or strategy.
It is strongly recommended that you consult a licensed or registered professional before making any investment decision.
SUBSTANTIAL RISK INVOLVED.
Any individual who chooses to invest in any securities of the companies mentioned in this advertisement should do so with caution.
Investing or transacting in any securities involves substantial risk; you may lose some, all, or possibly more than your original investment. Readers of this advertisement bear responsibility for their own investment research and decisions,
and should use information from this advertisement only as a starting point for doing additional independent research in order to allow individuals to form their own opinion regarding investments.
It is easy to lose money investing or trading, and we recommend always seeking individual advice from a licensed or registered professional and educating yourself as much as possible before considering any investments.
Our reports/releases are a commercial advertisement and are for general information purposes ONLY. A portion of our business is engaged in the marketing and advertising companies for monetary compensation. Never invest in any stock featured on our site or emails unless you can afford to lose your entire investment. The disclaimer is to be read and fully understood before using our services, joining our site or our email/blog list as well as any social networking platforms we may use. A portion of RagingBull's business model is to receive financial compensation to promote public companies. To conduct investor relations advertising, marketing and publicly disseminate information not limited to our websites, email, SMS, push notifications. This compensation is a major conflict of interest in our ability to provide unbiased reporting. Therefore, this communication should be viewed as a commercial advertisement only. Note, we periodically conduct interviews and issue stock alerts that we are not compensated for. These are purely for the purpose of company awareness, and to generate subscription revenues. We have not investigated the background of the hiring third party or parties. The third party, profiled company, or their affiliates likely wish to liquidate shares of the profiled company at or near the time you receive this communication, which has the potential to hurt share prices. Frequently, companies profiled in our alerts may experience a large increase in volume and share price during the course of investor relations marketing, which may end as soon as the corporate awareness program ceases. Our emails may contain forward-looking statements, which are not guaranteed to materialize due to a variety of factors. We do not guarantee the timeliness, accuracy, or completeness of the information on our website / media webpage. The information in our website / media webpage is believed to be accurate and correct but has not been independently verified and is not guaranteed to be correct.
NOT AN INVESTMENT ADVISOR OR REGISTERED BROKER.
Raging Bull, or any of their owners, employees or independent contractors is currently registered as a securities broker-dealer, broker, investment advisor (IA), or IA representative with the U.S. Securities and Exchange Commission, any state securities regulatory authority, or any self-regulatory organization.
USE OF FORWARD-LOOKING STATEMENTS.
Certain statements made in this advertisement may constitute forward-looking statements within the meaning of Section 27A of the Securities Act of 1933 and 21E of the Exchange Act of 1934. Forward-looking statements often include words such as "believes," "anticipates," "estimates," "expects," "projects," "intends," or other similar expressions of future performance or conduct. Forward-looking statements are based on expectations, estimates, and projections at the time the statements are made and are not statements of historical fact.
They involve many risks and uncertainties that could cause actual results or events to differ materially from those presently anticipated.
There is no guarantee that past performance will be indicative of future results.
Raging Bull does not undertake an obligation to update forward-looking statements in light of new information or future events. Readers can and should review all public SEC filings made by the companies profiled in the Advertisements at
TRADEMARKS.
All trademarks used in this advertisement are the property of their respective trademark holders and no endorsement by such owners of the contents of the advertisement is made or implied.