SL: Check out the sweet trendline of my newest Bright Idea 📈
Looks like I'm not the only one with this little guy on my radar!
*Sponsored by Lifewater Media
After Apple's tremendous flop the other day (a $3,500 equivalent to Meta's Oculus? Get outta here)…
Another – much more exciting – tech stock came across my desk, and it looks like I'm not the only one with my eyes on it:
Coeptis Therapeutic Holdings (Nasdaq: COEP)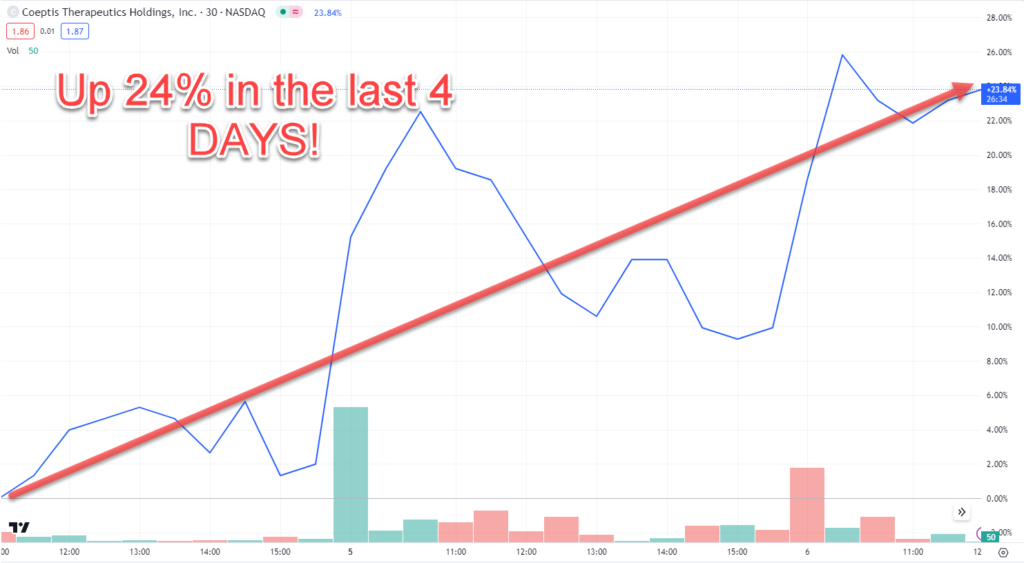 In the last few days, this tiny biotech stock has shot up by 24% and counting…
Ultimately outperforming the NASDAQ by more than 2400% —
But why?
And, more importantly, is this the beginning of another MASSIVE RUN for the company?
All signs say that it's very possible. 
After all, since going public in October 2022, COEP has delivered tremendous price action again and again:
Back in December, we saw COEP pop by 80% in just over two weeks…
March saw the stock making a healthy 60% climb in 12 short days (check these out on TradingView)…
And just a few weeks ago, COEP came crashing out of the gate with a 104% run in just 24 days 👇.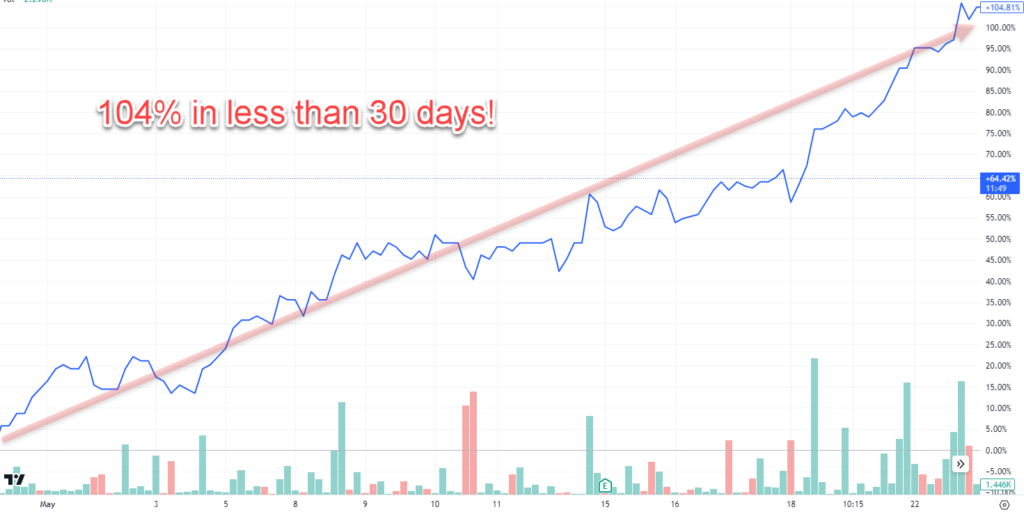 With numbers like that, I wasn't surprised to discover that Vanguard, Fidelity and Citadel are already staking their claims.
While Cambridge Investment Research doubled its holdings…
And Tower Research Capital has ballooned its stake by 1,688%!
But again — why is COEP capturing the attention of the big-league players?
Because they could be completely redefining the future of cell therapy!
If you're not familiar with the term, it essentially boils down to placing new, healthy cells into the body to replace diseased or damaged ones as an alternative to more dangerous chemical treatments.
The implications for the treatment of diseases like diabetes and cancer could be enormous.
For example, this study has found that up to 50% of cancer patients are killed by chemotherapy.
Let that sink in for a moment —
Now consider the fact that roughly 2 million people are diagnosed with cancer in the United States every year, with the CDC projecting these numbers to grow significantly into 2050. 
Based on these projections, Precedence Research has forecasted the market for cell therapy to also grow significantly stating, "The global cell therapy market was valued at US $10.35 billion in 2021 and it is expected to hit US $60.67 billion by 2030" (highlights added).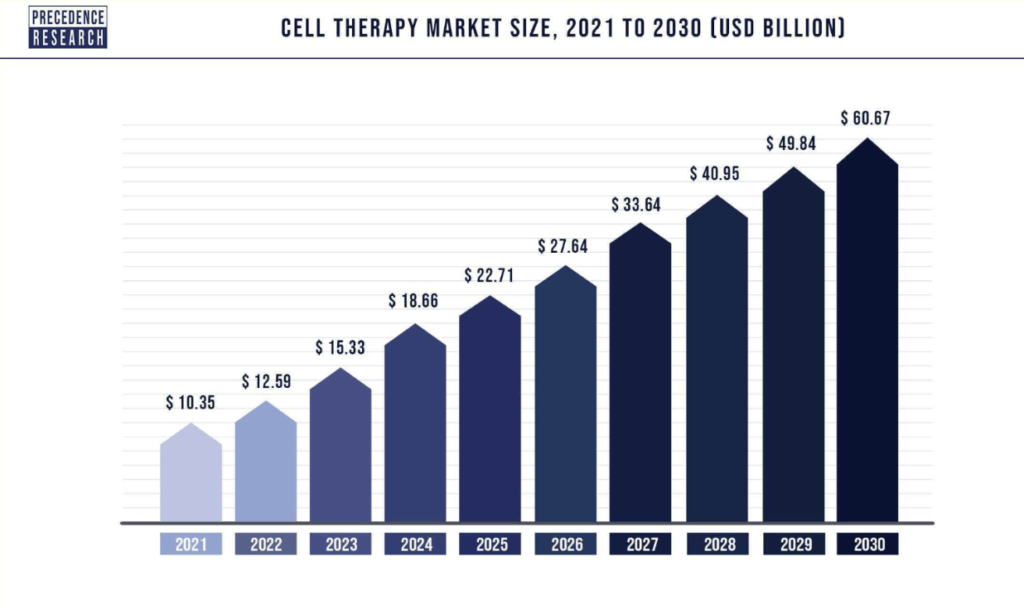 So who will lead the charge in the cell therapy space?  Will it be Coeptis?
Well, the company is positioning itself to be the one to do just that. 
In fact, their promise to revolutionize the medical field is so stunning that the University of Pittsburgh has taken them on as a research partner to expedite the development of their treatments:

While simultaneously tackling one of the biggest challenges in the cell therapy market — the extreme shortage of skilled professionals in the field.
By joining forces with the University of Pittsburgh, they're bridging the gap between the academic world, where tomorrow's doctors are being trained, and the biotech industry.
This points to the stage being set for an entire generation of grads to have access to this game-changing research, and the opportunity to get hands-on experience with it before they enter the fray as medical professionals.
They're basically putting jet fuel in the engine to push widespread adoption of their cell therapy tech light-years ahead of the curve.
But their sphere of influence goes beyond academia, with the ongoing acquisition of Florida-based biotech firm VyGen-Bio further boosting the scope of their research capabilities.

On top of that, they've also entered into a binding agreement with Deverra Therapeutics, INC giving them the SOLE right to acquire the "NK Platform" which effectively trains "killer" cells to target cancer cells while IGNORING the cells that work for the patient's immune system.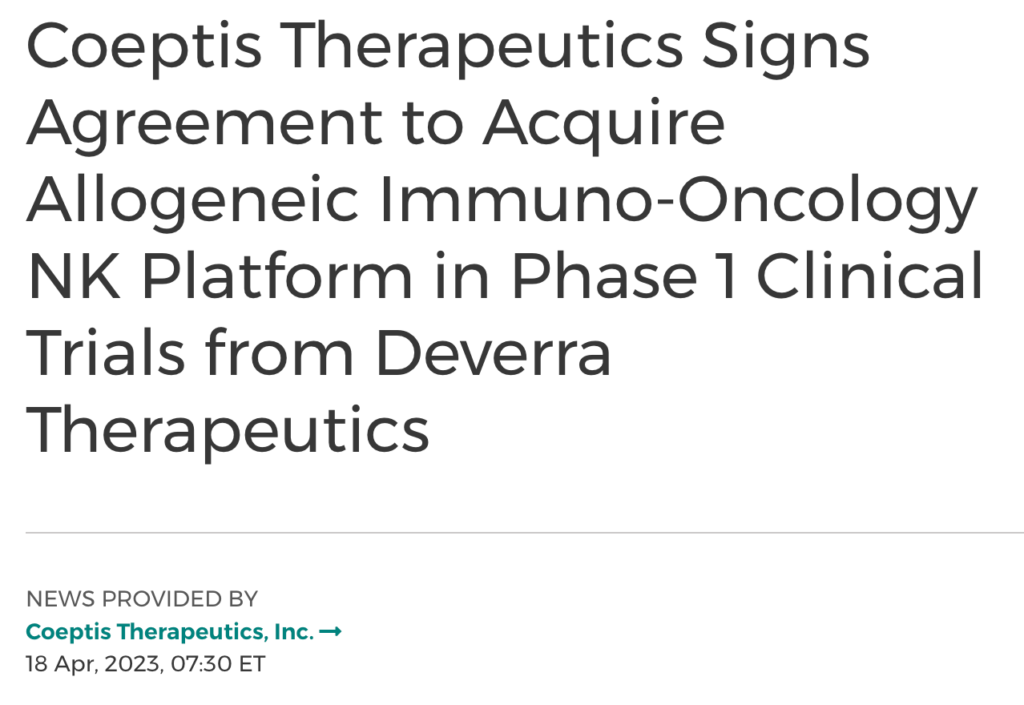 By acquiring this proprietary technology, Coeptis is securing the exclusive rights to two FDA Investigational New Drug (IND) applications, two Phase 1 clinical trials to be exact.
And these could give them the potential to modify their existing tech to target a whole range of chronic disorders beyond cancer…
All of these opportunities combine to give COEP multiple shots on goal:

Now, as impressive as COEP's fundamentals are, I have to say in my opinion the technicals are even better. Check this out:

I mean, when you're looking at a small-cap stock, it rarely gets better than this —
Company insiders are clearly willing to put their money where their mouth is, with 52.11% of shares in their hands…
Folks, in my opinion, this is a critical factor when analyzing microcaps like this. 
Because when you're sitting at a "low float" like you see here, even a small wave of bullish sentiment can produce the sort of 60%…80%…even 100% moves we've seen on COEP over the last 10 months.
And let me tell you, sentiments are beyond bullish, with some experts, including EF Hutton, projecting a $10 price point for COEP:

Even if the stock somehow trends towards the low end of this analysis – capping out at $4 instead of $10 – that would still mean a surge of around 127% from current levels. 
All in all, we're looking at one heck of a gem here, with: 
A low entry point (just $1.72 at this writing)

Price targets set at $10.00 (470% surge)

Minimal float (under 4%)

Bullish sentiment driven by multiple partnerships & acquisitions

Several clinical trials in the foreseeable future

Huge potential in a market set to climb to

$60B by 2030

.
All this culminates in what could be a seemingly-perfect storm for stellar growth.
Now, just because I love this stock doesn't mean you should go in blindly.
While I'm personally expecting to see some positive performance on COEP in the near future, doing your own research is absolutely critical — 
This is a rare gem, but you need to make sure you understand your risk, and the potential rewards that come along with it. Investing is risky and it is always the right decision to do your own investigation. I think you'll agree with my opinion.
And based on how quickly this stock is already moving… you could begin immediately, before this entry window closes.
A great place to start would be right here on the company's website.
So take all the information in, do your due diligence, and see if this opportunity has a place in your portfolio!
To Your Success,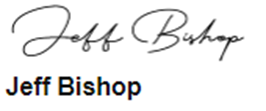 *Please see disclosures below
PS. Text
"RAGE"
to
(888) 404-5747
to get ALL of my latest HOT STOCK ideas before anyone else!
*PAID ADVERTISEMENT.
RagingBull has been paid nineteen thousand dollars by ach bank transfer by Lifewater Media for advertising Coeptis from a period beginning on June 7, 2023 through June 8 of the same year.  As a result of this advertisement and other marketing efforts, Raging Bull may receive advertising revenue from new advertisers and collect email addresses from readers that it may be able to monetize. As of the date of this advertisement, the owners of Raging Bull, do not hold a position in Coeptis. This advertisement and other marketing efforts may increase investor and market awareness, which may result in an increased number of shareholders owning and trading the securities of Coeptis, increased trading volume, and possibly an increased share price of the Coeptis securities, which may or may not be temporary and decrease once the marketing arrangement has ended.
FOR EDUCATIONAL AND INFORMATION PURPOSES ONLY; NOT INVESTMENT ADVICE.
This advertisement is for educational and informational purposes only. All material information contained in this advertisement is based on information generally available to the public, which public information is believed to be reliable and accurate. Nevertheless, Raging Bull can guarantee the accuracy or completeness of the information. This advertisement does not purport to be a complete analysis of any company's financial position. This advertisement or any statements made in it is not, and should not be construed to be, personalized investment advice directed to or appropriate for any particular individual.
The statements made in this advertisement should NOT be relied upon for purposes of investing in the companies mentioned in this advertisement, nor should they be construed as a personalized recommendation to you to buy, sell, or hold any position in any security mentioned in this advertisement or in any other security or strategy.
It is strongly recommended that you consult a licensed or registered professional before making any investment decision.
SUBSTANTIAL RISK INVOLVED.
Any individual who chooses to invest in any securities of the companies mentioned in this advertisement should do so with caution.
Investing or transacting in any securities involves substantial risk; you may lose some, all, or possibly more than your original investment. Readers of this advertisement bear responsibility for their own investment research and decisions,
and should use information from this advertisement only as a starting point for doing additional independent research in order to allow individuals to form their own opinion regarding investments.
It is easy to lose money investing or trading, and we recommend always seeking individual advice from a licensed or registered professional and educating yourself as much as possible before considering any investments.
Our reports/releases are a commercial advertisement and are for general information purposes ONLY. A portion of our business is engaged in the marketing and advertising companies for monetary compensation. Never invest in any stock featured on our site or emails unless you can afford to lose your entire investment. The disclaimer is to be read and fully understood before using our services, joining our site or our email/blog list as well as any social networking platforms we may use. A portion of RagingBull's business model is to receive financial compensation to promote public companies. To conduct investor relations advertising, marketing and publicly disseminate information not limited to our websites, email, SMS, push notifications. This compensation is a major conflict of interest in our ability to provide unbiased reporting. Therefore, this communication should be viewed as a commercial advertisement only. Note, we periodically conduct interviews and issue stock alerts that we are not compensated for. These are purely for the purpose of company awareness, and to generate subscription revenues. We have not investigated the background of the hiring third party or parties. The third party, profiled company, or their affiliates likely wish to liquidate shares of the profiled company at or near the time you receive this communication, which has the potential to hurt share prices. Frequently, companies profiled in our alerts may experience a large increase in volume and share price during the course of investor relations marketing, which may end as soon as the corporate awareness program ceases. Our emails may contain forward-looking statements, which are not guaranteed to materialize due to a variety of factors. We do not guarantee the timeliness, accuracy, or completeness of the information on our website / media webpage. The information in our website / media webpage is believed to be accurate and correct but has not been independently verified and is not guaranteed to be correct.
NOT AN INVESTMENT ADVISOR OR REGISTERED BROKER.
Raging Bull, or any of their owners, employees or independent contractors is not currently registered as a securities broker-dealer, broker, investment advisor (IA), or IA representative with the U.S. Securities and Exchange Commission, any state securities regulatory authority, or any self-regulatory organization.
USE OF FORWARD-LOOKING STATEMENTS.
Certain statements made in this advertisement may constitute forward-looking statements within the meaning of Section 27A of the Securities Act of 1933 and 21E of the Exchange Act of 1934. Forward-looking statements often include words such as "believes," "anticipates," "estimates," "expects," "projects," "intends," or other similar expressions of future performance or conduct. Forward-looking statements are based on expectations, estimates, and projections at the time the statements are made and are not statements of historical fact.
They involve many risks and uncertainties that could cause actual results or events to differ materially from those presently anticipated.
There is no guarantee that past performance will be indicative of future results.
Raging Bull does not undertake an obligation to update forward-looking statements in light of new information or future events. Readers can and should review all public SEC filings made by the companies profiled in the Advertisements at https:// www. sec. gov/edgar/ searchedgar/companysearch
TRADEMARKS.
All trademarks used in this advertisement are the property of their respective trademark holders and no endorsement by such owners of the contents of the advertisement is made or implied.