*Sponsored by Sica Media
Hey folks, Jeff Bishop here, and I have to say: I love stocks that are hovering around a dollar.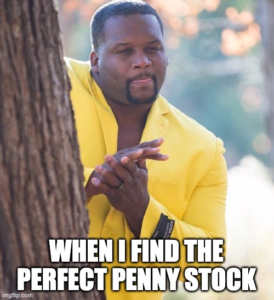 They're my bread and butter when I'm looking for big upward moves on non-options plays.
There's just something magic about that price range…
Magic… or is it?
It's not just because I can buy a lot of shares for the price of a nice dinner.
If you've spent any time watching and researching Nasdaq-listed stocks at that valuation, you know that if they drop below the $1.00 mark for 30 consecutive business days, they are put on notice that they risk being delisted, which is a major blow to a company.
REREAD THAT 👆 , IT'S IMPORTANT INFO FOR TRADERS.
If you didn't know it, you can read all about that here. It's an interesting thing most people don't know about unless they are hardcore small-stock trader like I am.
Most companies will naturally pull out all the stops to prevent this from happening. Company insiders are likely to cling to their shares and new share issuances are unlikely.
The upshot for profit-seekers is a great, low-price buying opportunity with something of a floor of resistance.
Of course, savvy investors must exercise due diligence and ensure the company is fundamentally sound…
With that in mind, today's Bright Idea 💡 is a company that should definitely be on your radar 📡: 
Citius Pharmaceuticals, Inc. (
Nasdaq:
CTXR)
I brought this late-stage pharmaceutical company to your attention back in early March when I said it was in a very tight "bull flag" formation that could lead to a big move…
Sure enough, after a brief wind-up, it rattled off a 58% gain in just five weeks (not bad, huh?).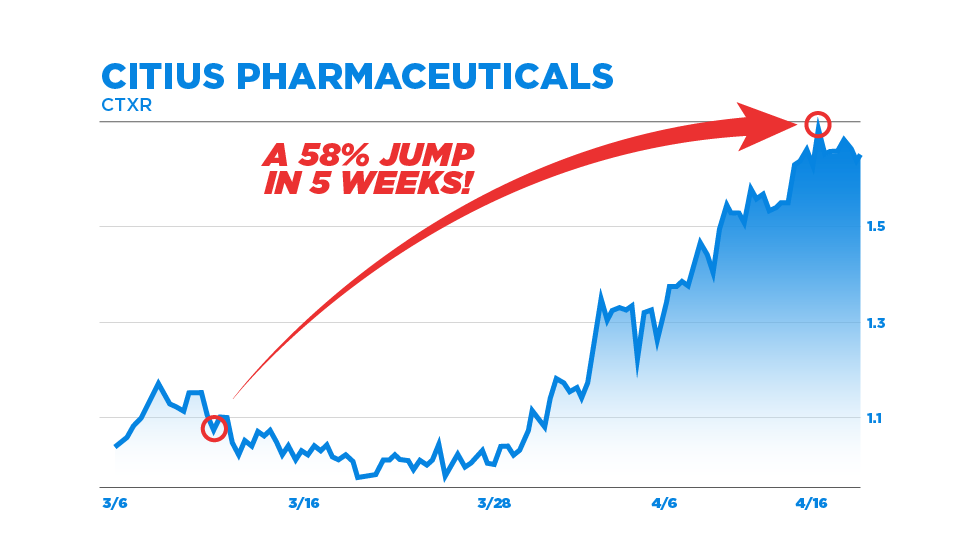 The stock price has pulled back since then, but I've kept it on my watchlist since it's around that special $1.00 mark.
Looking at the chart yesterday, I noticed this trend:


As you can see, so far this year, every time CTXR has based at a new level, it makes a bounce (sometimes those have been nearly triple-digit bounces!) 
If that level is below $1.00, the percentage move has been even bigger too..
Well, have a look at where CTXR is basing right now!
The past doesn't guarantee the future, of course, but it can be suggestive. A deeper dive into CTXR gives more reasons for optimism…
For starters, I found an article about the company from three days ago.
In it, we learn that the company has been shrinking the gap between loss and breakeven, and that three industry analysts covering the company are projecting its final loss in 2024 before – get this – a whopping $45 million in profits in 2025 💰(analyst estimates).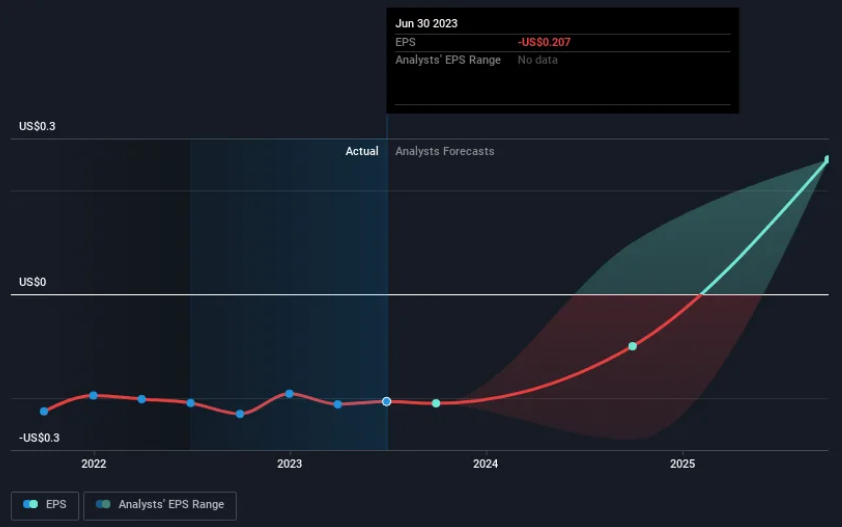 At a current market cap of around $135 million (according to Yahoo!), that's a dramatic projection for earnings per share (EPS).
Another critical factor to look at when evaluating these small pharma companies is what their cash burn 🔥 looks like relative to their reserves.
According to this August 14 press release, the company had $33.3 million in cash and cash equivalents as of June 30, and it had extended its "cash runway" to August 2024.
That means its runway extends to where analysts project its revenue will pick up… a very good sign.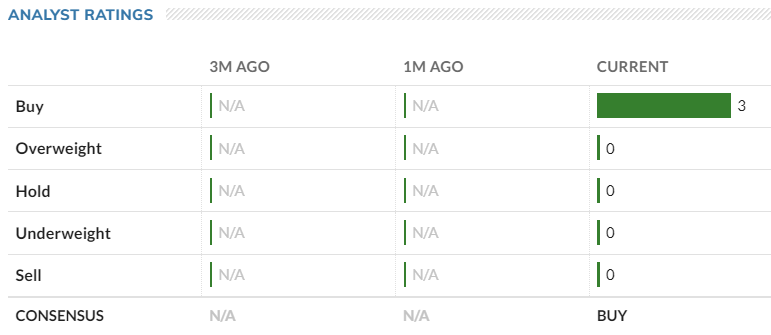 Source: MarketWatch
And as the article mentioned above notes:

This is especially good news in our era of high interest rates; it means the company is spending its money on salaries and research and not on loans and interest.
In addition, while the company has a diverse pipeline of developing therapies, its most promising one, Mino-Lok® — an antibiotic treatment to salvage catheters in patients with catheter-related bloodstream infections — reached the critical 92-event milestone of its Phase 3 trial last month.
This heralds the successful end of the Phase 3 trial pending confirmation from independent reviewers.
For those unfamiliar with clinical trial phases, a successful Phase 3 trial generally means FDA approval… and for CTXR, that means revenue.
All of this bodes well for the technical pattern I see lining up…
If you're going to take a big leap, it helps to have a firm footing, and CTXR has just established that beneath the $1.00 line. I won't be surprised if it takes off in the next few days.
I think this is a great idea that merits your attention, and I've given you my impressions. But please… as always, do your own homework, and make sure you have a game plan in place that makes sense for you before you ever trade anything. 
You can start by checking out CTXR's website here. You'll see an entire "Investors" menu tab that has great resources.
In the meantime, happy trading! Let's hope for a nice bounce in the markets today…
To Your Success,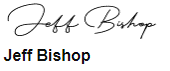 P.S. If you're new (or just haven't done it yet), make sure you join our exclusive SMS list. 📲  All you need to do is text the word "RAGE" to (888) 404-5747 to get all of my latest HOT STOCK ideas and access to live trading events!
*This investment involves substantial risk. Please see full disclosure below, and detailed discussion of risks and atypical results.