*Together with GameSquare, see disclosures below
Call me a nerd, but I spend a lot of time on the weekends reading about stocks and looking at price charts.
After 20+ years of trading, I know I can't find hours of time to dig into stocks during weekdays, so the weekend is the most important research time I can get.
It's where I put together my watchlists for the week ahead and hopefully come across some stocks that are trading at levels that are attractive to me.
As I was reviewing a previous "Bright Idea 💡" from a few months ago, I literally couldn't believe what I was looking at.
After digging into it more, I am now convinced it's one of the best opportunities I see in the whole market right now.  
The stock is GameSquare Holdings (Nasdaq: GAME)

Let me tell you exactly why I think this is something you need to seriously look at immediately.
Just a few weeks ago GAME announced their quarterly earnings report.  Look at some of the highlights:
👉Record pipeline and recent contract wins expected to accelerate revenue growth in second half of 2023
👉Company reiterates 2023 full-year guidance reflecting sales of $75 to $80 million, and gross margins of 30% – 35%
👉Recently closed multiple seven figure, multi-year deals with customers across the healthcare, automotive, and CPG sectors
👉We removed an estimated $5 million of annualized operating costs during the quarter and we continue to expect to realize at least $8 million of total annualized cost savings by the end of the year.
Folks, this is a company that is hitting on all cylinders right now, yet the stock has slowly drifted lower and lower during the summer doldrums.
If there has ever been a candidate for a strong reversal, it has to be GAME right now.
Looking at the stock chart right now, you would never guess that GAME revenues have been literally exploding lately 💥 – just as they have been forecasting all year.

You'll really find this insane…
Look at the literal book value of GAME right now (as of their latest earnings report)
Forget about the future value of the amazing business they are building right now, the celebrity partnerships, the high-profile investors involved… the book value of GAME is $3 – yet the price of the stock today is hovering around just $2 a share.
This means GAME is actually trading for less than book value right now.
Can you say "massive opportunity" with me??
Just as a random comparison, I pulled up the book value on one of the hottest stocks in the world right now, Nvidia (NVDA).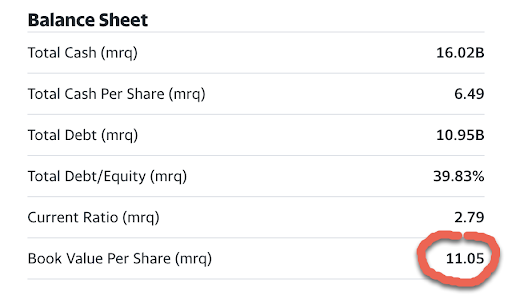 Yeah, the book value on NVDA is around $11…. Yet the stock is trading around 40 times higher than that 🤯.
Go pull that value on just about any other stock you follow right now and see how cheap GAME now looks in comparison.
The next thing we need to discuss is the price chart right now.
There have been some very nice trading windows if you waited for the bottoming process, then played the bounce after the stock traded back above the hourly indicators (which we are at right now):

This chart just shows the last month, and this back-and-forth action feels to me like a major bottoming process.
GAME has a history of small bursts of momentum that translate into dramatic upswings like this 52% pop in just 14 days…
Or this 128% gain that we witnessed in less than a month…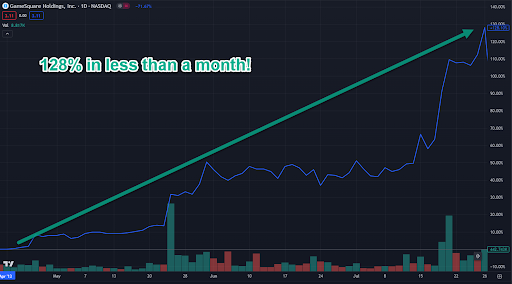 And the spectacular 281% BULL RUN that we saw earlier this year in less than 4 months —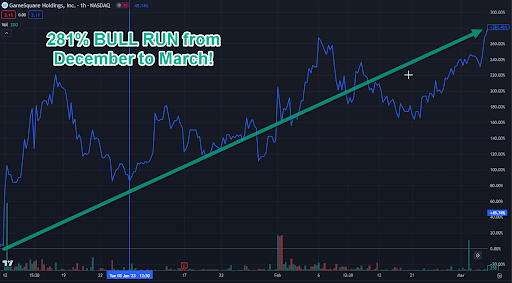 I pulled the following from Tickeron in order to see what their AI recommendations looked like, which further reiterates exactly what I am seeing right now:
---
The RSI Oscillator points to a transition from a downward trend to an upward trend — in cases where GAME's RSI Oscillator exited the oversold zone, 41 of 44 resulted in an increase in price. Tickeron's analysis proposes that the odds of a continued upward trend are 90%.
The Stochastic Oscillator is in the oversold zone. Keep an eye out for a move up in the foreseeable future.
The Moving Average Convergence Divergence (MACD) for GAME just turned positive on August 25, 2023. Looking at past instances where GAME's MACD turned positive, the stock continued to rise in 40 of 45 cases over the following month. The odds of a continued upward trend are 89%.
Following a +10.46% 3-day Advance, the price is estimated to grow further. Considering data from situations where GAME advanced for three days, in 139 of 186 cases, the price rose further within the following month. The odds of a continued upward trend are 75%.
---
I am telling you, GAME is one of the highest-growth and most underrated companies out there right now.
I think the market has completely missed the mark on this one and it's worthy of another look.
From their recent investor presentation, you can clearly see that they have been forecasting stellar revenue growth, and they have been delivering!
To achieve growth like this, you want to be in a high-growth sector which GAME clearly is in.  Here is another chart from their presentation that shows how massive the TAM (total addressable market) is for them…
Now, ask yourself, "What will happen to the stock price if GAME gets even close to these lofty numbers?"
You can see why I think there is a big disconnect between where things are today and what is possible soon.
If you like GAME (like I do) then you are in good company!
Just check out some of the "A-list" roster associated with them, including:
👉Ninja, the #1 video game streamer on Twitch
👉Jerry Jones, the owner of the Cowboys (the greatest team in the NFL)!
(that GAME hat looks good on you, Jerry!)
We're looking at a company that doesn't want to just be an E-sports company… it's working to become the NFL of professional gaming!
And with:
There is so much happening with GAME right now, it might take a while to digest it all, but do yourself a favor and start to do your homework on it right now!
But just because I love this stock doesn't mean you should go in blind, which is why you should take a moment before you start the day's trading and see all of the details for yourself and build your own trading game plan.  Take time to fully understand the risks, and potential rewards, of this amazing company if you decide to invest.
A great place to start would be right here on the company's website or by digging into the company's most recent investor presentation.  
As always…to YOUR success,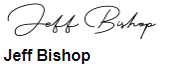 By the way…  👉 Text "RAGE" to (888) 404-5747 to get all of my latest HOT STOCK ideas delivered right to your phone!
*This investment involves substantial risk.  Please see full disclosure below, and detailed discussion of risks and atypical results.
---
*ISSUER-PAID ADVERTISEMENT. RagingBull has been paid ten thousand dollars by ach bank transfer by GameSquare for advertising from a period beginning on september 11, 2023 through september 14 of the same year. RagingBull previously has been paid fifteen thousand dollars by ach bank transfer by GameSquare for advertising from a period beginning on July 12, 2023 through July 14 of the same year. RagingBull has previously been paid twenty thousand dollars by ach bank transfer by GameSquare for advertising from a period beginning on July 5, 2023 through July 7 of the same year. To date, RagingBull has been paid a total of forty-five thousand dollars from GameSquare. As a result of this advertisement and other marketing efforts, Raging Bull may receive advertising revenue from new advertisers and collect email addresses from readers that it may be able to monetize. As of the date of this advertisement, the owners of Raging Bull, do not hold a position in GameSquare. This advertisement and other marketing efforts may increase investor and market awareness, which may result in an increased number of shareholders owning and trading the securities of GameSquare, increased trading volume, and possibly an increased share price of the GameSquare securities, which may or may not be temporary and decrease once the marketing arrangement has ended. As of the date of the issuance of this advertisement, the owners of Raging Bull do not hold a position in GameSquare, though they reserve the right to buy or sell shares in the covered company at any time following the dissemination of this communication.
FOR EDUCATIONAL AND INFORMATION PURPOSES ONLY; NOT INVESTMENT ADVICE. This advertisement is for educational and informational purposes only. All material information contained in this advertisement is based on information generally available to the public, which public information is believed to be reliable and accurate. Nevertheless, Raging Bull can guarantee the accuracy or completeness of the information. This advertisement does not purport to be a complete analysis of any company's financial position. This advertisement or any statements made in it is not, and should not be construed to be, personalized investment advice directed to or appropriate for any particular individual. The statements made in this advertisement should NOT be relied upon for purposes of investing in the companies mentioned in this advertisement, nor should they be construed as a personalized recommendation to you to buy, sell, or hold any position in any security mentioned in this advertisement or in any other security or strategy. It is strongly recommended that you consult a licensed or registered professional before making any investment decision.
SUBSTANTIAL RISK INVOLVED. Any individual who chooses to invest in any securities of the companies mentioned in this advertisement should do so with caution. Investing or transacting in any securities involves substantial risk; you may lose some, all, or possibly more than your original investment. Readers of this advertisement bear responsibility for their own investment research and decisions, and should use information from this advertisement only as a starting point for doing additional independent research in order to allow individuals to form their own opinion regarding investments. It is easy to lose money investing or trading, and we recommend always seeking individual advice from a licensed or registered professional and educating yourself as much as possible before considering any investments.
Our reports/releases are a commercial advertisement and are for general information purposes ONLY. A portion of our business is engaged in the marketing and advertising companies for monetary compensation. Never invest in any stock featured on our site or emails unless you can afford to lose your entire investment. The disclaimer is to be read and fully understood before using our services, joining our site or our email/blog list as well as any social networking platforms we may use. A portion of RagingBull's business model is to receive financial compensation to promote public companies. To conduct investor relations advertising, marketing and publicly disseminate information not limited to our websites, email, SMS, push notifications. This compensation is a major conflict of interest in our ability to provide unbiased reporting. Therefore, this communication should be viewed as a commercial advertisement only. Note, we periodically conduct interviews and issue stock alerts that we are not compensated for. These are purely for the purpose of company awareness, and to generate subscription revenues. We have not investigated the background of the hiring third party or parties. The third party, profiled company, or their affiliates likely wish to liquidate shares of the profiled company at or near the time you receive this communication, which has the potential to hurt share prices. Frequently, companies profiled in our alerts may experience a large increase in volume and share price during the course of investor relations marketing, which may end as soon as the corporate awareness program ceases. Our emails may contain forward-looking statements, which are not guaranteed to materialize due to a variety of factors. We do not guarantee the timeliness, accuracy, or completeness of the information on our website / media webpage. The information in our website / media webpage is believed to be accurate and correct but has not been independently verified and is not guaranteed to be correct.
NOT AN INVESTMENT ADVISOR OR REGISTERED BROKER. Raging Bull, or any of their owners, employees or independent contractors is not currently registered as a securities broker-dealer, broker, investment advisor (IA), or IA representative with the U.S. Securities and Exchange Commission, any state securities regulatory authority, or any self-regulatory organization.
USE OF FORWARD-LOOKING STATEMENTS. Certain statements made in this advertisement may constitute forward-looking statements within the meaning of Section 27A of the Securities Act of 1933 and 21E of the Exchange Act of 1934. Forward-looking statements often include words such as "believes," "anticipates," "estimates," "expects," "projects," "intends," or other similar expressions of future performance or conduct. Forward-looking statements are based on expectations, estimates, and projections at the time the statements are made and are not statements of historical fact. They involve many risks and uncertainties that could cause actual results or events to differ materially from those presently anticipated. There is no guarantee that past performance will be indicative of future results. Raging Bull does not undertake an obligation to update forward-looking statements in light of new information or future events. Readers can and should review all public SEC filings made by the companies profiled in the Advertisements at
https://www.sec.gov/edgar/searchedgar/companysearch
TRADEMARKS. All trademarks used in this advertisement are the property of their respective trademark holders and no endorsement by such owners of the contents of the advertisement is made or implied.