My latest "Bright Idea" is perhaps my most "genius" yet!
*Sponsored by Lifewater Media
With Netflix hogging the spotlight in the streaming sector right now, you probably missed this Bright Idea hiding out in the NASDAQ small-caps lately:
Genius Brands International (
NASDAQ:
GNUS)
Folks, I believe this company is the definition of a "sleeping giant" —
GNUS is a global children's media company.
They develop, produce, market and license kids' shows with an A-List talent roster that includes absolute legends like Arnold Schwarzenegger, Shaquille O'Neal and the Stan Lee brand.
GNUS is already making massive waves in the entertainment game, so much so that a top analyst at Dawson James Securities is calling for this $3 stock to break $10…
And a well-known analyst over at TipRanks has their sights set even higher, predicting a $12.50 price point on the horizon for GNUS…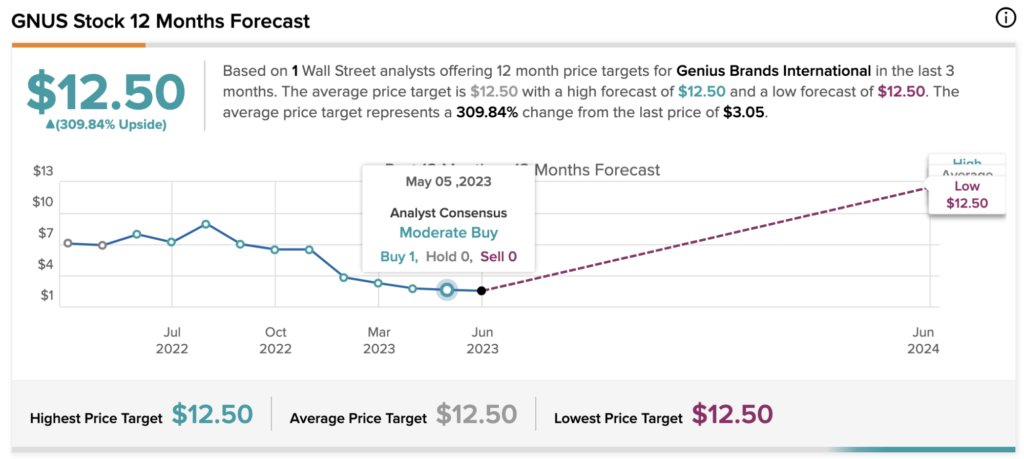 In other words, we're looking at a potential 400% run.
Frankly, I wouldn't be surprised. 
What we have with GNUS really is the whole package —
We're looking at:
1. Rock-Solid Technicals & Financials
The very first thing I noticed about this stock was the stellar movement on 4 key support lines, including its:
20-Day Simple Moving Average (SMA)

50-Day SMA

5-Day Exponential Moving Average (EMA)

13-Day EMA
Which is very promising, in my opinion. If we see support start to build at these levels, that's going to create the platform GNUS needs to overtake previous highs — 
An event that wouldn't be surprising, considering the stock's history of price surges like 66% in a single day…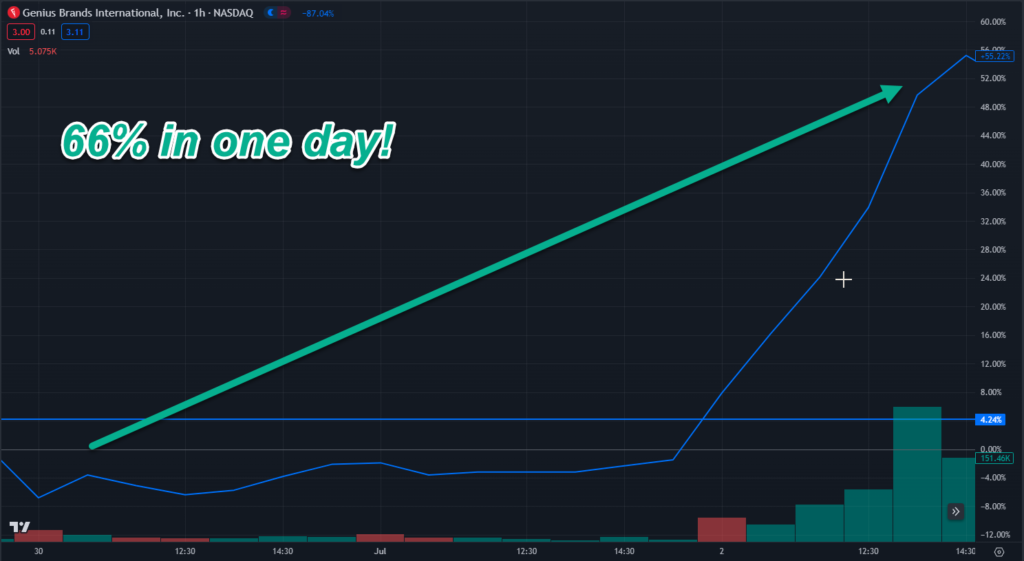 116% in just over a week…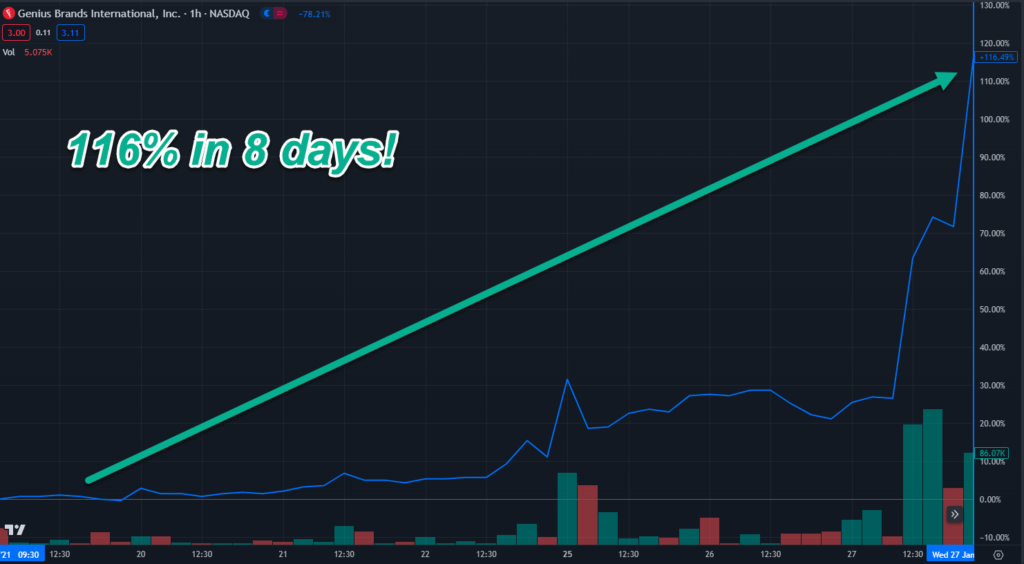 Or the immense 2,506% run-up that took less than a month to play out.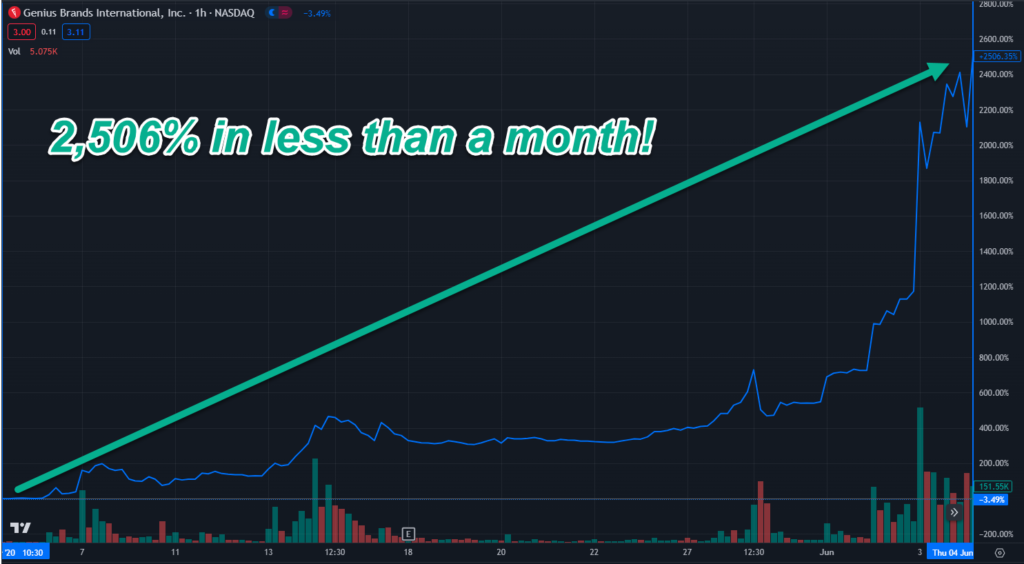 And after reviewing the company's financials, it's plain to see why GNUS has been on the move lately —
First of all, Yahoo Finance reports that this $3 stock only has a market cap of just $97 million right now.  It is a super-small float, with fewer than 30 million shares in its float… 
Considering the amount of volatility these levels produce, GNUS looks like exactly the type of opportunity that I'd expect to make massive moves in a short period of time…
Especially given that they recently reported an 885% revenue increase in Q1 —

An absolutely staggering leap in itself, but especially impressive due to the fact that media companies are coming off their worst year in three decades.
Meanwhile, this young content company is exploding eightfold, sitting on $114.3 million in assets and $23.5 million in working capital (as reported on March 31). 
But why?
Why is this company gaining so much speed in a seemingly-saturated market?
Well, for starters…
2. GNUS is becoming the juggernaut of family-friendly IPs through aggressive acquisitions
Chief among Genius Brands' massive collection of notable IPs is Stan Lee's Superhero Kindergarten – starring Arnold Schwarzenegger – which is selling on both Amazon and the Kartoon Channel App, captivating young viewers with easily-digested lessons through superhero stories…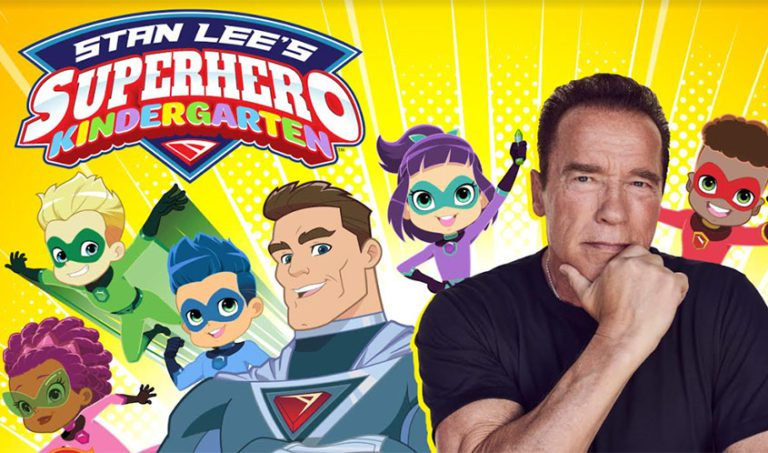 We've also got Shaq's Garage, starring Shaquille O'Neal streaming on both the Kartoon Channel app and PlutoTV, with the NBA legend putting his love for cars on full display.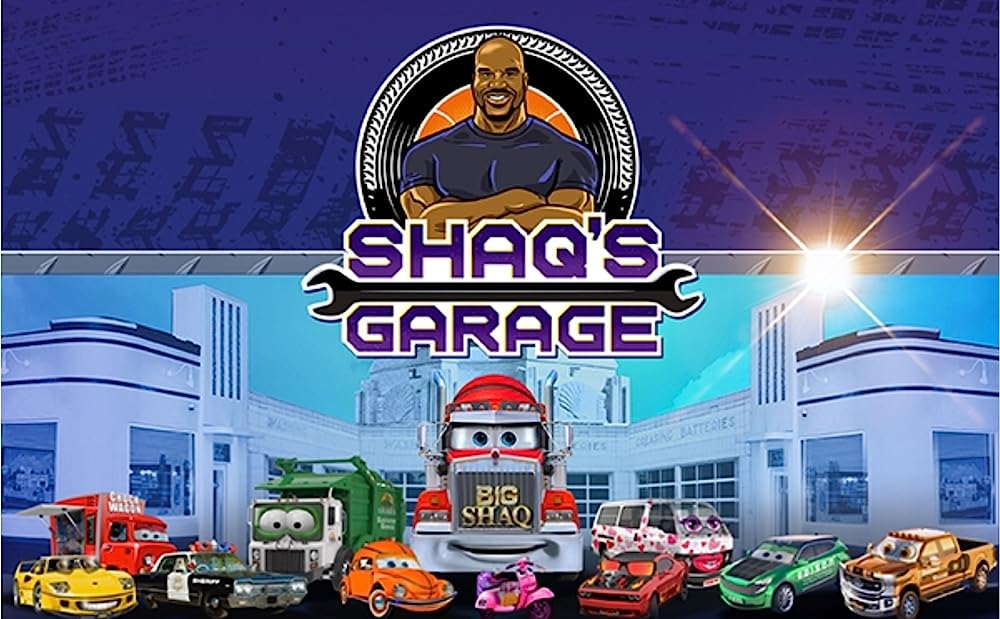 Last but not least we have Jennifer Garner's TV adaption of the Llama Llama children's books streaming on the cartoon channel and Netflix, bringing GNUS content into the forefront of mainstream entertainment…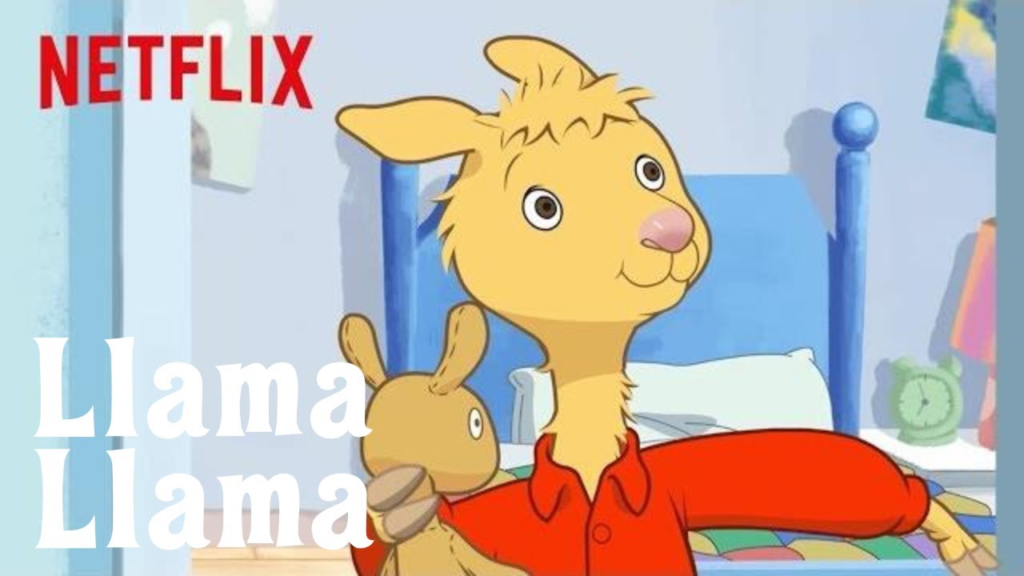 But really that's just scratching the surface —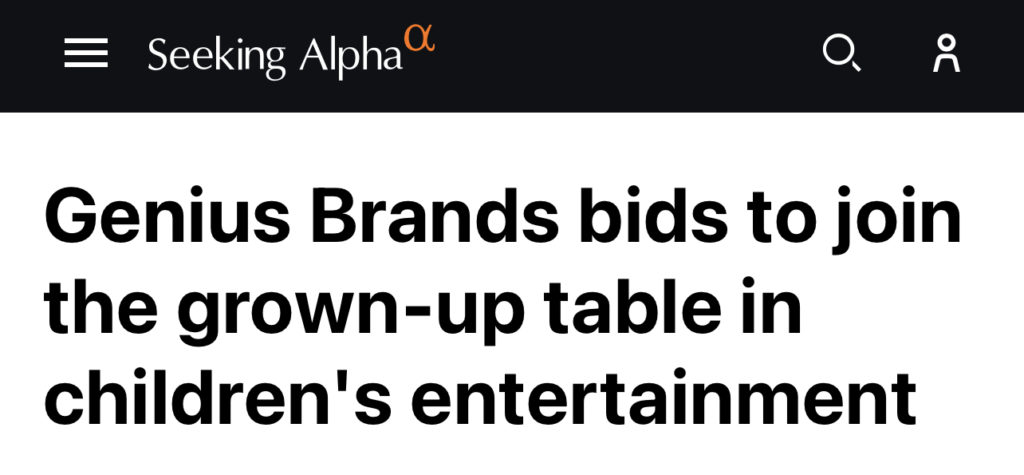 GNUS is already swallowing up smaller firms like WOW Unlimited Media, Ameba TV and Frederator to acquire massively syndicated IPs like The Fairly OddParents, Adventure Time, and Bee and PuppyCat to add even more bulk to its powerhouse lineup.
Along with a network of over 2,000 exclusive creators and social media influencers to expand their reach even further… 
(Now, you probably noticed that all of their content is streaming on the Kartoon Channel app… and there's a good reason — they consolidated ownership of that, too.)
But as exciting as it is to see such a solid foundation under a small-cap gem like GNUS… their most recent announcement really struck me as a potentially explosive catalyst in the days ahead:
3. GNUS is officially joining the ranks of Media Titans like Disney & Sony

When the markets open on Monday next week, GNUS is making a huge directional shift by transferring their listing from the Nasdaq Capital Market to the NYSE American Exchange — 
This is where all the big boys are:
Disney, Sony, AMC, Roblox, and now…
Genius Brands, which is rebranding to Kartoon Studios to: 
"[R]eflect the core DNA of the Company, making high quality and socially responsible animated cartoons for children, distributing them worldwide, and licensing consumer products based on the character images. In conjunction with the renaming of the company, we are transitioning our st-ock listing to the NYSE American exchange, which we believe is more aligned with our strategy to become a leading provider of children's entertainment."
-Andy Hayward, Chairman & CEO, Genius Brands
And when the markets open on June 26th, 2023, the company's common stock will begin trading under a new ticker: "TOON"
CEO Hayward went on to add:
"The defining focus of our new 'Kartoon' and animation rebranding reflects the recent vertical integration of the business following several acquisitions over the past year, including WOW Unlimited Media in Canada and its subsidiaries Frederator Studios, Frederator Network and Mainframe Entertainment; Ameba TV; Beacon Media; as well as taking a major stake in Germany's Your Family Entertainment, the largest children's animation catalogue in Europe. We now have capabilities to do everything in-house, from content creation to production, distribution and global merchandising."
Based on that statement… 
It's clear that Hayward – who has, himself, worked at The Walt Disney Company, Warner Brothers, and WP – is on a mission to bring Genius Brands/Kartoon Studios to the very front of mainstream entertainment…
And after reviewing the chart technicals… the company financials… and the aggressive growth strategies that they're implementing…
I believe that it's possible. 
In my opinion, GNUS has carved out a unique niche in a very lucrative space. I think GNUS has a bright future ahead of it, and that it would be a mistake not to stop – right now – take some time right now to fully review this opportunity, and decide if this stock is the right move for your portfolio.
A great place to start would be right here on the company's website as well as the full report that our friends at Stock Market Dispatch have put together on GNUS.  
I think you'll love this hot new idea as much as we do!
To Your Success!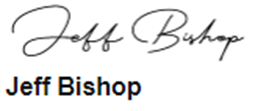 *PAID ADVERTISEMENT.
RagingBull has been paid fifteen thousand dollars by ach bank transfer by Lifewater Media for advertising
Genius Brands International, INC
from a period beginning on June 21, 2023 through June 22, 2023 of the same year.  As a result of this advertisement and other marketing efforts, RagingBull may receive advertising revenue from new advertisers and collect email addresses from readers that it may be able to monetize. As of the date of this advertisement, the owners of Raging Bull do not hold a position in
Genius Brands International, INC
. This advertisement and other marketing efforts may increase investor and market awareness, which may result in an increased number of shareholders owning and trading the securities of
Genius Brands International, INC
, increased trading volume, and possibly an increased share price of the
Genius Brands International, INC
securities, which may or may not be temporary and decrease once the marketing arrangement has ended.
FOR EDUCATIONAL AND INFORMATION PURPOSES ONLY; NOT INVESTMENT ADVICE.
This advertisement is for educational and informational purposes only. All material information contained in this advertisement is based on information generally available to the public, which public information is believed to be reliable and accurate. Nevertheless, Raging Bull can guarantee the accuracy or completeness of the information. This advertisement does not purport to be a complete analysis of any company's financial position. This advertisement or any statements made in it is not, and should not be construed to be, personalized investment advice directed to or appropriate for any particular individual.
The statements made in this advertisement should NOT be relied upon for purposes of investing in the companies mentioned in this advertisement, nor should they be construed as a personalized recommendation to you to buy, sell, or hold any position in any security mentioned in this advertisement or in any other security or strategy.
It is strongly recommended that you consult a licensed or registered professional before making any investment decision.
SUBSTANTIAL RISK INVOLVED.
Any individual who chooses to invest in any securities of the companies mentioned in this advertisement should do so with caution.
Investing or transacting in any securities involves substantial risk; you may lose some, all, or possibly more than your original investment. Readers of this advertisement bear responsibility for their own investment research and decisions,
and should use information from this advertisement only as a starting point for doing additional independent research in order to allow individuals to form their own opinion regarding investments.
It is easy to lose money investing or trading, and we recommend always seeking individual advice from a licensed or registered professional and educating yourself as much as possible before considering any investments.
Our reports/releases are a commercial advertisement and are for general information purposes ONLY. A portion of our business is engaged in the marketing and advertising companies for monetary compensation. Never invest in any stock featured on our site or emails unless you can afford to lose your entire investment. The disclaimer is to be read and fully understood before using our services, joining our site or our email/blog list as well as any social networking platforms we may use. A portion of RagingBull's business model is to receive financial compensation to promote public companies. To conduct investor relations advertising, marketing and publicly disseminate information not limited to our websites, email, SMS, push notifications. This compensation is a major conflict of interest in our ability to provide unbiased reporting. Therefore, this communication should be viewed as a commercial advertisement only. Note, we periodically conduct interviews and issue stock alerts that we are not compensated for. These are purely for the purpose of company awareness, and to generate subscription revenues. In cases where a third party is involved, please note we have not investigated the background of the hiring third party or parties. The third party, profiled company, or their affiliates likely wish to liquidate shares of the profiled company at or near the time you receive this communication, which has the potential to hurt share prices. Frequently, companies profiled in our alerts may experience a large increase in volume and share price during the course of investor relations marketing, which may end as soon as the corporate awareness program ceases. Our emails may contain forward-looking statements, which are not guaranteed to materialize due to a variety of factors. We do not guarantee the timeliness, accuracy, or completeness of the information on our website / media webpage. The information in our website / media webpage is believed to be accurate and correct but has not been independently verified and is not guaranteed to be correct.
NOT AN INVESTMENT ADVISOR OR REGISTERED BROKER.
Raging Bull, or any of their owners, employees or independent contractors is not currently registered as a securities broker-dealer, broker, investment advisor (IA), or IA representative with the U.S. Securities and Exchange Commission, any state securities regulatory authority, or any self-regulatory organization.
USE OF FORWARD-LOOKING STATEMENTS.
Certain statements made in this advertisement may constitute forward-looking statements within the meaning of Section 27A of the Securities Act of 1933 and 21E of the Exchange Act of 1934. Forward-looking statements often include words such as "believes," "anticipates," "estimates," "expects," "projects," "intends," or other similar expressions of future performance or conduct. Forward-looking statements are based on expectations, estimates, and projections at the time the statements are made and are not statements of historical fact.
They involve many risks and uncertainties that could cause actual results or events to differ materially from those presently anticipated.
There is no guarantee that past performance will be indicative of future results.
Raging Bull does not undertake an obligation to update forward-looking statements in light of new information or future events. Readers can and should review all public SEC filings made by the companies profiled in the Advertisements at https:// www. sec. gov/edgar/ searchedgar/companysearch
TRADEMARKS.
All trademarks used in this advertisement are the property of their respective trademark holders and no endorsement by such owners of the contents of the advertisement is made or implied.