After an incredible piece of news, Jeff thinks it is time to take another close look at this past idea…
*Sponsored by Sica Media  
Hey gang, it's Jeff Bishop again.  
If you recall, I brought up Genprex (Nasdaq: GPNX) as a "💡 Bright Idea" to you several weeks ago.  The stock made a very nice move up at that time, and then quietly faded over the last few weeks.
Right now, I think it is time to get GNPX back on your radar 📈.
The reason is that yesterday, GNPX issued what I thought was incredible news, and I don't think the market fully understood what it was all about.
This small pharmaceutical company said that it was granted "fast-track designation" by the FDA for its small-cell lung cancer drug candidate, REQORSA.

If you read the release (emphases added), you'll see that GNPX has some very interesting "friends"…
The Company has previously received two other Fast-Track Designations for REQORSA, for REQORSA in combination with AstraZeneca (AZN) PLC's Tagrisso® in patients with late-stage non-small cell lung cancer (NSCLC) whose disease progressed after treatment with Tagrisso, and for REQORSA in combination with Merck & Co's (MRK) Keytruda® in patients with late-stage NSCLC whose disease progressed after treatment with Keytruda.
Later in the release, you'll see this from GNPX's Medical Officer:
"This Fast Track Designation for the Acclaim-3 patient population is another validation of REQORSA's potential to treat lung cancer," said Mark Berger, MD, Chief Medical Officer at Genprex. "We are very excited to soon begin treating patients in the Acclaim-3 clinical trial, which positions REQORSA as a component of initial standard therapy for SCLC rather than as a treatment for relapse." 
For a company of this size, I think this is absolutely game-changing news.  I don't have to tell you what the market size is for cancer-fighting drugs.
The fact that GNPX is now on "fast track designation" means that they will find out if they are going to receive ultimate approval or not, sooner rather than later.  I think that is exactly what shareholders want to see, too!
Watch this short video where a person (Jackie) in the actual trial study right now describes how this has impacted her life.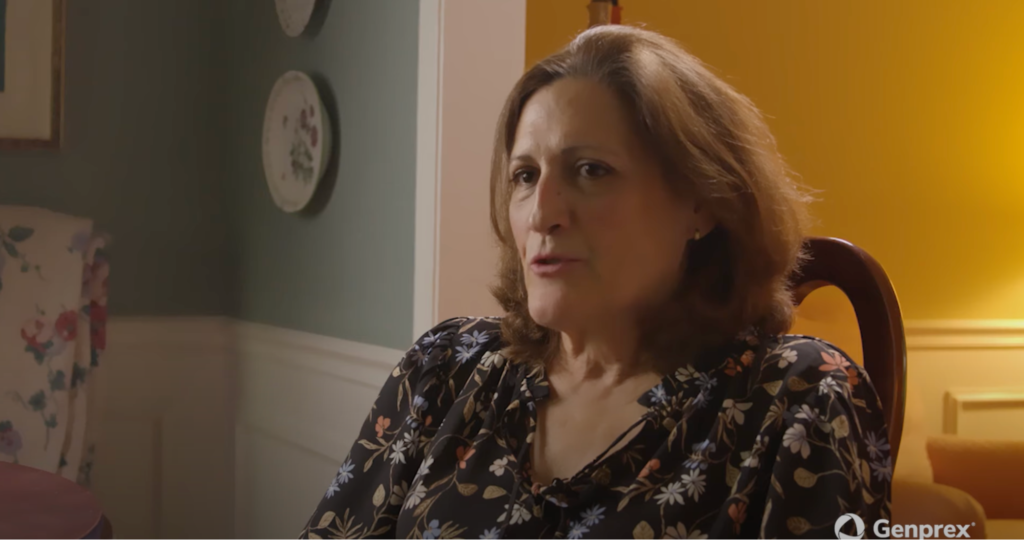 📺 I love this!  ❤️
We talk about stocks all of the time, but this is a real-world example of how a company is truly trying to change the lives of people for the better. 
In case you haven't been following the story since I brought it up a few weeks ago, GNPX has been spewing great news lately.
Just look at all of the news headlines that they have been dropping in the last few weeks…
Check out this news release from earlier in the month

Check this one that just dropped the day before that…
And this strong news regarding Phase 2 approval the day before…

Who knows what is next, but tiny GNPX is not just showing strong technical signals. It is paving the way with some really good news as well.A quick glance shows that even some analysts are taking notice.  Look at the "buy" rating over at the Wall Street Journal…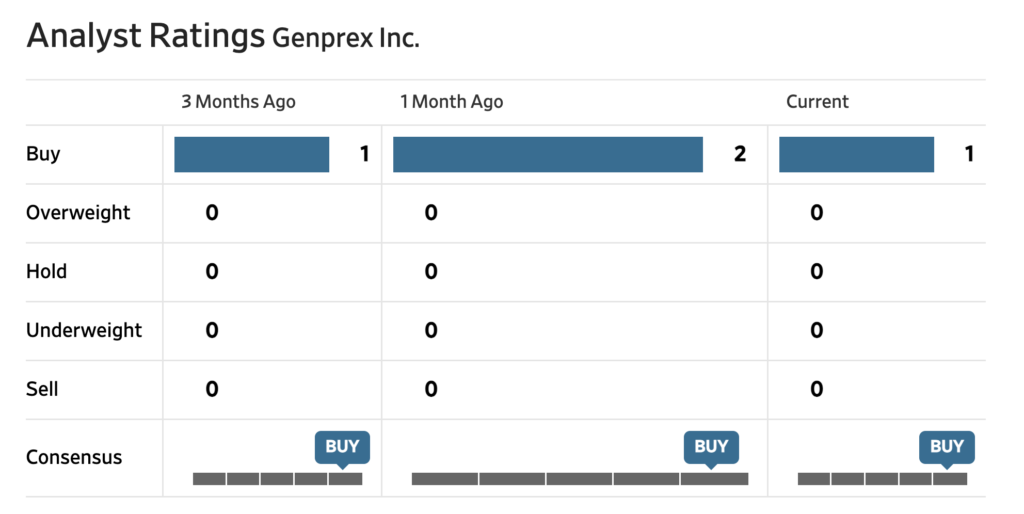 And then I found a report from a Wall Street firm that has a price target over 277% higher than current levels (and this was before the big news that came out yesterday)…

While I love trading biotech stocks because of the violent price moves that can happen (both good, and bad!), I am always cautious because of the risk that they will raise money by selling stock.
These are small companies that typically are in desperate need of cash, after all.
While the gains can be amazing when they work out, I know there could be losses on the other end, so I always make sure to play it safe and keep a stop in place to protect profits (if I have any.)
GNPX is in a unique position, though.  Look at how strong their balance sheet is right now…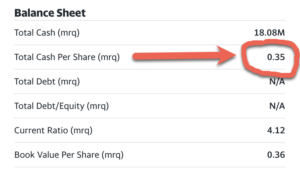 Ok, $.35 of cash per share doesn't sound like a lot for a mega-cap stock.  But you should consider that GNPX is trading for just around $.80 a share right now.
That means GNPX is sitting on nearly 40% of its entire value in just cash right now (as of their last public filing)!With the positive news flow, a great-looking technical set-up, and solid balance sheet, there is no question why insiders have a positive outlook on GNPX as well, and have been quietly accumulating shares…

Yes…GNPX could be a firecracker 🧨
Keep a close eye on GNPX today and make sure it is on your trading radar.
With the huge news announcement they had yesterday, I am really excited about the prospects ahead of them!
Also, make sure you check out their website so you can get a good understanding of what the company does, as well as the risks and potential rewards.  I never want anyone to buy a stock without fully understanding what they are getting into.
By the way…  👉 Text "RAGE" to (888) 404-5747 to get all of my latest HOT STOCK ideas delivered right to your phone!
To Your Success,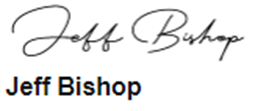 *PAID ADVERTISEMENT.
RagingBull has been paid ten thousand dollars by ach bank transfer by Lifewater Media for advertising Genprex Inc. from a period beginning on June 1, 2023 through June 1 of the same year. RagingBull has subsequently been paid fourteen thousand dollars by ach bank transfer by Sica Media for advertising Genprex Inc. from a period beginning on June 2, 2023 through June 2,  seven thousand five hundred dollars by ach bank transfer by Sica Media for advertising Genprex Inc. from a period beginning on June 29, 2023 through June 29,  and then seven thousand five hundred dollars by ach bank transfer by Sica Media for advertising Genprex Inc. from a period beginning on June 30, 2023 through June 30 of the same year. RagingBull has been paid a total of thirty eight thousand dollars to date for advertising related to Genprex. As a result of this advertisement and other marketing efforts, Raging Bull may receive advertising revenue from new advertisers and collect email addresses from readers that it may be able to monetize. As of the date of this advertisement, the owners of Raging Bull, do not hold a position in Genprex Inc. This advertisement and other marketing efforts may increase investor and market awareness, which may result in an increased number of shareh
olders owning and trading the securities of
Genprex Inc.
,
increased trading volume, and possibly an increased share price of the
Genprex Inc.
securities, which may or may not be temporary and decrease once the marketing arrangement has ended.
FOR EDUCATIONAL AND INFORMATION PURPOSES ONLY; NOT INVESTMENT ADVICE.
This advertisement is for educational and informational purposes only. All material information contained in this advertisement is based on information generally available to the public, which public information is believed to be reliable and accurate. Nevertheless, Raging Bull can guarantee the accuracy or completeness of the information. This advertisement does not purport to be a complete analysis of any company's financial position. This advertisement or any statements made in it is not, and should not be construed to be, personalized investment advice directed to or appropriate for any particular individual.
The statements made in this advertisement should NOT be relied upon for purposes of investing in the companies mentioned in this advertisement, nor should they be construed as a personalized recommendation to you to buy, sell, or hold any position in any security mentioned in this advertisement or in any other security or strategy.
It is strongly recommended that you consult a licensed or registered professional before making any investment decision.  
SUBSTANTIAL RISK INVOLVED.
Any individual who chooses to invest in any securities of the companies mentioned in this advertisement should do so with caution.
Investing or transacting in any securities involves substantial risk; you may lose some, all, or possibly more than your original investment. Readers of this advertisement bear responsibility for their own investment research and decisions,
and should use information from this advertisement only as a starting point for doing additional independent research in order to allow individuals to form their own opinion regarding investments.
It is easy to lose money investing or trading, and we recommend always seeking individual advice from a licensed or registered professional and educating yourself as much as possible before considering any investments.
Our reports/releases are a commercial advertisement and are for general information purposes ONLY. A portion of our business is engaged in the marketing and advertising companies for monetary compensation. Never invest in any stock featured on our site or emails unless you can afford to lose your entire investment. The disclaimer is to be read and fully understood before using our services, joining our site or our email/blog list as well as any social networking platforms we may use. A portion of RagingBull's business model is to receive financial compensation to promote public companies. To conduct investor relations advertising, marketing and publicly disseminate information not limited to our websites, email, SMS, push notifications. This compensation is a major conflict of interest in our ability to provide unbiased reporting. Therefore, this communication should be viewed as a commercial advertisement only. Note, we periodically conduct interviews and issue stock alerts that we are not compensated for. These are purely for the purpose of company awareness, and to generate subscription revenues. We have not investigated the background of the hiring third party or parties. The third party, profiled company, or their affiliates likely wish to liquidate shares of the profiled company at or near the time you receive this communication, which has the potential to hurt share prices. Frequently, companies profiled in our alerts may experience a large increase in volume and share price during the course of investor relations marketing, which may end as soon as the corporate awareness program ceases. Our emails may contain forward-looking statements, which are not guaranteed to materialize due to a variety of factors. We do not guarantee the timeliness, accuracy, or completeness of the information on our website / media webpage. The information in our website / media webpage is believed to be accurate and correct but has not been independently verified and is not guaranteed to be correct.
NOT AN INVESTMENT ADVISOR OR REGISTERED BROKER.
Raging Bull, or any of their owners, employees or independent contractors is not currently registered as a securities broker-dealer, broker, investment advisor (IA), or IA representative with the U.S. Securities and Exchange Commission, any state securities regulatory authority, or any self-regulatory organization.
USE OF FORWARD-LOOKING STATEMENTS.
Certain statements made in this advertisement may constitute forward-looking statements within the meaning of Section 27A of the Securities Act of 1933 and 21E of the Exchange Act of 1934. Forward-looking statements often include words such as "believes," "anticipates," "estimates," "expects," "projects," "intends," or other similar expressions of future performance or conduct. Forward-looking statements are based on expectations, estimates, and projections at the time the statements are made and are not statements of historical fact.
They involve many risks and uncertainties that could cause actual results or events to differ materially from those presently anticipated.
There is no guarantee that past performance will be indicative of future results.
Raging Bull does not undertake an obligation to update forward-looking statements in light of new information or future events. Readers can and should review all public SEC filings made by the companies profiled in the Advertisements at
TRADEMARKS.
All trademarks used in this advertisement are the property of their respective trademark holders and no endorsement by such owners of the contents of the advertisement is made or implied.