*Sponsored by IA Media
Good morning!
As you know, with my "Bright Ideas 💡" I'm always on the lookout for smaller companies with explosive upside potential 💣.
If you recall, last week I introduced you to a new gold mining stock (which also happens to be one of the best performing IPOs of the year), and the stock rallied over 15% in the days following that.
The last two ideas before that were even more impressive, I think. 
The first was a small pharma stock that shot up as high as 32% from when I first talked to you about it, and the other was an e-sports company that made double-digit gains as well!
This week's "Bright Idea 💡" is a company with tremendous momentum – it's up over 50% YTD and over 300% since November.
You are going to be shocked when you read more about this little stock.
For starters, Yahoo Finance is sounding the alarm with "full bullish indicators" on this stock right now, on every single time frame…

And there is little question why.
As you'll read soon, this company has some of the most incredible revenue growth numbers I have seen in years.
It is no wonder that Wall Street is starting to wake up to the explosive potential of:
Muscle Maker, Inc. (Nasdaq: GRIL)

'Strategic Pivots' have paid off — big time
Let me start with a little background. Muscle Maker Grill (GRIL) began as a restaurant in 1995 with a goal to provide healthy alternatives to fast food. It began franchising in 2007, and as of 2017 it had over 50 chains.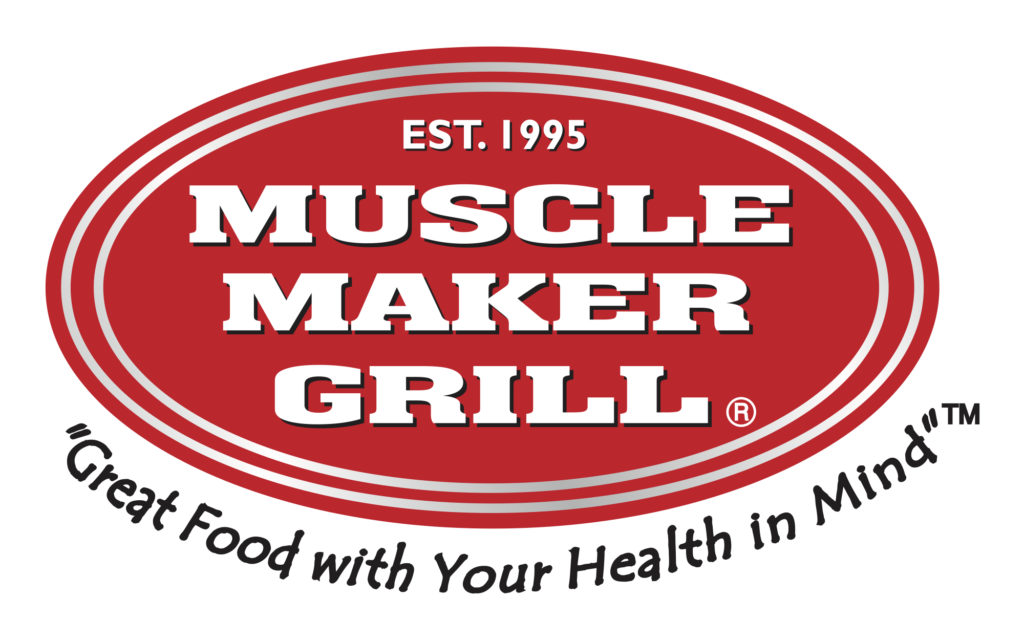 Source: Image source by Njsurfrh
The chain operated as a sort of Chipotle or Cava or Zoës Kitchen — but for fitness enthusiasts, dieters, or anyone looking for quality, clean meals.
But 5 years ago, decline set in. By 2019, there were 39 Muscle Maker chains, and by pandemic time in 2021 there were only 32.
It was at that point that GRIL made major moves. Rather than consigning itself to slow decline, in March 2021 it acquired meal prep company SuperFit Foods before buying Hawaiian cuisine chain Pokémoto in May.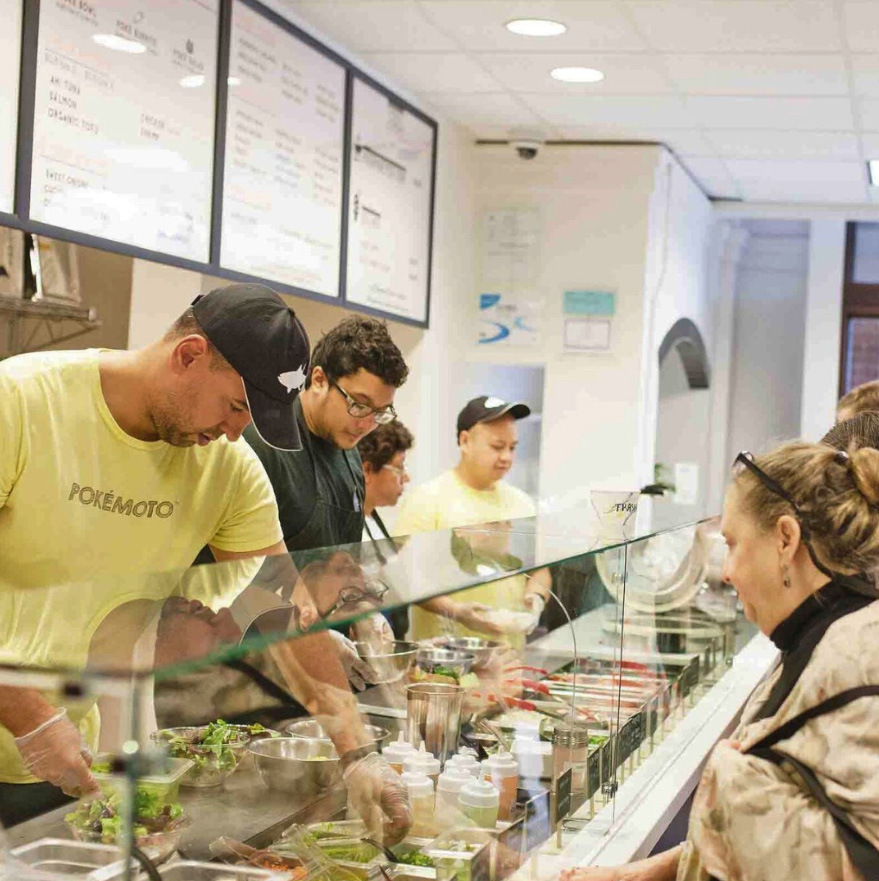 Credit: @pokemoto via Instagram
Despite the resulting 154% revenue increase and the success of the Pokémoto chain (in less than a year the company opened six new locations and signed 31 franchise agreements), investors were not inspired. Throughout most of 2022, the stock price tumbled.
After it was seemingly "left for dead," GRIL almost miraculously recovered in November, and it's been on a rocket ride 🚀 ever since.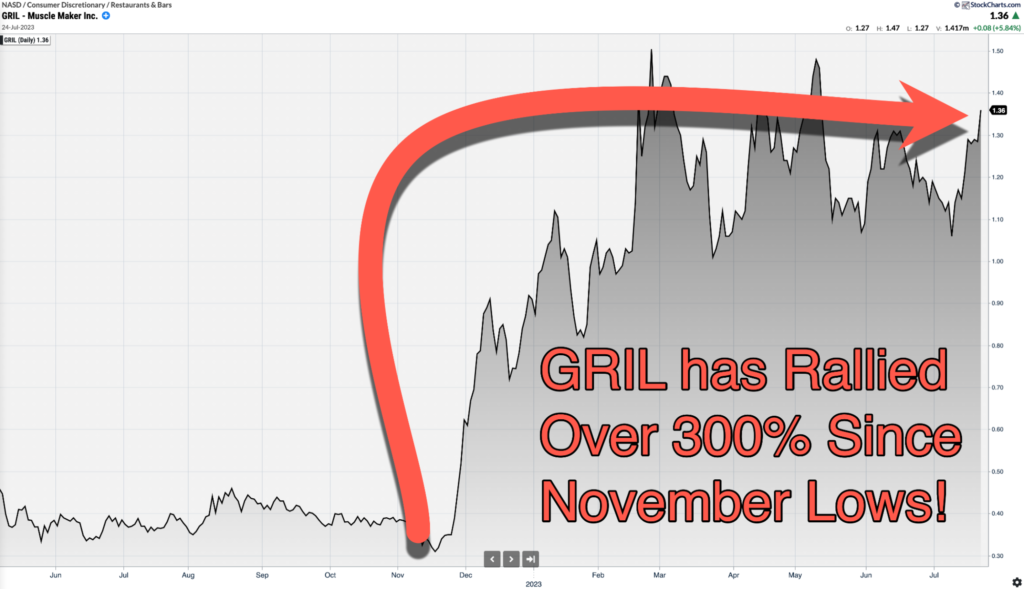 The trigger was almost certainly the announcement on November 18 that GRIL was turning its ambitions global with the forming of a wholly owned subsidiary, Sadot LLC…
'[A]n emerging player in the global food supply chain sector'
If you check out GRIL's investor relations website, that's how the company now describes itself. So how did it go from a humble restaurant business to something so lofty?

And what sent its stock price soaring over 300%?
In brief: vertical integration.
According to the November 18 press release, the purpose of forming Sadot was to "partner with industry experts in international commodity, merchandising and shipping" to become a player in global food supply.
The partner company, Dubai-based consulting firm AGGIA LLC, could gain control of Muscle Maker's Board of Directors if it helped Sadot generate $9.9 million in net income.
AGGIA demolished that benchmark. 
Make sure you are sitting down when you read this next part…
In the first three months of its operation, Sadot produced $209 million in revenue for Muscle Maker. Just yesterday, the company announced that the figure is now $515 million. 💰
June marked the eighth consecutive month that the company exceeded $45 million in top-line revenue.
Read that press release for yourself, I had to re-read it a few times to make sure I wasn't missing anything.
$515 MILLION.
It's a staggering amount of revenue for a company whose stock trades for just over $1.  
This has been a remarkable transformation for an otherwise floundering company — one that has now joined elite membership with other high-growth companies.
You see, GRIL was added to the Russell Microcap® Index last month, prompting this projection on the Nasdaq billboards: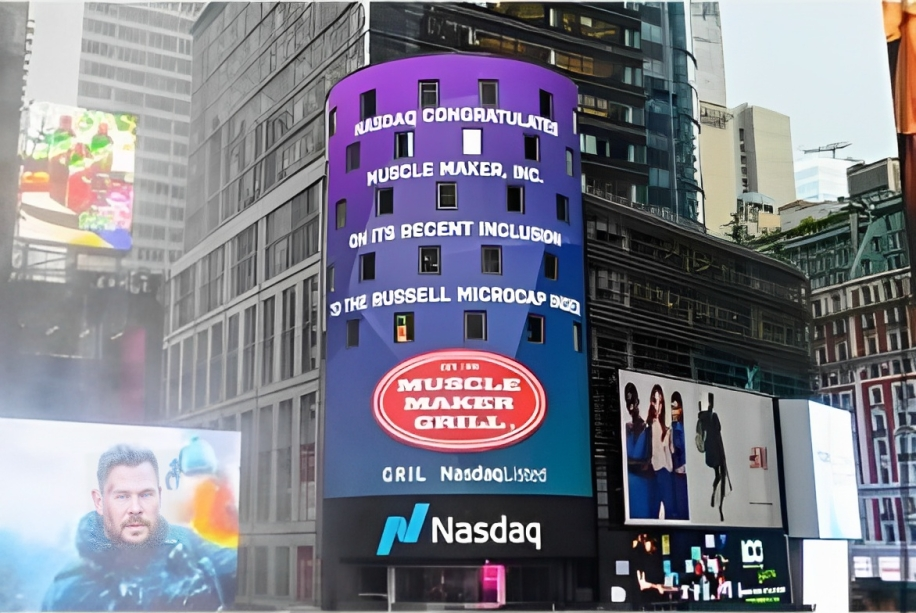 Analysts see major upside
Now that we know the whence of GRIL, whither?
As of this writing GRIL is trading around $1.35. As noted, that's over a 50% gain YTD and over 300% since the November low. Is there room to run?

According to an explosive report Zacks Small-Cap Research published in late May, you better believe it (read it for yourself right here).
The bottom line? According to analyst Tom Kerr, "[U]tilizing . . .  conservative estimates combined with other valuation methodologies, we believe GRIL could be worth $5.00 per share." [emphasis mine]

From its $1.36 trading price, that represents a projected 270% gain for GRIL.
And Zacks isn't alone. Goldman Small Cap Research also issued a report on GRIL in May that projected $913 million in company revenue for 2023 and earnings per share of $0.30.
If you scroll over to Wall Street Journal, you'll see the estimates vary, but there isn't an analyst out there who has a target that isn't nearly a double from here.  
In fact, the average target price looks to be 172% higher from yesterday's closing price.
The Goldman report also said that "upside to future forecasts and our target exist via the potential sale of the fast casual segment."

In other words, it believes GRIL should lean into the global agribusiness industry since it accounted for more than 90% of total company revenue as of its report.
I first came across GRIL while poking around on social media about the CAVA IPO, which, at a 38% gain since it went live last month, has been one of the biggest IPO successes of the year: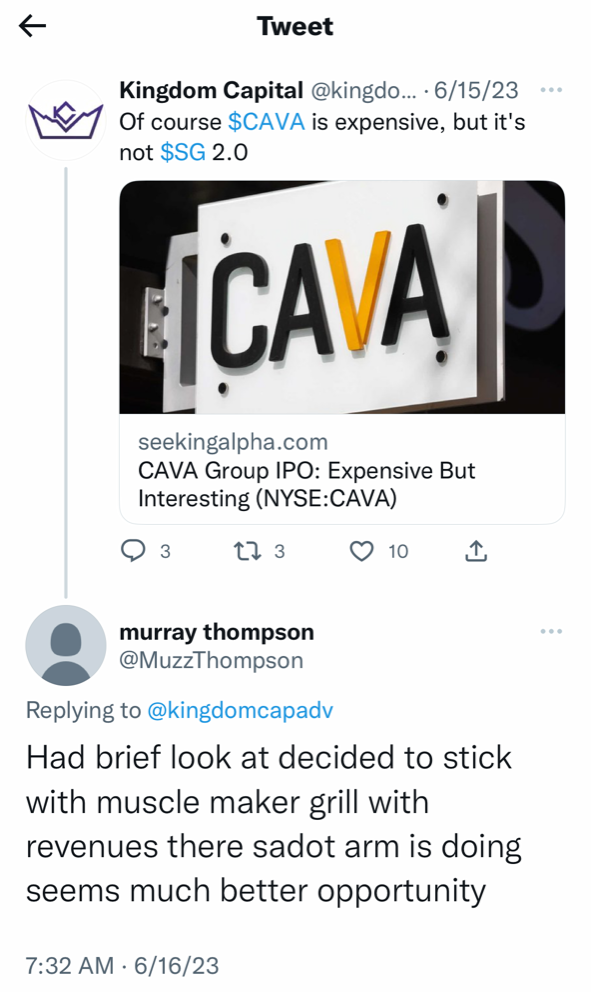 I'm with Zacks, Goldman and @MuzzThompson on this one! 
Of course, nothing is certain in the markets, but this is a scrappy company that's refused to be beaten down. GRIL has made the right pivots that I think will give it a very bright future
The situation with GRIL is rapidly evolving — just like its stock price. Be sure to do research yourself to see if it's right for your portfolio.
All stocks go up and down, and have their own unique risks. I can spot a good opportunity to look at, but I can never tell you what to do when it comes to your own personal trading, so take ownership and make sure you understand your own risk profile and have a solid game plan if you chose to invest in this, or any stock for that matter.   
And let GRIL be a lesson for us all — never give up!
Always be looking for the next opportunity. That's precisely what I'm going to do for you, dear reader, right now, so stay tuned!
To Your Success,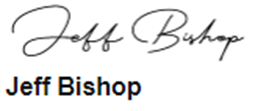 By the way…  👉 Text "RAGE" to (888) 404-5747 to get all of my latest HOT STOCK ideas delivered right to your phone!
*This investment involves substantial risk.  Please see full disclosure below, and detailed discussion of risks and atypical results
*PAID ADVERTISEMENT.
RagingBull has been paid twenty five thousand dollars by ach bank transfer by IA Media for advertising Muscle Maker, Inc. from a period beginning on July 25, 2023 through July 27 of the same year. As a result of this advertisement and other marketing efforts, RagingBull may receive advertising revenue from new advertisers and collect email addresses from readers that it may be able to monetize. As of the date of this advertisement, the owners of RagingBull do not hold a position in  Muscle Maker, Inc. This advertisement and other marketing efforts may increase investor and market awareness, which may result in an increased number of shareh
olders owning and trading the securities of
Muscle Maker, Inc
,
increased trading volume, and possibly an increased share price of the
 Muscle Maker, Inc
securities, which may or may not be temporary and decrease once the marketing arrangement has ended.
FOR EDUCATIONAL AND INFORMATION PURPOSES ONLY; NOT INVESTMENT ADVICE.
This advertisement is for educational and informational purposes only. All material information contained in this advertisement is based on information generally available to the public, which public information is believed to be reliable and accurate. Nevertheless, Raging Bull can guarantee the accuracy or completeness of the information. This advertisement does not purport to be a complete analysis of any company's financial position. This advertisement or any statements made in it is not, and should not be construed to be, personalized investment advice directed to or appropriate for any particular individual.
The statements made in this advertisement should NOT be relied upon for purposes of investing in the companies mentioned in this advertisement, nor should they be construed as a personalized recommendation to you to buy, sell, or hold any position in any security mentioned in this advertisement or in any other security or strategy.
It is strongly recommended that you consult a licensed or registered professional before making any investment decision.
SUBSTANTIAL RISK INVOLVED.
Any individual who chooses to invest in any securities of the companies mentioned in this advertisement should do so with caution.
Investing or transacting in any securities involves substantial risk; you may lose some, all, or possibly more than your original investment. Readers of this advertisement bear responsibility for their own investment research and decisions,
and should use information from this advertisement only as a starting point for doing additional independent research in order to allow individuals to form their own opinion regarding investments.
It is easy to lose money investing or trading, and we recommend always seeking individual advice from a licensed or registered professional and educating yourself as much as possible before considering any investments.
Our reports/releases are a commercial advertisement and are for general information purposes ONLY. A portion of our business is engaged in the marketing and advertising companies for monetary compensation. Never invest in any stock featured on our site or emails unless you can afford to lose your entire investment. The disclaimer is to be read and fully understood before using our services, joining our site or our email/blog list as well as any social networking platforms we may use. A portion of RagingBull's business model is to receive financial compensation to promote public companies. To conduct investor relations advertising, marketing and publicly disseminate information not limited to our websites, email, SMS, push notifications. This compensation is a major conflict of interest in our ability to provide unbiased reporting. Therefore, this communication should be viewed as a commercial advertisement only. Note, we periodically conduct interviews and issue stock alerts that we are not compensated for. These are purely for the purpose of company awareness, and to generate subscription revenues. We have not investigated the background of the hiring third party or parties. The third party, profiled company, or their affiliates likely wish to liquidate shares of the profiled company at or near the time you receive this communication, which has the potential to hurt share prices. Frequently, companies profiled in our alerts may experience a large increase in volume and share price during the course of investor relations marketing, which may end as soon as the corporate awareness program ceases. Our emails may contain forward-looking statements, which are not guaranteed to materialize due to a variety of factors. We do not guarantee the timeliness, accuracy, or completeness of the information on our website / media webpage. The information in our website / media webpage is believed to be accurate and correct but has not been independently verified and is not guaranteed to be correct.
NOT AN INVESTMENT ADVISOR OR REGISTERED BROKER.
Raging Bull, or any of their owners, employees or independent contractors is not currently registered as a securities broker-dealer, broker, investment advisor (IA), or IA representative with the U.S. Securities and Exchange Commission, any state securities regulatory authority, or any self-regulatory organization.
USE OF FORWARD-LOOKING STATEMENTS.
Certain statements made in this advertisement may constitute forward-looking statements within the meaning of Section 27A of the Securities Act of 1933 and 21E of the Exchange Act of 1934. Forward-looking statements often include words such as "believes," "anticipates," "estimates," "expects," "projects," "intends," or other similar expressions of future performance or conduct. Forward-looking statements are based on expectations, estimates, and projections at the time the statements are made and are not statements of historical fact.
They involve many risks and uncertainties that could cause actual results or events to differ materially from those presently anticipated.
There is no guarantee that past performance will be indicative of future results.
Raging Bull does not undertake an obligation to update forward-looking statements in light of new information or future events. Readers can and should review all public SEC filings made by the companies profiled in the Advertisements at
TRADEMARKS.
All trademarks used in this advertisement are the property of their respective trademark holders and no endorsement by such owners of the contents of the advertisement is made or implied.