*Sponsored by Sica Media
A smart guy once said, "Sometimes the biggest opportunities lie in the places that other investors aren't looking… but I am!"
That smart guy was me, yesterday!
While tech stocks and the broader market shed tears of pain on Tuesday, I was watching a very different story unfold with small momentum stocks.
By the way, after I finish this email, I will be writing to my members about why I think today is the day to strike ⚡ in the markets!  Be on the lookout for that soon. 
As I scour the market for opportunities, sure there are a lot of tech stocks that might make a small move higher. I have my eyes on TSLA, NVDA and MSFT, of course.
But there is one company in particular in the small-cap space that stands above the rest right now: A small green recycling company.
As I explained in my last email to you last night, they may not be curing cancer or developing a new breed of AI microchips. But they are doing something the other "sexy" companies are not doing – that is making money.
Who am I talking about?
Greenwave Technology Solutions (Nasdaq: GWAV)

Let's start right at the top.
GWAV is a very low-float stock, which gives it the potential to make significant moves, just like we saw into the close last night.
With just a little buying pressure, we saw the stock jump 9% from the lows.
Today, however, is the big news.  
On my AI scanner, I am seeing a freshly minted "GO" signal flashing on my screen.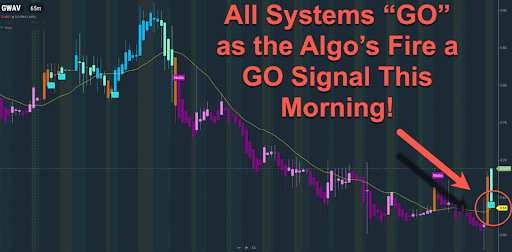 Yeah, the price is on the move, and the buyers are showing up.
This is teeing up perfectly today.
But I really want you to dig into the nuts and bolts of what they do.  This is a very compelling stock when you look at the fundamentals.
Last year, it did over $33 million in sales. And its year-over-year revenue growth sits at 10.76%, which is higher than the sector median.
Yet Yahoo! Finance reports that its current market cap is less than $10M right now. That's around 60 cents for a share of stock.
This is a company performing significantly better than its industry peers, while investor sentiment is nearly double that for the sector.
Very highly rated right now, per Y+…


Frankly, I think GWAV's low valuation is borderline criminal, and I don't expect it will stay that way for long.
Already, several institutional investors have added GWAV stock to their portfolios. 
Arena Investors – a global asset management company – owns a big chunk of this gem's stock. Others include Truist Financial, Northern Trust and Vanguard Group.
It also has the attention of the big two mutual fund holders, Fidelity and Vanguard.
It is also rated a buy on other analysts' radar.
The thing is, GWAV is well-positioned to stake its share of the $368.7 billion metal recycling market.
What's driving this market?
The continued expansion of construction, manufacturing and electronics. As those sectors grow, the demand for metals such as steel, aluminum and copper will increase as well.
Construction alone is forecast to grow to $18.59 trillion by 2028. Electronic manufacturing is expected to surpass $865.20 billion by 2030.
That's going to put a lot of pressure on finite primary metal resources. Said another way, there's not enough raw material to go around.
The solution (the only solution, actually)?
Metals recycling – the very space that GWAV dominates.
Via its 13 metal recycling facilities, it allows valuable materials to be reused, reducing the need for extensive mining and exploration, contributing to resource conservation.
In the long run, this will also keep costs lower for the industries reliant on these metals because they won't be forced into bidding wars for the raw materials.
However, GWAV's growth is not solely dependent on providing the big industries with recycled metals. 
It can generate revenue through other channels as well, including selling processed metals, offering waste management services, and even providing consultation on sustainable practices to other industries.
Even better, the company is constantly refining (excuse the pun) its offerings using advanced technology – even AI.
For example, just yesterday, GWAV announced it was operating new state-of-the-art shear baler equipment, significantly expanding its Cleveland facility's metal recycling production capacity. 
Basically, this tech means it can spit out more recycled metal, faster. 
More metal recycled = more 💰, right?
And, it has infused an AI pricing engine into its Scrap App (c'mon, clever name right?!), allowing junk cars to optimize margins.
But wait…
It gets better. 
Operating in the industrial sector, GWAV is heading into the best three months of the year. In terms of market seasonality, October, November, and December are historically the best months to be invested in companies in this space.
Overall, there is great potential in GWAV right this minute.
I think the markets are taking a (short-term) turn higher, and if I am right, GWAV could be the perfect stock to ride that wave. 
Make sure that GWAV is sitting on the top of your trading radar today.
Make sure to do your homework on this stock and see if you agree with me here.
Visit their website, and learn more about the risks and potential rewards with this company. And, as always, have a game plan in place before you ever make any stock purchases.
Reply back to this email and let me know how it goes for you today as well.  I love hearing from everyone! 📬
Best of luck, and do your own due diligence – always!
Here's to YOUR success,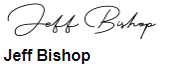 P.S. 👉 Text "RAGE" to (888) 404-5747 to get all of my latest HOT STOCK ideas delivered right to your phone! 📲
*This investment involves substantial risk. Please see full disclosure below, and detailed discussion of risks and atypical results.
---
DISCLAIMER
*PAID ADVERTISEMENT. Raging Bull has been paid fifteen thousand dollars from Sica Media who was compensated by a third party not affiliated with the Company for advertising Greenwave Technology Solutions from a period beginning on September 27 through September 28, 2023. Raging Bull has previously been paid four thousand five hundred dollars from Sica Media who was compensated by a third party not affiliated with the Company for advertising Greenwave Technology Solutions from a period beginning on August 29 through August 30, 2023. The third party, Company, or their affiliates may own and likely wish to liquidate shares of the Company at or near the time you receive this advertisement, which has the potential to hurt share prices. This advertisement and other marketing efforts, including alerts, may increase investor and market awareness, which may result in an increased number of shareholders owning and trading the securities of Greenwave Technology Solutions, increased trading volume, and possibly an increased share price of Greenwave Technology Solutions, which may or may not be temporary and decrease once the marketing arrangement has ended. As a result of this advertisement and other marketing efforts, Raging Bull may receive advertising revenue from new advertisers and collect email addresses from readers that it may be able to monetize. As of the date of the issuance of this advertisement, the owners of Raging Bull do not hold a position in Greenwave Technology Solutions, though they reserve the right to buy or sell shares in the covered company at any time following the dissemination of this communication.
FOR COMMERCIAL AND INFORMATIONAL PURPOSES ONLY; NOT INVESTMENT ADVICE. This advertisement is for commercial and informational purposes only. A portion of our business is engaged in the promotion, marketing, and advertising of companies including public companies. A portion of Raging Bull's business model is to receive financial compensation to promote public companies, conduct investor relations advertising and marketing, and publicly disseminate information regarding public companies through our websites email, SMS, and push notifications among other methods of communication. This compensation is a major conflict of interest in our ability to provide unbiased reporting. Therefore, this communication should be viewed as a commercial advertisement only. Note, we periodically conduct interviews and issue stock alerts that we are not compensated for. These are purely for the purpose of company awareness, and to generate subscription revenues. We have not investigated the background of the hiring third party or parties. All material information contained in this advertisement is based on information generally available to the public, including information released to the public or filed by the Company with applicable regulators which public information is believed to be reliable and accurate. Nevertheless, Raging Bull cannot guarantee the accuracy or completeness of the information. This advertisement does not purport to be a complete analysis of any company's financial position. This advertisement or any statements made in it is not, and should not be construed to be, personalized investment advice directed to or appropriate for any particular individual. The statements made in this advertisement should NOT be relied upon for purposes of investing in the companies mentioned in this advertisement, nor should they be construed as a personalized recommendation to you to buy, sell, or hold any position in any security mentioned in this advertisement or in any other security or strategy. It is strongly recommended that you consult a licensed or registered professional before making any investment decision.
SUBSTANTIAL RISK INVOLVED. Any individual who chooses to invest in any securities of the companies mentioned in this advertisement should do so with caution. Investing or transacting in any securities involves substantial risk; you may lose some, all, or possibly more than your original investment. Readers of this advertisement bear responsibility for their own investment research and decisions and should use information from this advertisement only as a starting point for doing additional independent research in order to allow individuals to form their own opinion regarding investments. It is easy to lose money investing or trading, and we recommend always seeking individual advice from a licensed or registered professional and educating yourself as much as possible before considering any investments. Never invest in any stock featured in this advertisement, on our site or emails unless you can afford to lose your entire investment.
NOT AN INVESTMENT ADVISOR OR REGISTERED BROKER. Raging Bull, or any of their owners, employees or independent contractors is not currently registered as a securities broker-dealer, broker, investment advisor (IA), or IA representative with the U.S. Securities and Exchange Commission, any state securities regulatory authority, or any self-regulatory organization.
USE OF FORWARD-LOOKING STATEMENTS. Our advertisements including this advertisement and related emails, reports and alerts may contain forward-looking statements, which are not guaranteed to materialize due to a variety of factors. We do not guarantee the timeliness, accuracy, or completeness of the information in this advertisement, related emails, reports or alerts or on our website or media webpage. This information is believed to be accurate and correct but has not been independently verified and is not guaranteed to be correct. Certain statements made in this advertisement may constitute forward-looking statements within the meaning of Section 27A of the Securities Act of 1933 and 21E of the Exchange Act of 1934. Forward-looking statements often include words such as "believes," "anticipates," "estimates," "expects," "projects," "intends," or other similar expressions of future performance or conduct. Forward-looking statements are based on expectations, estimates, and projections at the time the statements are made and are not statements of historical fact. They involve many risks and uncertainties that could cause actual results or events to differ materially from those presently anticipated. There is no guarantee that past performance will be indicative of future results. Raging Bull does not undertake an obligation to update forward-looking statements in light of new information or future events. Readers can and should review all public SEC filings made by the companies profiled in the Advertisements at https:// www .sec .gov/edgar/searchedgar/companysearch
TRADEMARKS. All trademarks used in this advertisement are the property of their respective trademark holders and no endorsement by such owners of the contents of the advertisement is made or implied.