SL:  💡 Will lightning strike twice with this week's Bright Idea? ⚡
Preview:  I am so excited to see this stock setting up again. It was an incredible performer the last time I alerted it, and I have high expectations this week as well.
*Sponsored by Lifewater Media. Please see disclosures below.
Last time I brought Dragonfly Energy (Nasdaq: DFLI)  to your attention, I was noticing a peculiar formation on the stock chart that I felt could be the signal of a strong reversal after a long downtrend.
At that point, DFLI had somehow fallen 50% on the year, but the indicators I look at were all pointing higher, telling me this selloff was likely done, and the stock was worth looking at again.
My timing couldn't have been any better on that call. 
Within days of alerting everyone to it, we saw DFLI make a stunning move over 90% higher from where I brought it to the attention of everyone.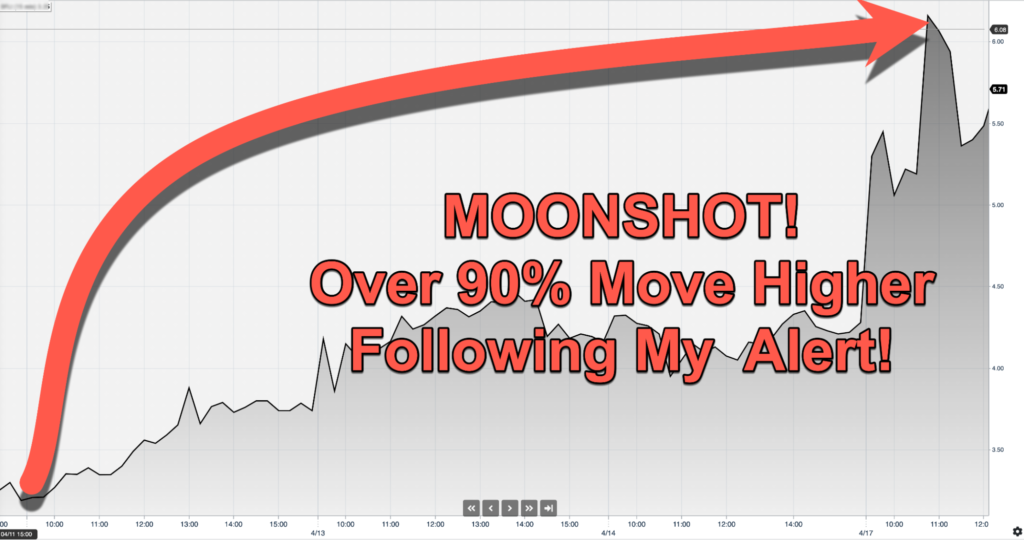 (if you have been following me for a few months, you remember seeing this!)☝️
Normally, I am pretty happy to see a stock make a 10-20% gain.  When I saw the violent move higher for DFLI last time I told you about it – even I was amazed!  Of course, we never know what's going to happen in the future, and I won't suggest we are going to see a move quite that strong again, but…
Today, I am seeing what I would call an even better setup for DFLI than what I did last time.
Look at this chart below.  I have highlighted the last 3 times that I spotted the "gamma trigger" breakout pattern.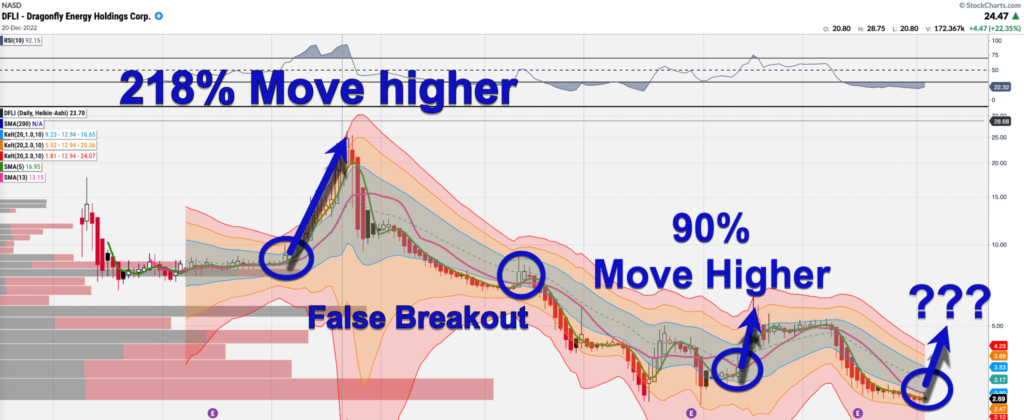 Twice, it led to some incredible gains of 218% and 90%, as you can see above.  
Once, it failed, but by keeping a tight stop loss below the trigger, there was little harm.
I have been patiently waiting for an ideal opportunity to show this to you again, and right now, I am seeing the same formation – but at a much lower price. 
These are exactly the kind of opportunities I love in the market – massive upside potential, while keeping a tight reign on losses if I'm wrong.
Something new in the mix is the addition of stock options for DFLI.
Last time I brought this stock to your attention, I don't think options existed.  Today, it can open up a whole opportunity.  
Just be sure you are comfortable with the risks and rewards of trading options, over stock.
You can find the option chain from your broker, or you can watch them from this link on Yahoo.
DFLI has set out to develop cleaner and less wasteful processes to create lithium-ion batteries. 🔋
Their cutting-edge technology is enabling the widespread conversion to green, renewable energy. 
DFLI produces batteries that solve today's lead-acid problem and are creating next-generation non-flammable solid-state batteries to address tomorrow's energy storage needs.
To understand how important cutting-edge batteries are right now, just consider this…
Recently, Elon Musk bluntly said that battery shortage is the one thing holding back Tesla.
It is a MAJOR problem that every manufacturer is facing right now.
However, DFLI is meeting this challenge head-on.
They have carved out a very unique niche that specializes in the development of batteries that serve the RV industry.
In a groundbreaking announcement last year, tiny DFLI detailed the terms of a $15 million investment from $4 billion THOR Industries (NYSE: THO), which is one of the largest players in the RV industry.
This company is at the forefront of developing cleaner and more efficient lithium-ion batteries and has its focus on next-generation non-flammable solid-state batteries.
One of the overlooked fundamentals that I think traders overlook is the ownership structure.
I think strong insider ownership is important because it signals how confident the people who know the company the best feel about the stock.
The way I look at it, if insiders don't care enough to own their own stock… why should I?
Consider that one of the biggest corporate cheerleaders is Tesla's Elon Musk.  While I applaud his enthusiasm for TSLA, he has sold $10's of billions of stock and now "only" owns around 13% of the shares.

On the other hand, we have DFLI insiders who own a whopping 58% of the shares.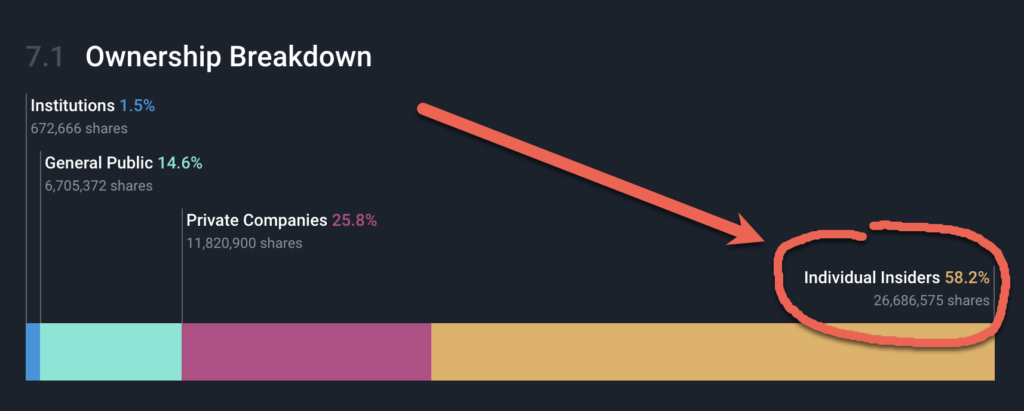 Is it possible that the people closest to the company see something we don't about its future? 🤔
DFLI was an early mover in the transition from lead acid to lithium-ion batteries in the RV industry. Their new batteries are non-toxic, lighter-weight, longer-lasting, and safer than their lead-acid counterparts. As a result, they not only improved customer experiences but also enhanced and powered their lifestyles.
Since 2018, DFLI has sold over 175,000 of the most popular deep-cycle lithium-ion batteries on the market, leading to rapid growth of both the Dragonfly Energy and Battle Born Batteries brands. The company's products have been well received, not only for their superior quality but also for the exceptional customer service and support provided by the company. 
I learned a lot about the company simply by watching some of the short videos they put out recently.  They are very well-produced and tell a great story about what they do and the opportunity at hand.  
I encourage you to take a few minutes and watch some of these videos for yourself…

(pretty incredible once you see it)
And, it's not just insiders who love the stock.
Wall Street analysts are warming up to the story as well.
SeekingAlpha reports that analysts have an average price target that is over 274% higher than current levels, as you can see on this graphic from SeekingAlpha.
And the word is getting out.  From their website, just look at some of the places that have picked up on Dragonfly Energy Holdings (Nasdaq: DFLI) already…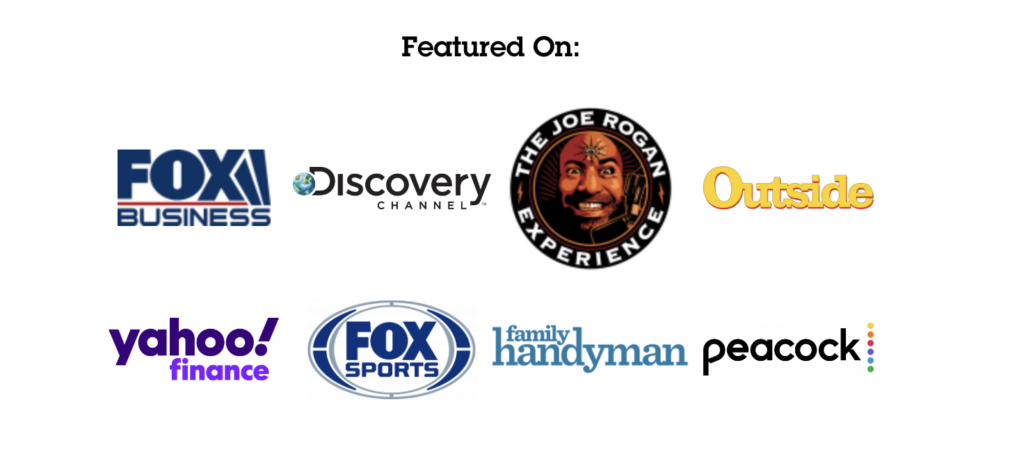 And they have secured MAJOR partnerships (and investments) with some top RV and outdoor brands like:

DFLI lithium-ion batteries address the limitations of lead-acid batteries, which suffer from poor shelf life and toxicity. 
For example, in material handling and forklift industries, lead-acid batteries have traditionally been installed after the manufacturing process due to these deficiencies. However, lithium-ion batteries enable original equipment manufacturers (OEMs) to install the batteries directly during manufacturing, eliminating post-production hassles.
One of the biggest opportunities I think they have ahead of them is coming with cutting-edge "solid-state" battery technology. 🔋
DFLI was recently awarded a patent on the concept, and there is enormous potential if they are successful here.

In fact, from their website, you'll see that they have 45 active patents and an incredible footprint already established.

If you don't know about solid-state batteries, see for yourself how big this market is going to be.
I think it is going to completely replace lithium-ion batteries in the next few years.
This report from Straits Research shows that they expect the market for solid-state batteries to grow over 36% year over year and become more than a $13 BILLION market by 2030.

DFLI is not your run-of-the-mill "battery maker."  This is a high-tech company that is delivering cutting-edge technology in a sector that is undeniably going to be hot for many, many years to come.
Considering how low the stock price is right now versus just a few months ago, I think it is a no-brainer to dig deeper into this story and see for yourself if DFLI deserves a spot in your portfolio.
With any investment, I think it is a great idea to get familiar with the risks and opportunities associated with it.  A great place to start with DFLI would be to visit its website and learn all you can about it.
Good luck, and happy trading!
By the way…  👉 Text "RAGE" to (888) 404-5747 to get all of my latest HOT STOCK ideas delivered right to your phone! 🔥📲
To Your Success,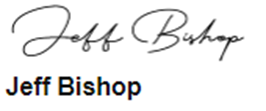 *PAID ADVERTISEMENT.

RagingBull has been paid nineteen thousand dollars by ach bank transfer by Lifewater Media for advertising Dragonfly Energy from a period beginning on June 5, 2023 through June 6 of the same year. Previously, RagingBull has been paid fourteen thousand dollars by ach bank transfer by Lifewater Media for advertising Dragonfly Energy from a period beginning on April 12, 2023 through April 13 of the same year. As a result of this advertisement and other marketing efforts, Raging Bull may receive advertising revenue from new advertisers and collect email addresses from readers that it may be able to monetize. As of the date of this advertisement, the owners of Raging Bull, do not hold a position in Dragonfly Energy. This advertisement and other marketing efforts may increase investor and market awareness, which may result in an increased number of shareholders owning and trading the securities of Dragonfly Energy, increased trading volume, and possibly an increased share price of the Dragonfly Energy securities, which may or may not be temporary and decrease once the marketing arrangement has ended.
FOR EDUCATIONAL AND INFORMATION PURPOSES ONLY; NOT INVESTMENT ADVICE.

This advertisement is for educational and informational purposes only. All material information contained in this advertisement is based on information generally available to the public, which public information is believed to be reliable and accurate. Nevertheless, Raging Bull can guarantee the accuracy or completeness of the information. This advertisement does not purport to be a complete analysis of any company's financial position. This advertisement or any statements made in it is not, and should not be construed to be, personalized investment advice directed to or appropriate for any particular individual.

The statements made in this advertisement should NOT be relied upon for purposes of investing in the companies mentioned in this advertisement, nor should they be construed as a personalized recommendation to you to buy, sell, or hold any position in any security mentioned in this advertisement or in any other security or strategy.

It is strongly recommended that you consult a licensed or registered professional before making any investment decision.
SUBSTANTIAL RISK INVOLVED.

Any individual who chooses to invest in any securities of the companies mentioned in this advertisement should do so with caution.

Investing or transacting in any securities involves substantial risk; you may lose some, all, or possibly more than your original investment. Readers of this advertisement bear responsibility for their own investment research and decisions,

and should use information from this advertisement only as a starting point for doing additional independent research in order to allow individuals to form their own opinion regarding investments.

It is easy to lose money investing or trading, and we recommend always seeking individual advice from a licensed or registered professional and educating yourself as much as possible before considering any investments.
Our reports/releases are a commercial advertisement and are for general information purposes ONLY. A portion of our business is engaged in the marketing and advertising companies for monetary compensation. Never invest in any stock featured on our site or emails unless you can afford to lose your entire investment. The disclaimer is to be read and fully understood before using our services, joining our site or our email/blog list as well as any social networking platforms we may use. A portion of RagingBull's business model is to receive financial compensation to promote public companies. To conduct investor relations advertising, marketing and publicly disseminate information not limited to our websites, email, SMS, push notifications. This compensation is a major conflict of interest in our ability to provide unbiased reporting. Therefore, this communication should be viewed as a commercial advertisement only. Note, we periodically conduct interviews and issue stock alerts that we are not compensated for. These are purely for the purpose of company awareness, and to generate subscription revenues. We have not investigated the background of the hiring third party or parties. The third party, profiled company, or their affiliates likely wish to liquidate shares of the profiled company at or near the time you receive this communication, which has the potential to hurt share prices. Frequently, companies profiled in our alerts may experience a large increase in volume and share price during the course of investor relations marketing, which may end as soon as the corporate awareness program ceases. Our emails may contain forward-looking statements, which are not guaranteed to materialize due to a variety of factors. We do not guarantee the timeliness, accuracy, or completeness of the information on our website / media webpage. The information in our website / media webpage is believed to be accurate and correct but has not been independently verified and is not guaranteed to be correct.
NOT AN INVESTMENT ADVISOR OR REGISTERED BROKER.

Raging Bull, or any of their owners, employees or independent contractors is not currently registered as a securities broker-dealer, broker, investment advisor (IA), or IA representative with the U.S. Securities and Exchange Commission, any state securities regulatory authority, or any self-regulatory organization.
USE OF FORWARD-LOOKING STATEMENTS.

Certain statements made in this advertisement may constitute forward-looking statements within the meaning of Section 27A of the Securities Act of 1933 and 21E of the Exchange Act of 1934. Forward-looking statements often include words such as "believes," "anticipates," "estimates," "expects," "projects," "intends," or other similar expressions of future performance or conduct. Forward-looking statements are based on expectations, estimates, and projections at the time the statements are made and are not statements of historical fact.

They involve many risks and uncertainties that could cause actual results or events to differ materially from those presently anticipated. There is no guarantee that past performance will be indicative of future results.

Raging Bull does not undertake an obligation to update forward-looking statements in light of new information or future events. Readers can and should review all public SEC filings made by the companies profiled in the Advertisements at
TRADEMARKS.

All trademarks used in this advertisement are the property of their respective trademark holders and no endorsement by such owners of the contents of the advertisement is made or implied.