*Sponsored by CGTP Enterprises
Today, I have a new "Bright Idea 💡" that demands your attention right now.
The stock you need to pull up on your screen right now is:
Adamas One (
Nasdaq
: JEWL)
I'm really excited about JEWL, because, as you'll see, I believe this stock is in "breakout mode" right now.
I have been watching JEWL for a while, and hoping there would be a meaningful dip, so I could bring this to your attention at a lower price.
But, after what I'm seeing now, I don't know if that is going to happen anytime soon.
Just yesterday, the stock was up another 15%+ on the day.
JEWL has quietly been a monster over the last couple of months. 
As you can see, in just the last 50 days, JEWL has gained over 108% and has traded higher on the critical 5 and 20-day periods as well… 

What I really like is the action we saw yesterday.  
I think this was a crucial move for the stock because it took out another resistance level, as you can see in this chart below:
JEWL had its IPO (initial public offering) in December @ $4.50, where it raised over $11 million.
I am not sure why, but in the months following the IPO, the stock dropped to under $1, losing over 80% of its value.
At that point, I wrote this off as another great-sounding business, but failed IPO stock.  There have been a lot of those in the last year, and I usually think it is best to avoid them.
Surprisingly, JEWL managed to find a trading base for nearly three months around the $1 level.  And like they say, "The longer the base, the higher the space!" 
That has certainly been the case for JEWL so far.  As you can see in the chart above, after JEWL finally managed to have closing prices above the $1 resistance level, it quickly shot up 25%, then retested the $1 level once again.
After that last retest of $1, JEWL has been on a rampage, and the stock has rocketed over 50% higher since then.  
As you can also see in the chart above, I pointed out the second resistance level at around $1.40.
In my opinion, yesterday was extremely important because the stock took out that resistance level with a vengeance and with strong volume, which suggests to me there was investor conviction behind the move.
I think all of this clearly points in the direction of a "breakout move" for JEWL right now.  
I have no idea where the stock will go from here, but assuming the trend stays intact, I would guess that it will continue to climb and find a new level of resistance at some point.
It's also important to note that the stock has some very strong momentum grades on various sites I follow. 
TipRanks shows near perfection on the daily technical indicators and moving averages and "BUY" ratings across the board…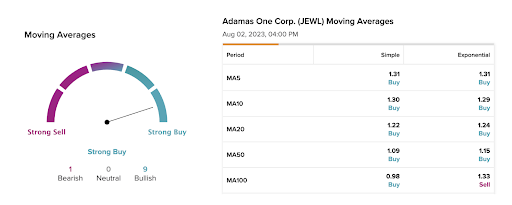 Yahoo! Finance shows virtually the same thing with their proprietary indicators, too  – "Bullish" for the short and medium term, which is all I typically care about as a trader. 

One of the strongest fundamental drivers I could find out there is an announcement from a few months ago where JEWL announced a $7.5 million share buyback program.

Again, Yahoo! Finance reports JEWL to be a minuscule $35 million market cap company. 
While a buyback of this size may not matter much to a big stock like AAPL, which buys back billions worth of shares a year, $7.5M is a very sizable amount for a company the size of JEWL, assuming they were to implement the entire authorized amount.
Plus…ask yourself, "When was the last time you saw a small stock like JEWL announce a buyback?"
That shows a strong vote of confidence from the management, and investors should keep this in mind. 
Ok, by this point, you probably get the picture of what I am seeing with the price charts.  I think this is a no-brainer right now on that front.
Now, what does JEWL actually do?
It's actually quite fascinating.  I don't know of another publicly-traded company like it – they create lab-grown diamonds! 💎
From a recent press release issued by Talk Markets, I found the following bullet points to help give you the overview on JEWL:
The key investment highlights they focus on include:
Rapidly Growing Market: Lab-grown diamonds currently represent over 42% of diamond sales in the US market and growing.

Scalable Production:

JEWL's

production capacity is set to reach a $12 million sales run rate this year, with plans for further expansion.

Favorable Economics: The expansion is expected to yield gross margins of 70%+ and EBITDA margins of 50%+ when completed.

Overcoming Hurdles:

JEWL

acknowledges the challenges it must overcome, including improving the turnaround time for cutting and polishing, arranging financing for capacity expansion, expanding marketing efforts, and facing competition in the grown-diamond market.

Technology:

JEWL's

lab-grown diamonds are indistinguishable from mined diamonds in terms of optical, physical, and chemical properties. The company's CVD (Chemical Vapor Deposition) process produces high-quality diamonds with low levels of impurities, making them suitable for both industrial and jewelry applications.
(source: https://www.adamasone.com/)
Market Trends: Lab-grown diamonds are experiencing substantial growth in the jewelry market, with unit sales up 57.6% and value sales up 37.2% year-over-year. While lab-grown diamonds have yet to catch up with natural diamonds in terms of value, their lower retail prices and environmental benefits contribute to their increasing popularity.

Competitive Advantage:

JEWL

competes favorably against HPHT (high pressure, high temperature) produced diamonds, offering advantages in batch size cost, color quality, and clarity. The company's focus on large single-crystal diamonds sets it apart from competitors.

Scalability and Finances: The company's proprietary production technology is highly scalable, and plans for expansion have been strategically laid out. Adamas One aims to finance future growth primarily through cash flow generated by its existing facility.
Another important consideration are the terrible conditions and human rights issues with mining diamonds right now.
We are all aware of the horrendous process of traditional diamond mining, as illustrated by the media's coverage and labeling this as "blood diamonds."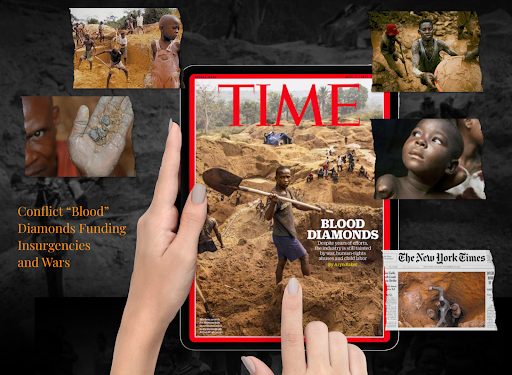 Kanye West perfectly sums up the tension with diamond mining in his "Diamonds from Sierra Leone" song (one of my favs!)
Spend your whole life tryna get that ice
On a Polo rugby, it look so nice
How can somethin' so wrong make me feel so right?
JEWL addresses this with a totally humane (and beautiful!) solution. 

Consider the value proposition of lab-created vs mined diamonds as well.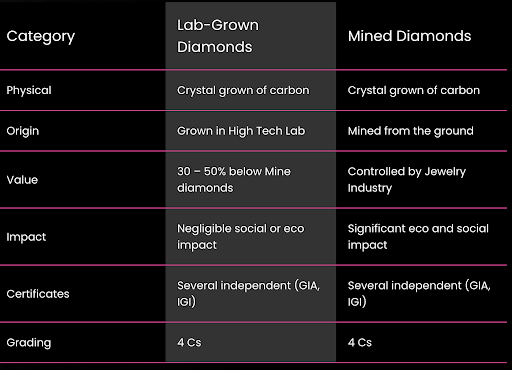 Overall, I think you'll agree with me that JEWL is an exceptional opportunity right now.
I really feel that time is of the essence when looking at this idea, so make sure you do your research immediately on this.
Just because I like a stock doesn't mean it is going to work out like I think it could – it might do better, or worse. If you decide to trade it, make sure you understand all the risks involved and have your own game plan in place. A good place to start is by visiting the company's website and getting to know more about the story. I am simply showing you something that I think is an outstanding opportunity to look at right now.
This investment involves substantial risk. Please see full disclosure below, and detailed discussion of risks and atypical results.
---
*PAID ADVERTISEMENT. RagingBull has currently been paid twenty five thousand dollars by ach bank transfer by CGTP Enterprises for advertising Adamas One Corp from a period beginning on August 3, 2023 through August 4, 2023 of the same year.  As a result of this advertisement and other marketing efforts, RagingBull may receive advertising revenue from new advertisers and collect email addresses from readers that it may be able to monetize. As of the date of this advertisement, the owners of Raging Bull do not hold a position in Adamas One Corp. This advertisement and other marketing efforts may increase investor and market awareness, which may result in an increased number of shareholders owning and trading the securities of Adamas One Corp, increased trading volume, and possibly an increased share price of the Adamas One Corp securities, which may or may not be temporary and decrease once the marketing arrangement has ended.
FOR EDUCATIONAL AND INFORMATION PURPOSES ONLY; NOT INVESTMENT ADVICE. This advertisement is for educational and informational purposes only. All material information contained in this advertisement is based on information generally available to the public, which public information is believed to be reliable and accurate. Nevertheless, Raging Bull can guarantee the accuracy or completeness of the information. This advertisement does not purport to be a complete analysis of any company's financial position. This advertisement or any statements made in it is not, and should not be construed to be, personalized investment advice directed to or appropriate for any particular individual. The statements made in this advertisement should NOT be relied upon for purposes of investing in the companies mentioned in this advertisement, nor should they be construed as a personalized recommendation to you to buy, sell, or hold any position in any security mentioned in this advertisement or in any other security or strategy. It is strongly recommended that you consult a licensed or registered professional before making any investment decision.
SUBSTANTIAL RISK INVOLVED. Any individual who chooses to invest in any securities of the companies mentioned in this advertisement should do so with caution. Investing or transacting in any securities involves substantial risk; you may lose some, all, or possibly more than your original investment. Readers of this advertisement bear responsibility for their own investment research and decisions, and should use information from this advertisement only as a starting point for doing additional independent research in order to allow individuals to form their own opinion regarding investments. It is easy to lose money investing or trading, and we recommend always seeking individual advice from a licensed or registered professional and educating yourself as much as possible before considering any investments.
Our reports/releases are a commercial advertisement and are for general information purposes ONLY. A portion of our business is engaged in the marketing and advertising companies for monetary compensation. Never invest in any stock featured on our site or emails unless you can afford to lose your entire investment. The disclaimer is to be read and fully understood before using our services, joining our site or our email/blog list as well as any social networking platforms we may use. A portion of RagingBull's business model is to receive financial compensation to promote public companies. To conduct investor relations advertising, marketing and publicly disseminate information not limited to our websites, email, SMS, push notifications. This compensation is a major conflict of interest in our ability to provide unbiased reporting. Therefore, this communication should be viewed as a commercial advertisement only. Note, we periodically conduct interviews and issue stock alerts that we are not compensated for. These are purely for the purpose of company awareness, and to generate subscription revenues. In cases where a third party is involved, please note we have not investigated the background of the hiring third party or parties. The third party, profiled company, or their affiliates likely wish to liquidate shares of the profiled company at or near the time you receive this communication, which has the potential to hurt share prices. Frequently, companies profiled in our alerts may experience a large increase in volume and share price during the course of investor relations marketing, which may end as soon as the corporate awareness program ceases. Our emails may contain forward-looking statements, which are not guaranteed to materialize due to a variety of factors. We do not guarantee the timeliness, accuracy, or completeness of the information on our website / media webpage. The information in our website / media webpage is believed to be accurate and correct but has not been independently verified and is not guaranteed to be correct.
NOT AN INVESTMENT ADVISOR OR REGISTERED BROKER. Raging Bull, or any of their owners, employees or independent contractors is not currently registered as a securities broker-dealer, broker, investment advisor (IA), or IA representative with the U.S. Securities and Exchange Commission, any state securities regulatory authority, or any self-regulatory organization.
USE OF FORWARD-LOOKING STATEMENTS. Certain statements made in this advertisement may constitute forward-looking statements within the meaning of Section 27A of the Securities Act of 1933 and 21E of the Exchange Act of 1934. Forward-looking statements often include words such as "believes," "anticipates," "estimates," "expects," "projects," "intends," or other similar expressions of future performance or conduct. Forward-looking statements are based on expectations, estimates, and projections at the time the statements are made and are not statements of historical fact. They involve many risks and uncertainties that could cause actual results or events to differ materially from those presently anticipated. There is no guarantee that past performance will be indicative of future results. Raging Bull does not undertake an obligation to update forward-looking statements in light of new information or future events. Readers can and should review all public SEC filings made by the companies profiled in the Advertisements at https:// www. sec. gov/edgar/ searchedgar/companysearch
TRADEMARKS. All trademarks used in this advertisement are the property of their respective trademark holders and no endorsement by such owners of the contents of the advertisement is made or implied.