Jeff's latest "Bright Idea" is a tiny stock trading for just a dime right now.  He thinks this aspiring tech titan looks poised to come
crashing
out of the gate…
*Sponsored by Lifewater Media
Today's Bright Idea💡has so much going for it I almost don't know where to begin…but for starters I want you to pull up this stock and start looking into it immediately:
Siyata Mobile (Nasdaq:
SYTA
)
▶️Read the complete write-up on this idea right here ◀️
Siyata Mobile Inc. is a leading global developer and provider of cellular communications systems for enterprise customers, specializing in connected vehicle products for professional fleets.
I'm not the only one excited about this opportunity, nor am I alone in thinking that they're about to make their mark on the telecom industry.
The projection from Zacks Small Cap Research alone is telling (found here):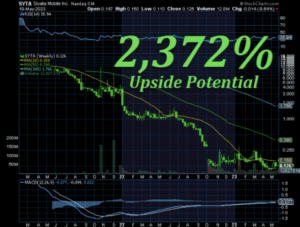 You're reading that correctly. 
Their analysts expect that we could see this tiny $0.10 gem soar all the way up to $2.50… for a potential 2,372% price gain —
Likely because the work they're doing to breathe new life into the industry with their cutting-edge communications tech has already landed them partnerships with the industry's leading firms, including:
Meaning SYTA has potential access to close to half a billion customers just from those three providers in the United States alone.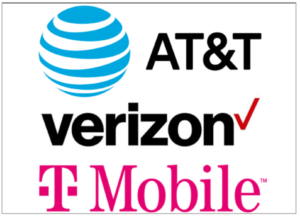 Chief among their suite of innovations is their line of Push-to-Talk communications devices, designed to provide robust network coverage, high-fidelity audio, and reliability for use by emergency services such as fire and EMS responders — 
If you're a dinosaur like me, you remember the old Nokia walkie-talkie features…
(I'm telling you… Those things were amazing! I honestly still miss mine.)And SYTA is bringing that core functionality into the 21st century with their SD7 platform: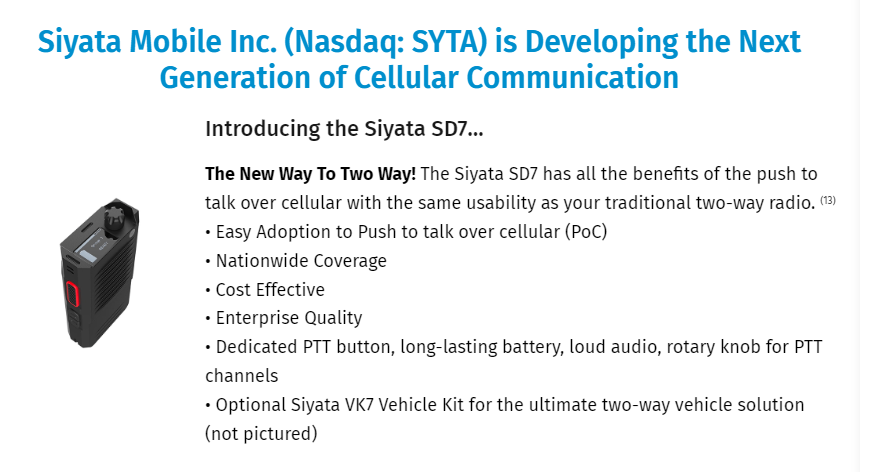 "But Jeff, isn't that going backwards in terms of tech?"
Not at all. 
Because generally speaking, the communications networks powering these critical services require extensive infrastructure and specialized equipment like towers, receivers, transmitters, and all sorts of other complicated gear. 
As any car owner can tell you, the more moving parts something has… the more likely it is that one of those parts will fail…
And when you're talking about a situation where an ambulance needs to communicate with other emergency workers – with lives quite literally on the line – the need for reliable, effective communications simply can NOT be overstated.
This is what makes the SD7 such a powerhouse —
It offers all the functionality of a cell phone AND a two-way communications system on a single device, while its booster systems enable first responders and other mission-oriented personnel to amplify cellular signals in areas where remote communication is typically difficult, if not impossible, such as in remote locations or large concrete structures.
And the adoption of Siyata's systems by security and emergency infrastructures isn't some far-off wish:
It's a process that's well underway.
Every major carrier in the United States is already offering the SD7, and CEO Mark Seelenfreund recently announced that their devices are being successfully deployed at this year's Winter Olympics:
"For the second year in a row, our devices were donated to and used at the Special Olympics Winter Games in Syracuse, New York to equip certain security personnel and event volunteers with the communications tools they need to help keep athletes, coaches, volunteers and spectators safe…" 
One US public school district recently purchased $900,000 worth of gear, giving them a foothold in the education system…

And the device's popularity is extending well beyond the United States, with Dutch telecom giant KPN bringing them into the fold, enabling them to offer their tech to yet more large government and commercial clients.
And don't think for a moment that the "push-to-talk" market is small beans.  
While it is a niche area of telecom, it Androit Research projects this sector to reach a valuation of $59.81 BILLION by 2030.
And yet… right now, Yahoo is reporting that SYTA is sitting at a minuscule $8 million market cap after securing another $3.6 million in financing, setting it nicely in my ideal range for a small-cap gem…
History has shown that, time and time again, SYTA's stock price can really move when the right catalyst is there.
Like when SYTA launched a few months ago and soared by as much as 244% higher in 5 months…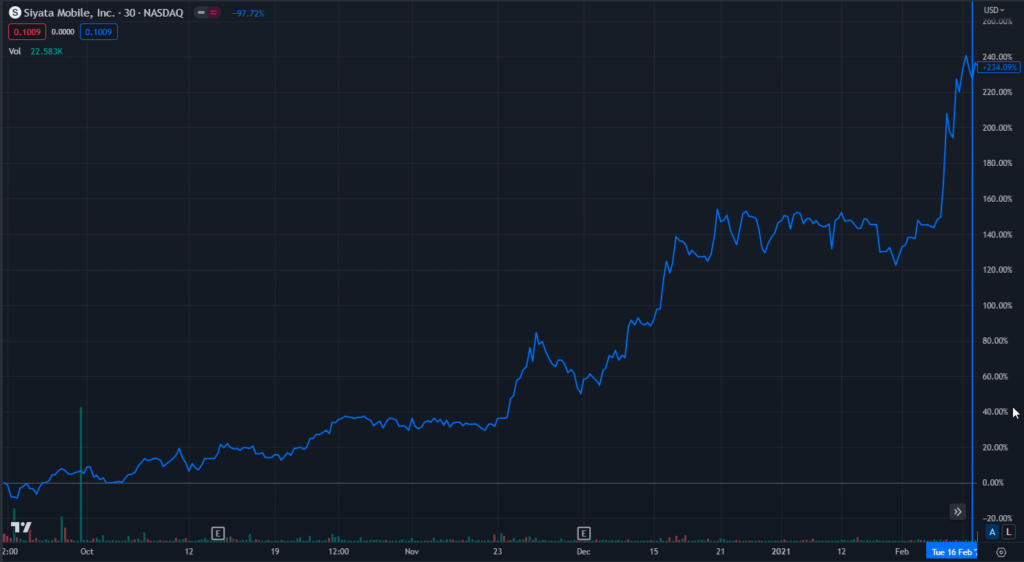 Or this time when SYTA gained 140% in 4 DAYS…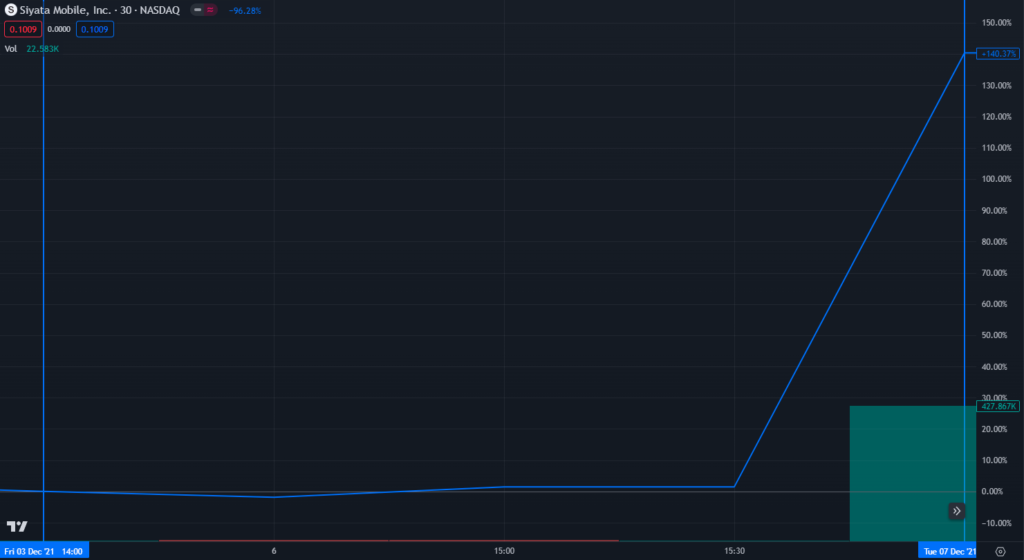 Or this banger, when SYTA shot up by 190% in just a FEW HOURS…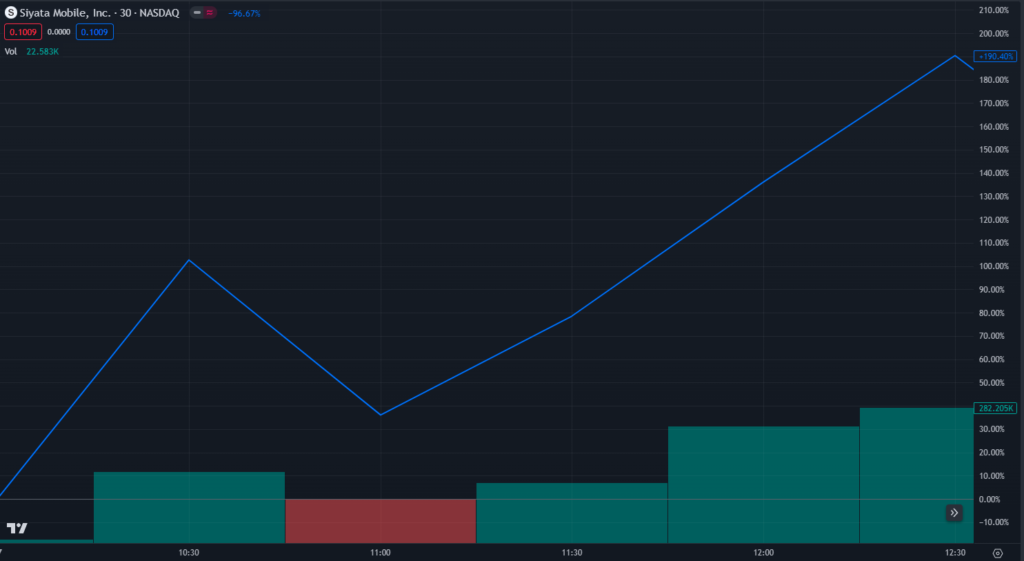 Folks, at the end of the day, we've got a company sitting in front of us that's: 
Providing a product that's filling a key need for both commercial and public safety institutions

Already well-connected with the major cell carriers in the United States

RAPIDLY expanding into international markets (both public and private)

Showing clear signs of financial stability

Trading at an incredibly low $0.10 price point

Sitting at a low $8 million market cap 
Considering all of the above, I'd say we're looking at an incredible growth opportunity —
But your definition of a good opportunity might be different than mine, which is why I always encourage you to do your own research before you decide to make any investment.
It's crucial that you get a full bird's eye view of the company, assess all of the factors in play, and ultimately make the choice that's right for you and your portfolio. 
A great place to start would be right here on the company's website.
Make sure you take some time – right now – before the markets open to get the complete rundown and see if this is the right move for you. 
To your success,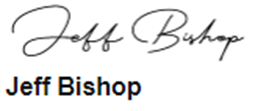 *Please see disclosures below
P.S. Text "RAGE" to (888) 404-5747 right now to get ALL of my latest HOT STOCK ideas before anyone else! 📲
*PAID ADVERTISEMENT.
RagingBull has been paid fifteen thousand dollars by ach bank transfer by Lifewater Media for advertising Siyata Mobile from a period beginning on June 15, 2023 through June 16, 2023 of the same year.  RagingBull has also previously been paid ten thousand dollars cash by Lifewater Media for advertising Siyata Mobile. As a result of this advertisement and other marketing efforts, Raging Bull may receive advertising revenue from new advertisers and collect email addresses from readers that it may be able to monetize. As of the date of this advertisement, the owners of Raging Bull do not hold a position in Siyata Mobile. This advertisement and other marketing efforts may increase investor and market awareness, which may result in an increased number of shareholders owning and trading the securities of Siyata Mobile, increased trading volume, and possibly an increased share price of the Siyata Mobile securities, which may or may not be temporary and decrease once the marketing arrangement has ended.
FOR EDUCATIONAL AND INFORMATION PURPOSES ONLY; NOT INVESTMENT ADVICE.
This advertisement is for educational and informational purposes only. All material information contained in this advertisement is based on information generally available to the public, which public information is believed to be reliable and accurate. Nevertheless, Raging Bull can guarantee the accuracy or completeness of the information. This advertisement does not purport to be a complete analysis of any company's financial position. This advertisement or any statements made in it is not, and should not be construed to be, personalized investment advice directed to or appropriate for any particular individual.
The statements made in this advertisement should NOT be relied upon for purposes of investing in the companies mentioned in this advertisement, nor should they be construed as a personalized recommendation to you to buy, sell, or hold any position in any security mentioned in this advertisement or in any other security or strategy.
It is strongly recommended that you consult a licensed or registered professional before making any investment decision.
SUBSTANTIAL RISK INVOLVED.
Any individual who chooses to invest in any securities of the companies mentioned in this advertisement should do so with caution.
Investing or transacting in any securities involves substantial risk; you may lose some, all, or possibly more than your original investment. Readers of this advertisement bear responsibility for their own investment research and decisions,
and should use information from this advertisement only as a starting point for doing additional independent research in order to allow individuals to form their own opinion regarding investments.
It is easy to lose money investing or trading, and we recommend always seeking individual advice from a licensed or registered professional and educating yourself as much as possible before considering any investments.
Our reports/releases are a commercial advertisement and are for general information purposes ONLY. A portion of our business is engaged in the marketing and advertising companies for monetary compensation. Never invest in any stock featured on our site or emails unless you can afford to lose your entire investment. The disclaimer is to be read and fully understood before using our services, joining our site or our email/blog list as well as any social networking platforms we may use. A portion of RagingBull's business model is to receive financial compensation to promote public companies. To conduct investor relations advertising, marketing and publicly disseminate information not limited to our websites, email, SMS, push notifications. This compensation is a major conflict of interest in our ability to provide unbiased reporting. Therefore, this communication should be viewed as a commercial advertisement only. Note, we periodically conduct interviews and issue stock alerts that we are not compensated for. These are purely for the purpose of company awareness, and to generate subscription revenues. In cases where a third party is involved, please note we have not investigated the background of the hiring third party or parties. The third party, profiled company, or their affiliates likely wish to liquidate shares of the profiled company at or near the time you receive this communication, which has the potential to hurt share prices. Frequently, companies profiled in our alerts may experience a large increase in volume and share price during the course of investor relations marketing, which may end as soon as the corporate awareness program ceases. Our emails may contain forward-looking statements, which are not guaranteed to materialize due to a variety of factors. We do not guarantee the timeliness, accuracy, or completeness of the information on our website / media webpage. The information in our website / media webpage is believed to be accurate and correct but has not been independently verified and is not guaranteed to be correct.
NOT AN INVESTMENT ADVISOR OR REGISTERED BROKER.
Raging Bull, or any of their owners, employees or independent contractors is not currently registered as a securities broker-dealer, broker, investment advisor (IA), or IA representative with the U.S. Securities and Exchange Commission, any state securities regulatory authority, or any self-regulatory organization.
USE OF FORWARD-LOOKING STATEMENTS.
Certain statements made in this advertisement may constitute forward-looking statements within the meaning of Section 27A of the Securities Act of 1933 and 21E of the Exchange Act of 1934. Forward-looking statements often include words such as "believes," "anticipates," "estimates," "expects," "projects," "intends," or other similar expressions of future performance or conduct. Forward-looking statements are based on expectations, estimates, and projections at the time the statements are made and are not statements of historical fact.
They involve many risks and uncertainties that could cause actual results or events to differ materially from those presently anticipated.
There is no guarantee that past performance will be indicative of future results.
Raging Bull does not undertake an obligation to update forward-looking statements in light of new information or future events. Readers can and should review all public SEC filings made by the companies profiled in the Advertisements at https:// www. sec. gov/edgar/ searchedgar/companysearch
TRADEMARKS.
All trademarks used in this advertisement are the property of their respective trademark holders and no endorsement by such owners of the contents of the advertisement is made or implied.