Jeff Bishop here with my latest Bright Idea 💡—
*Sponsored by IA Media LLC, see disclosures below
Today, I've got my eyes on a hot little NYSE oil company that may be looking at major attention from Wall Street:
Trio Petroleum Corp (NYSE: TPET)
This is a small-cap opportunity that demands your attention, right now.
When we're thinking about the oil sector, our minds typically go straight to the giants —
Exxon-Mobil, Shell, and so on… 
But this little $1 stock, coming fresh off their April IPO, is set to make massive waves 🌊 in the energy market. With Saudi Arabia coming in with another 1 million BPD production cut, further tightening an already-throttled global crude market, I expect we're going to see potentially HUGE momentum behind TPET, in part because of THIS:

The "South Salinas Project" is a 9,267-acre field where TPET has secured an 85.75% working interest…
And commenced drilling within three weeks of their IPO in April, leading CEO Frank Ingriselli to make this bold announcement:
"We are fortunate to be able to secure our drilling rig in the first week post-IPO, and to commence drilling operations in our third week post-IPO. This key milestone was accomplished in a much shorter timeframe than we originally anticipated, which was approximately two months. 
Our expedited timeline has accelerated our development plans to commercialize and produce from our asset, and we are optimistic that this could lead to a growth in shareholder value."
Mr. Ingriselli – an industry veteran who we'll circle back to in a moment – is so optimistic because we're not talking about a small oil-drilling project here…
We're talking about a production asset that's valued at $2 billion dollars.
An area that – again – TPET currently has an 85.75% working interest in…
The implications for a tiny $27.5 million market cap company like this are monumental…
And I expect we're going to see momentum develop much sooner than later, given the fact that:
TPET's

HV-1 well in the "President's Field" section of the South Salinas asset has confirmed the presence of a major

accumulation of oil and gas.

The company took

only

three weeks

to begin drilling on-site, showing remarkable efficiency and a clear ability to scale its operations.

TPET

is solidifying its new domestic crude supply right when foreign supply lines are being closed off, positioning it to fill a critical economic void for a premium price.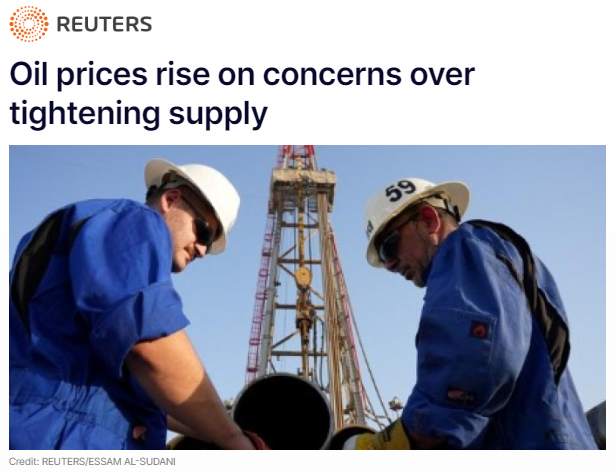 Ultimately, we're looking at a potentially massive new drilling operation in a location where TPET already has considerable infrastructure developed… and again, that's just ONE location on the 9,267-acre property!
As Trio continues to develop these fields (hopefully at the same incredible pace)…
I believe that we could see rising momentum here as buyers across the world scramble to snatch up oil as supplies continue to tighten.
But South Salinas is just ONE piece of TPET's highly-aggressive expansion campaign — 
The company has also agreed to acquire up to 100% of the working interest in Bakersfield, California's Union Avenue Field — 
An asset that has produced approximately 2.3 million barrels of oil and 1.2 BILLION cubic feet of natural gas, potentially setting Trio Petroleum up to become cash flow positive. 
But it's not only the size that makes these fields so lucrative…
It's also the location — California, of all places.
Because, despite being the 6th top oil-producing state in the US…That's not enough to make up for the fact that it's the 2nd largest energy consumer.

At the end of the day, California actually imports 70% of its oil, with nearly 60% coming from foreign sources —
That's a 400% increase from 20 years ago, when it was just 15%…
Positioning TPET right in the center of one of the nation's largest (most-starved) energy markets with a freshly-drilled supply in the face of tightening bottlenecks. 
In a situation like that, a company like Trio should be able to effectively flip the oil right over into profits as fast as they can drill it.
That's pretty much the dream for a little company like this, which explains why Frank Ingriselli – the former founder of PEDEVCO (a major energy developer) and Pacific Asia Petroleum, INC (another NYSE-traded energy company operating in Africa and Asia) — was so willing to come on as their CEO.
The man is a true industry veteran, with 23 years as a Texaco senior executive, with roles including President of International Operations and President of Technology Ventures where he was personally responsible for overseeing billions of dollars of investments…
That experience, combined with an operational team that saw TPET commence drilling operations just three weeks after IPO leads me to believe that the company has a bright future —
Especially when you consider some of the gains we saw coming out of the oil sector last year with Chevron climbing 44%…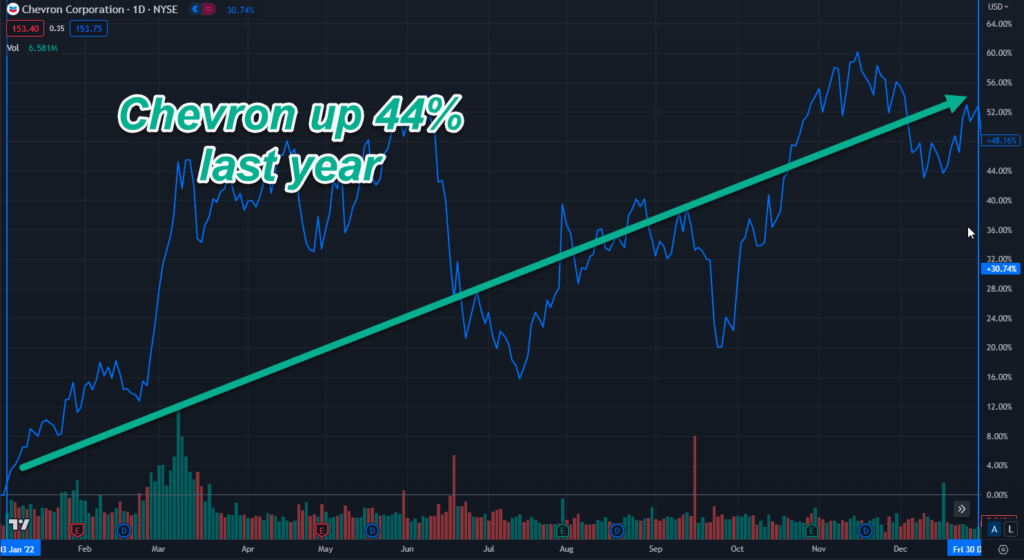 ConocoPhillips popping 60%…
And ExxonMobil hitting a 74% stride last year…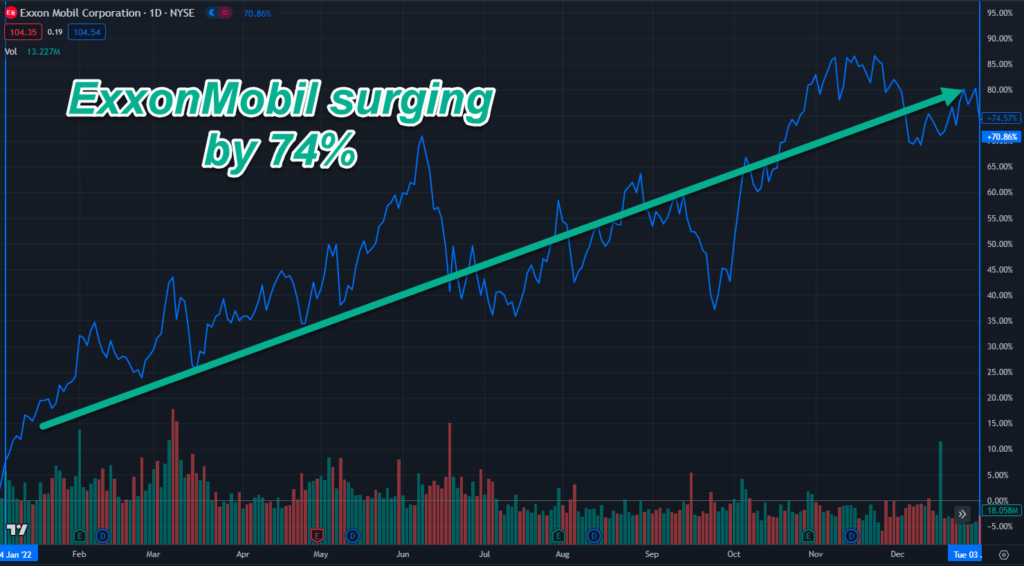 All while the S&P bottomed to historic levels at record-breaking speed…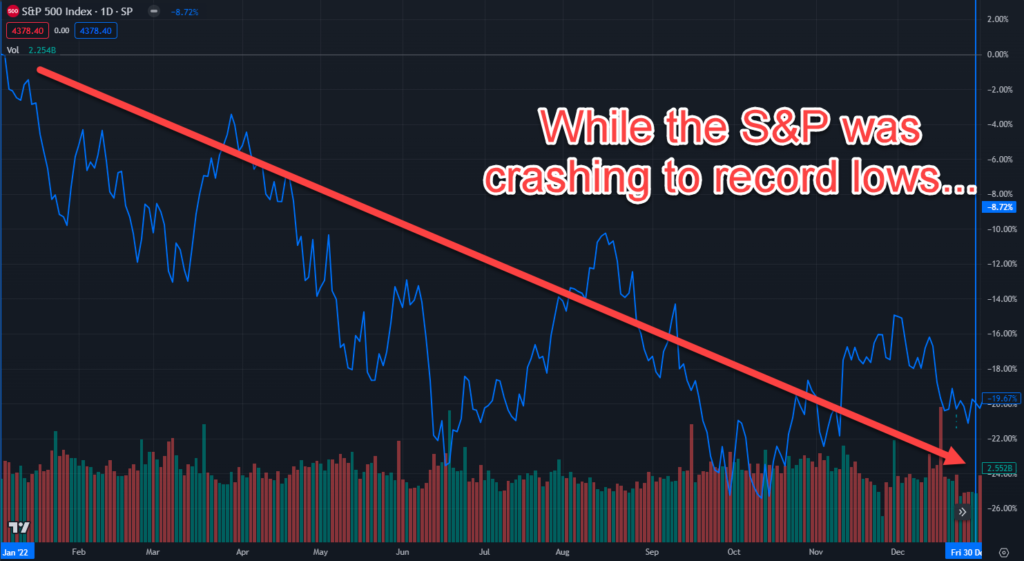 The energy sector was delivering premium profits, with ExxonMobil recording a landmark $6.3 million per hour in 2022 as demand surged…And with TPET already up 20% since last Thursday, I wouldn't be surprised if we saw a similar pattern emerge, especially as Russia, Saudi Arabia and OPEC+ continue tightening their stranglehold on global crude.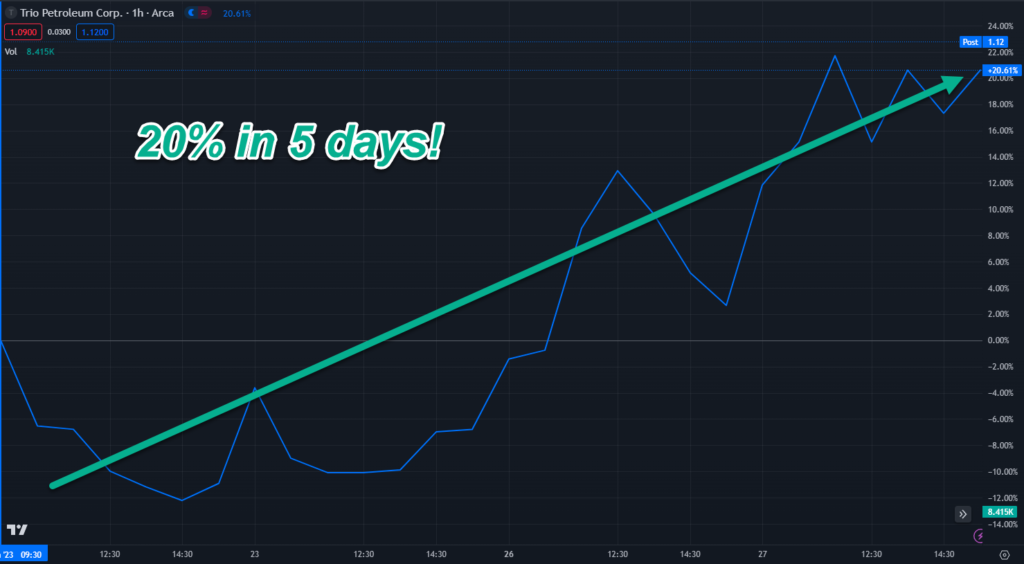 All told, I believe that TPET is carving out a strong position in one of the most historically lucrative sectors of the market, all at a time when oil stocks are on the move. It would be downright irresponsible for any trader to walk past this stock without giving it a second look.
That's why I'm encouraging you to take a few moments right now, as the  trading day starts, and do your due diligence to see if TPET could be the right move for your portfolio today —
Now, just because I love this stock doesn't mean you will, but after doing your own research I think you'll come to the same conclusions as me…
A great place to start would be right here on the company's website.
To your success,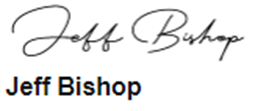 P.S.  By the way…  👉 Text "RAGE" to (888) 404-5747 to get all of my latest HOT STOCK ideas!
*please see disclosures below
*PAID ADVERTISEMENT.
RagingBull has been paid fifteen thousand dollars by ach bank transfer by IA Media LLC for advertising
Trio Petroleum Corp fr
om a period beginning on June 28, 2023 through June 29, 2023 of the same year.  As a result of this advertisement and other marketing efforts, RagingBull may receive advertising revenue from new advertisers and collect email addresses from readers that it may be able to monetize. As of the date of this advertisement, the owners of Raging Bull do not hold a position in
Trio Petroleum Corp
. This advertisement and other marketing efforts may increase investor and market awareness, which may result in an increased number of shareholders owning and trading the securities of
Trio Petroleum Corp,
increased trading volume, and possibly an increased share price of the
Trio Petroleum Corp
securities, which may or may not be temporary and decrease once the marketing arrangement has ended.
FOR EDUCATIONAL AND INFORMATION PURPOSES ONLY; NOT INVESTMENT ADVICE.
This advertisement is for educational and informational purposes only. All material information contained in this advertisement is based on information generally available to the public, which public information is believed to be reliable and accurate. Nevertheless, Raging Bull can guarantee the accuracy or completeness of the information. This advertisement does not purport to be a complete analysis of any company's financial position. This advertisement or any statements made in it is not, and should not be construed to be, personalized investment advice directed to or appropriate for any particular individual.
The statements made in this advertisement should NOT be relied upon for purposes of investing in the companies mentioned in this advertisement, nor should they be construed as a personalized recommendation to you to buy, sell, or hold any position in any security mentioned in this advertisement or in any other security or strategy.
It is strongly recommended that you consult a licensed or registered professional before making any investment decision.
SUBSTANTIAL RISK INVOLVED.
Any individual who chooses to invest in any securities of the companies mentioned in this advertisement should do so with caution.
Investing or transacting in any securities involves substantial risk; you may lose some, all, or possibly more than your original investment. Readers of this advertisement bear responsibility for their own investment research and decisions,
and should use information from this advertisement only as a starting point for doing additional independent research in order to allow individuals to form their own opinion regarding investments.
It is easy to lose money investing or trading, and we recommend always seeking individual advice from a licensed or registered professional and educating yourself as much as possible before considering any investments.
Our reports/releases are a commercial advertisement and are for general information purposes ONLY. A portion of our business is engaged in the marketing and advertising companies for monetary compensation. Never invest in any stock featured on our site or emails unless you can afford to lose your entire investment. The disclaimer is to be read and fully understood before using our services, joining our site or our email/blog list as well as any social networking platforms we may use. A portion of RagingBull's business model is to receive financial compensation to promote public companies. To conduct investor relations advertising, marketing and publicly disseminate information not limited to our websites, email, SMS, push notifications. This compensation is a major conflict of interest in our ability to provide unbiased reporting. Therefore, this communication should be viewed as a commercial advertisement only. Note, we periodically conduct interviews and issue stock alerts that we are not compensated for. These are purely for the purpose of company awareness, and to generate subscription revenues. In cases where a third party is involved, please note we have not investigated the background of the hiring third party or parties. The third party, profiled company, or their affiliates likely wish to liquidate shares of the profiled company at or near the time you receive this communication, which has the potential to hurt share prices. Frequently, companies profiled in our alerts may experience a large increase in volume and share price during the course of investor relations marketing, which may end as soon as the corporate awareness program ceases. Our emails may contain forward-looking statements, which are not guaranteed to materialize due to a variety of factors. We do not guarantee the timeliness, accuracy, or completeness of the information on our website / media webpage. The information in our website / media webpage is believed to be accurate and correct but has not been independently verified and is not guaranteed to be correct.
NOT AN INVESTMENT ADVISOR OR REGISTERED BROKER.
Raging Bull, or any of their owners, employees or independent contractors is not currently registered as a securities broker-dealer, broker, investment advisor (IA), or IA representative with the U.S. Securities and Exchange Commission, any state securities regulatory authority, or any self-regulatory organization.
USE OF FORWARD-LOOKING STATEMENTS.
Certain statements made in this advertisement may constitute forward-looking statements within the meaning of Section 27A of the Securities Act of 1933 and 21E of the Exchange Act of 1934. Forward-looking statements often include words such as "believes," "anticipates," "estimates," "expects," "projects," "intends," or other similar expressions of future performance or conduct. Forward-looking statements are based on expectations, estimates, and projections at the time the statements are made and are not statements of historical fact.
They involve many risks and uncertainties that could cause actual results or events to differ materially from those presently anticipated.
There is no guarantee that past performance will be indicative of future results.
Raging Bull does not undertake an obligation to update forward-looking statements in light of new information or future events. Readers can and should review all public SEC filings made by the companies profiled in the Advertisements at https:// www. sec. gov/edgar/ searchedgar/companysearch
TRADEMARKS.
All trademarks used in this advertisement are the property of their respective trademark holders and no endorsement by such owners of the contents of the advertisement is made or implied.