Folks…
Right now, I've got my eyes on the gold sector because it has been such a hot sector over the last week
If I had to pinpoint the ONE key company deserving of your attention today…
It's an easy choice: 
US GoldMining, Inc. (NASDAQ: USGO)
Even a brief glance at the chart reveals that we're looking at a potential gold powerhouse, with the stock ripping past every major index and trouncing the S&P by 460% since USGO's recent IPO in April: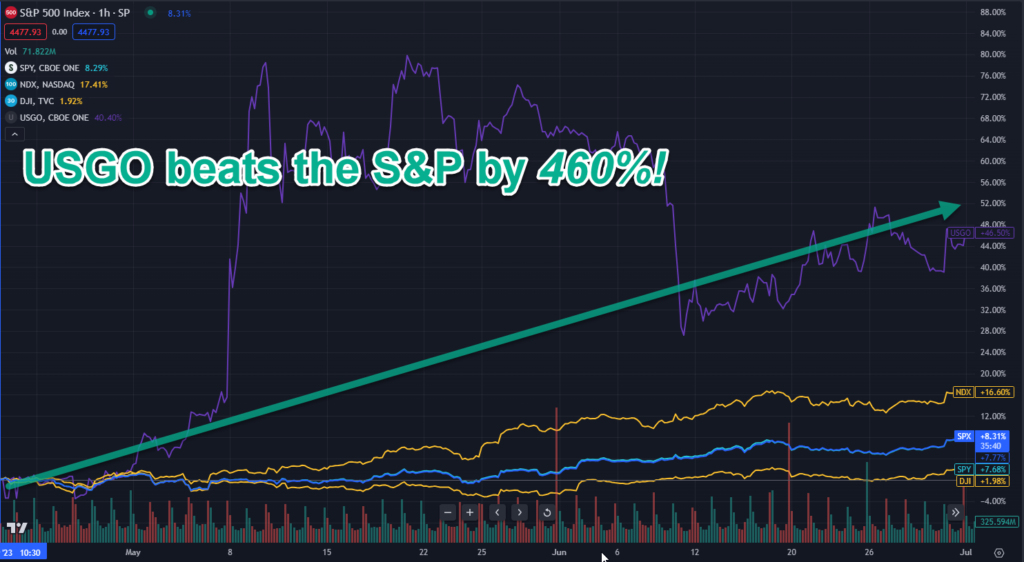 (46% gain for USGO has more than quadrupled the roughly 8% for the SPY)
And looking at the broader gold market, it's clear that the sector is poised for a GOLDEN age (I know, I couldn't help myself.)
After 12 years of market domination from tech and intangible assets, it looks like miners are finally about to come back into the spotlight as the price of gold creeps up towards $2,000/oz…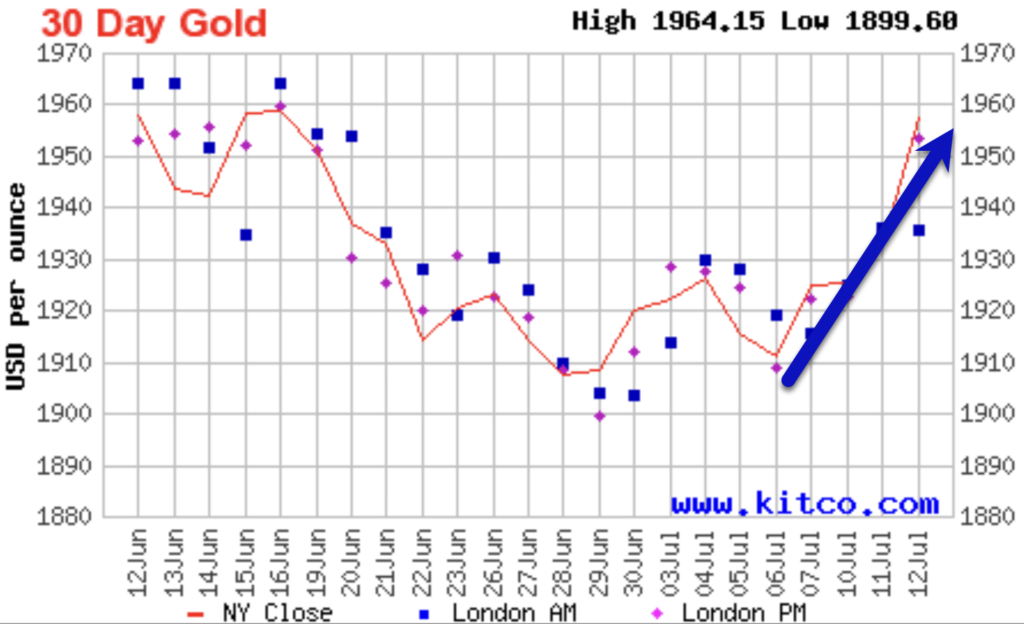 Meaning that now is the ideal time to start swooping in on the players that stand to benefit the most from an incoming surge in precious metals —
So ask yourself, do you think the best bet right now is with an overpriced mega-cap mining company, or a smaller, more nimble recent IPO that has proven the ability to make double-digit moves (USGO made a 70%+ move higher from its IPO price at one point already!) 
USGO is uniquely positioned with an incredibly low $12 price tag right now… that one analyst is projecting to hit $20…

Which isn't a surprising projection when you consider the fact that insiders own 85.15% of the company, leaving just 1.8 million shares available to the public
Such a low float creates a setup where relatively low amounts of buy pressure can lead to dramatic upswings like the 18% pop we saw a few weeks ago…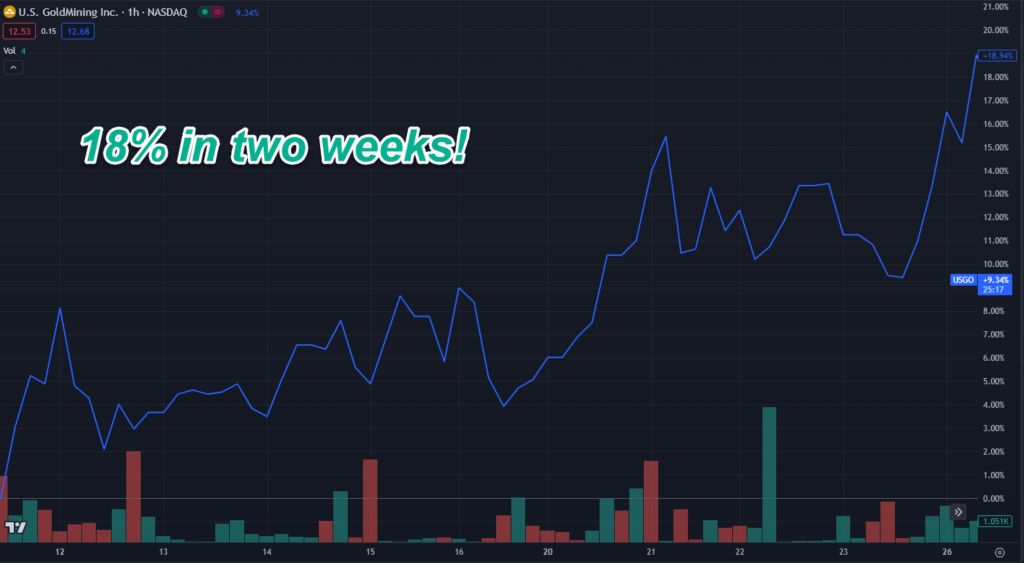 The run-up that saw the stock surging 16% back in May over a 48 hour period…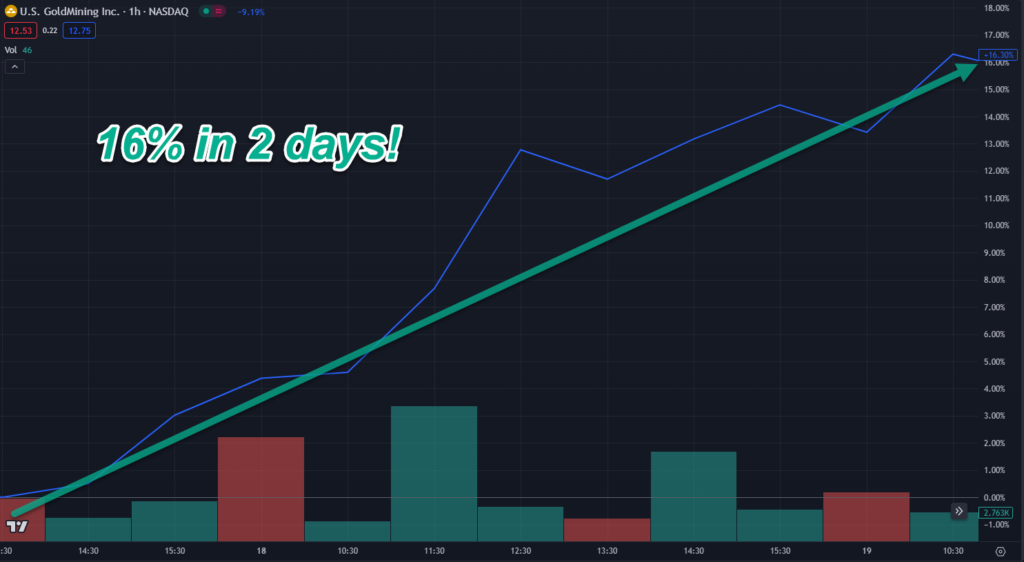 And the 54% leap we saw just a few weeks before that — in just four days.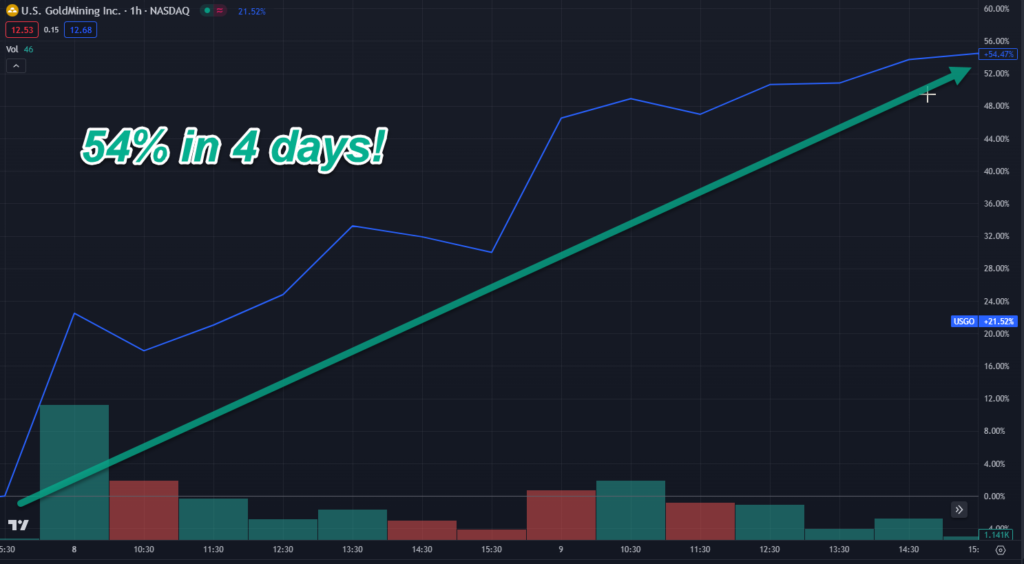 "But Jeff, what makes you think it could happen again?"
I have three words for you —
"The Whistler Project"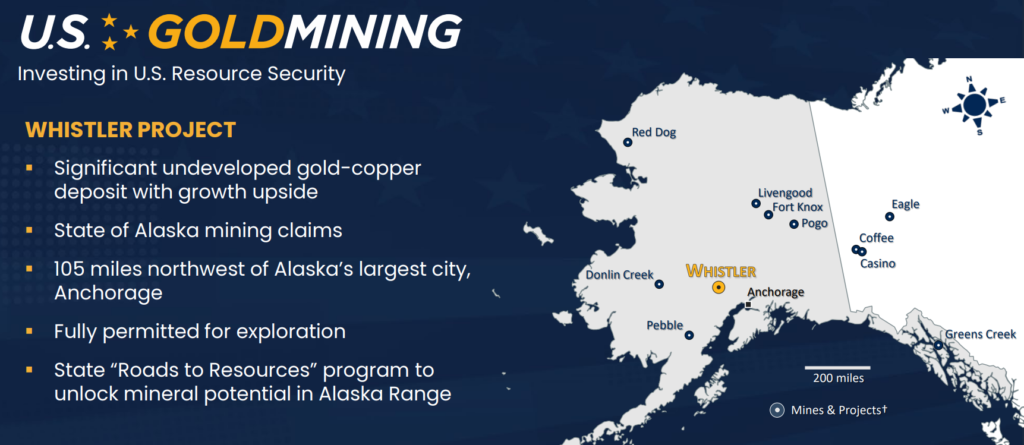 When it comes to gold, this is exactly the kind of resource (no pun intended) that could see the USGO picking up tremendous amounts of steam.
Let me break down the math for you:
In the Whistler Project alone, we're looking at 3 MILLION ounces of gold equivalent (comprised of 70% gold and 30% copper) in the indicated category… with another 6.4 MILLION ounces of inferred gold equivalent waiting to be dug out of the ground.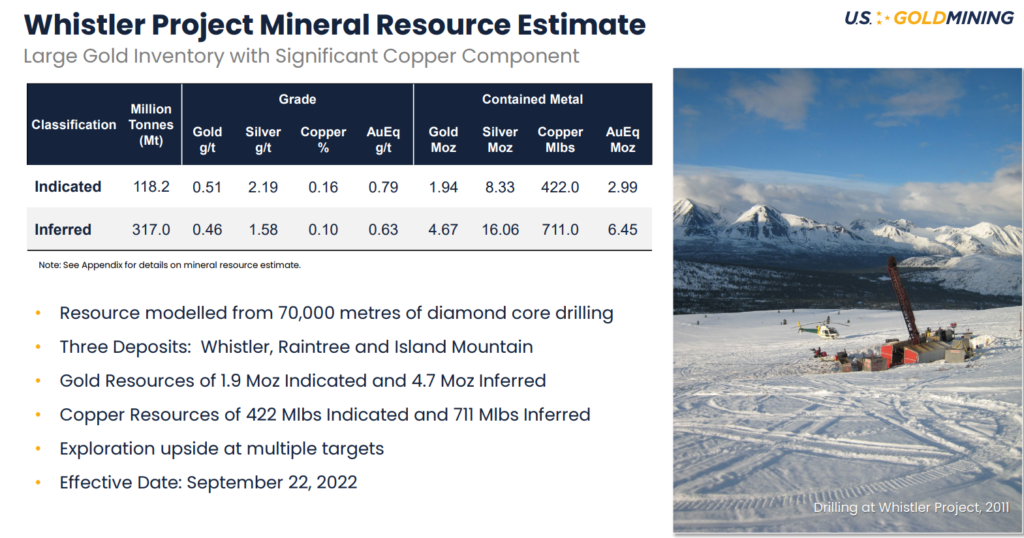 Now, when you consider the full enterprise value here…($150 Million market cap minus $189 Million in cash reserves…)
When you divide 15090 million by 9.4 million…
USGO's value clocks in at about $160/ounce…And over the last few years, we've seen buyouts happening between $105.98/oz – $264.63/oz
Now, if we apply even the low-end price to USGO…
That's $940 million —
Nearly 10x the current market cap…
BUT, with CEO Tim Smith at the helm… I wouldn't be surprised to see it sell for more one day.
This is the same man that served as the VP of Exploration for Kaminak Resources (now owned by Goldcorp, and sold one deposit for $130/oz back in 2016.
Selling the Whistler Project at the same rate would be a staggering $1.2 Billion dollars… again, on a stock that's currently sitting on a market cap of just $150 million…
Now, keep in mind… that's based on the value of gold TODAY.
As we speak, a combination of runaway inflation, the high recession potential, and Americans' growing distrust of the banking system are poised to send untold numbers of investors into the gold market.
In fact, one recent study shows that less than 10% of Americans "have a great deal of confidence" in banking and financial institutions after the recent crisis.Andrew Mastro (CFP, president and founder of Wrought Advisors) summed up the situation very nicely in a recent CBS article that predicts a $2,200 price point for gold on the horizon.

"Back in 2008, gold proved to be a safe haven and appreciated during the worst months of the financial crisis," says Andrew Mastro, CFP, president and founder of Wrought Advisors. "If a U.S. default comes to pass, it's possible that gold may appreciate in price again as more investors seek out assets perceived as safe." 
And Wells Fargo's Investment Strategy Report makes similarly optimistic claims about the future of gold:
"As long as the potential for global recession looms, which we suspect that it will for the remainder of 2023, we believe gold and other precious metals should continue to march higher,"
All told, we're looking at a very cut-and-dry situation with USGO:
They're sitting on as much as 9.4 MILLION ounces of gold equivalent in ONE deposit

The price of gold is projected to surge to $2,200 or more, with some analysts suggesting a rise to

$17,000 per ounce

by 2032

Their CEO, Tim Smith, is a renowned industry veteran with a history of selling gold deposits at prices much higher than average… potentially as much as

$1.2 billion

in this case if he matches his previous record…
And right now, the price of USGO is sitting at just $12, with some analysts expecting $20 in the coming months.
If you ask me, the move is clear on this one —
But just because I love this stock doesn't mean you have to. 
It's crucial that you do your own research to make sure that USGO is right for your portfolio. 
A great place to start would be right here on the company's website…
And I believe that once you've combed through the details, you're going to fall in love with this stock just like I did. 
To your success,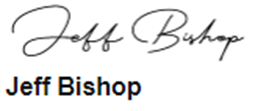 *PAID ADVERTISEMENT.
RagingBull has been paid fifty thousand dollars by ach bank transfer by US GoldMining, Inc for advertising from a period beginning on July 17, 2023 through August 30 of the same year. As a result of this advertisement and other marketing efforts, Raging Bull may receive advertising revenue from new advertisers and collect email addresses from readers that it may be able to monetize. As of the date of this advertisement, the owners of Raging Bull do not hold a position in US GoldMining, Inc. This advertisement and other marketing efforts may increase investor and market awareness, which may result in an increased number of shareh
olders owning and trading the securities of
US GoldMining, Inc
,
increased trading volume, and possibly an increased share price of the
US GoldMining, Inc
securities, which may or may not be temporary and decrease once the marketing arrangement has ended.
FOR EDUCATIONAL AND INFORMATION PURPOSES ONLY; NOT INVESTMENT ADVICE.
This advertisement is for educational and informational purposes only. All material information contained in this advertisement is based on information generally available to the public, which public information is believed to be reliable and accurate. Nevertheless, Raging Bull can guarantee the accuracy or completeness of the information. This advertisement does not purport to be a complete analysis of any company's financial position. This advertisement or any statements made in it is not, and should not be construed to be, personalized investment advice directed to or appropriate for any particular individual.
The statements made in this advertisement should NOT be relied upon for purposes of investing in the companies mentioned in this advertisement, nor should they be construed as a personalized recommendation to you to buy, sell, or hold any position in any security mentioned in this advertisement or in any other security or strategy.
It is strongly recommended that you consult a licensed or registered professional before making any investment decision.
SUBSTANTIAL RISK INVOLVED.
Any individual who chooses to invest in any securities of the companies mentioned in this advertisement should do so with caution.
Investing or transacting in any securities involves substantial risk; you may lose some, all, or possibly more than your original investment. Readers of this advertisement bear responsibility for their own investment research and decisions,
and should use information from this advertisement only as a starting point for doing additional independent research in order to allow individuals to form their own opinion regarding investments.
It is easy to lose money investing or trading, and we recommend always seeking individual advice from a licensed or registered professional and educating yourself as much as possible before considering any investments.
Our reports/releases are a commercial advertisement and are for general information purposes ONLY. A portion of our business is engaged in the marketing and advertising companies for monetary compensation. Never invest in any stock featured on our site or emails unless you can afford to lose your entire investment. The disclaimer is to be read and fully understood before using our services, joining our site or our email/blog list as well as any social networking platforms we may use. A portion of RagingBull's business model is to receive financial compensation to promote public companies. To conduct investor relations advertising, marketing and publicly disseminate information not limited to our websites, email, SMS, push notifications. This compensation is a major conflict of interest in our ability to provide unbiased reporting. Therefore, this communication should be viewed as a commercial advertisement only. Note, we periodically conduct interviews and issue stock alerts that we are not compensated for. These are purely for the purpose of company awareness, and to generate subscription revenues. We have not investigated the background of the hiring third party or parties. The third party, profiled company, or their affiliates likely wish to liquidate shares of the profiled company at or near the time you receive this communication, which has the potential to hurt share prices. Frequently, companies profiled in our alerts may experience a large increase in volume and share price during the course of investor relations marketing, which may end as soon as the corporate awareness program ceases. Our emails may contain forward-looking statements, which are not guaranteed to materialize due to a variety of factors. We do not guarantee the timeliness, accuracy, or completeness of the information on our website / media webpage. The information in our website / media webpage is believed to be accurate and correct but has not been independently verified and is not guaranteed to be correct.
NOT AN INVESTMENT ADVISOR OR REGISTERED BROKER.
Raging Bull, or any of their owners, employees or independent contractors is not currently registered as a securities broker-dealer, broker, investment advisor (IA), or IA representative with the U.S. Securities and Exchange Commission, any state securities regulatory authority, or any self-regulatory organization.
USE OF FORWARD-LOOKING STATEMENTS.
Certain statements made in this advertisement may constitute forward-looking statements within the meaning of Section 27A of the Securities Act of 1933 and 21E of the Exchange Act of 1934. Forward-looking statements often include words such as "believes," "anticipates," "estimates," "expects," "projects," "intends," or other similar expressions of future performance or conduct. Forward-looking statements are based on expectations, estimates, and projections at the time the statements are made and are not statements of historical fact.
They involve many risks and uncertainties that could cause actual results or events to differ materially from those presently anticipated.
There is no guarantee that past performance will be indicative of future results.
Raging Bull does not undertake an obligation to update forward-looking statements in light of new information or future events. Readers can and should review all public SEC filings made by the companies profiled in the Advertisements at
TRADEMARKS.
All trademarks used in this advertisement are the property of their respective trademark holders and no endorsement by such owners of the contents of the advertisement is made or implied.